Shopping Cart
Your Cart is Empty
There was an error with PayPal
Click here to try again
Thank you for your business!
You should be receiving an order confirmation from Paypal shortly.
Exit Shopping Cart
ORGANIZATION AT WORK OR HOME
With 9 children and various in-laws and friends over all the time...I cook a lot. However, day-to-day, I do not always know how many will come, so I end up with
leftovers
quite a bit.
Through the years, I have learned how to take that dried food that you really do not want to eat, and turn it into something yummy.
See the yummy chicken and veggies that my husband made?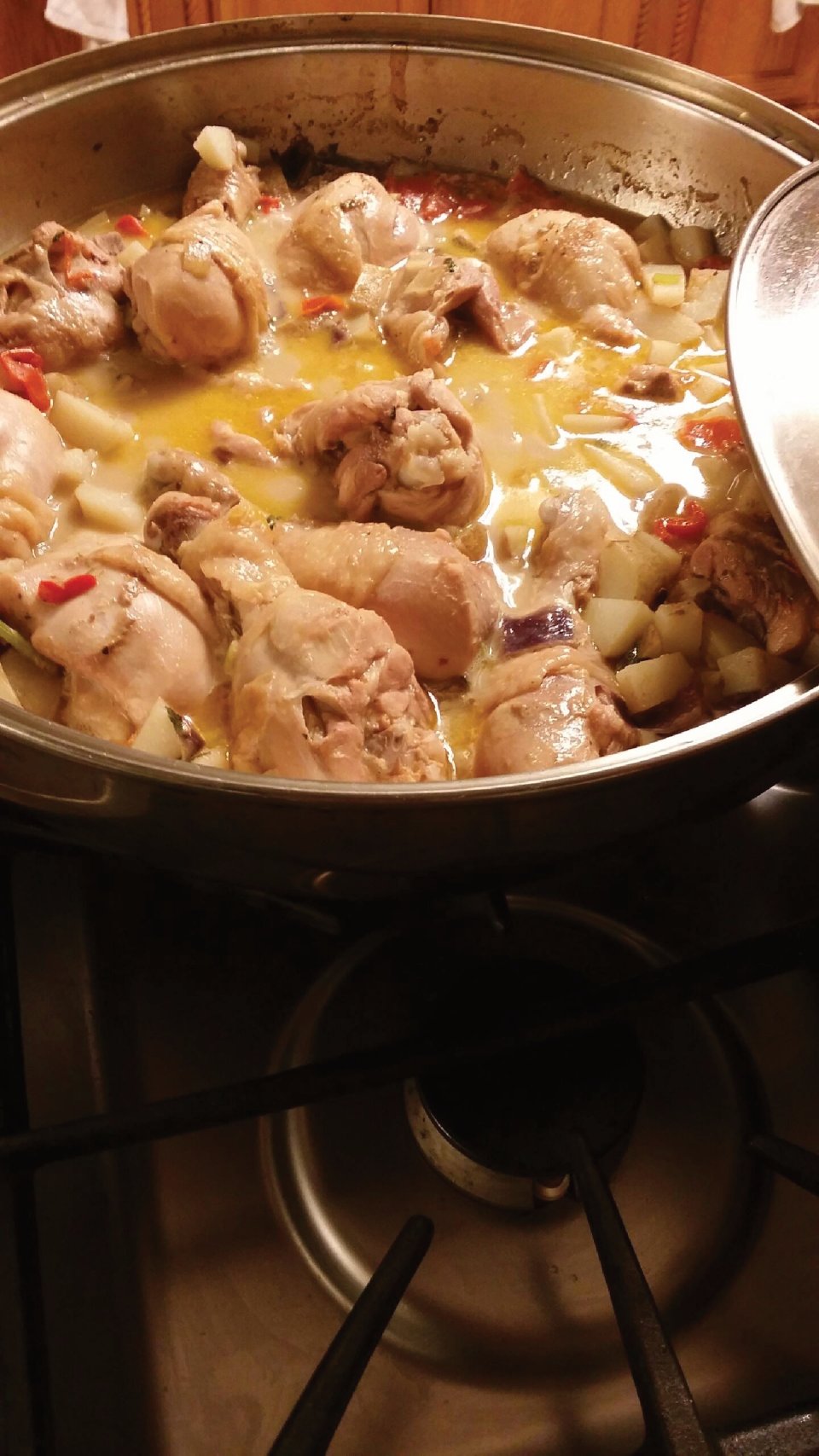 We also made rice this night that is called casamiento (which is marriage in Spanish), as there is rice and beans together. Which is an easy way to get rid of a small amount of leftover
beans
.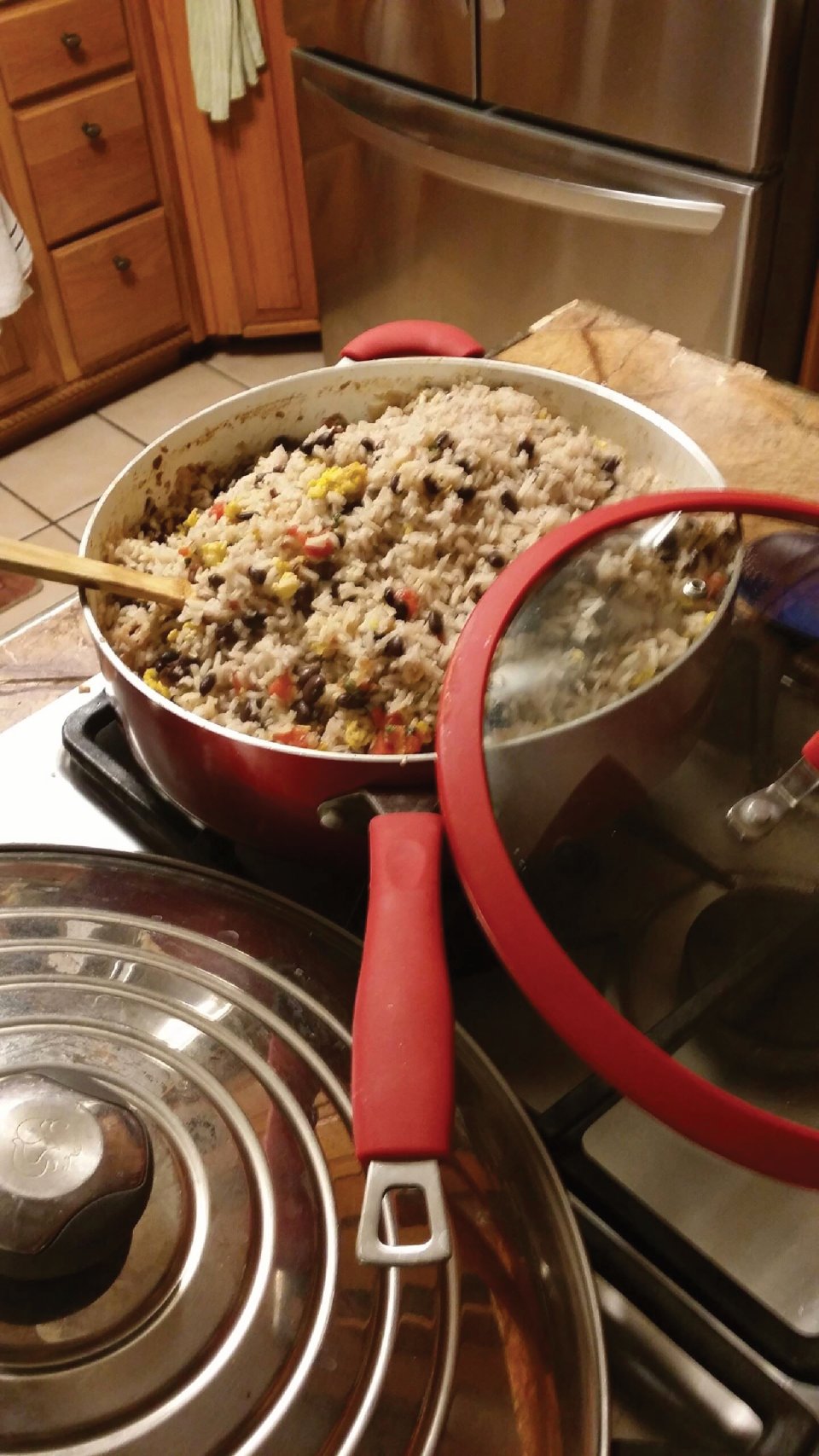 If you notice closely, there is also leftover scrambled eggs mixed in the
rice
.
Now, see the leftover chicken after several days...no one wants to eat it now.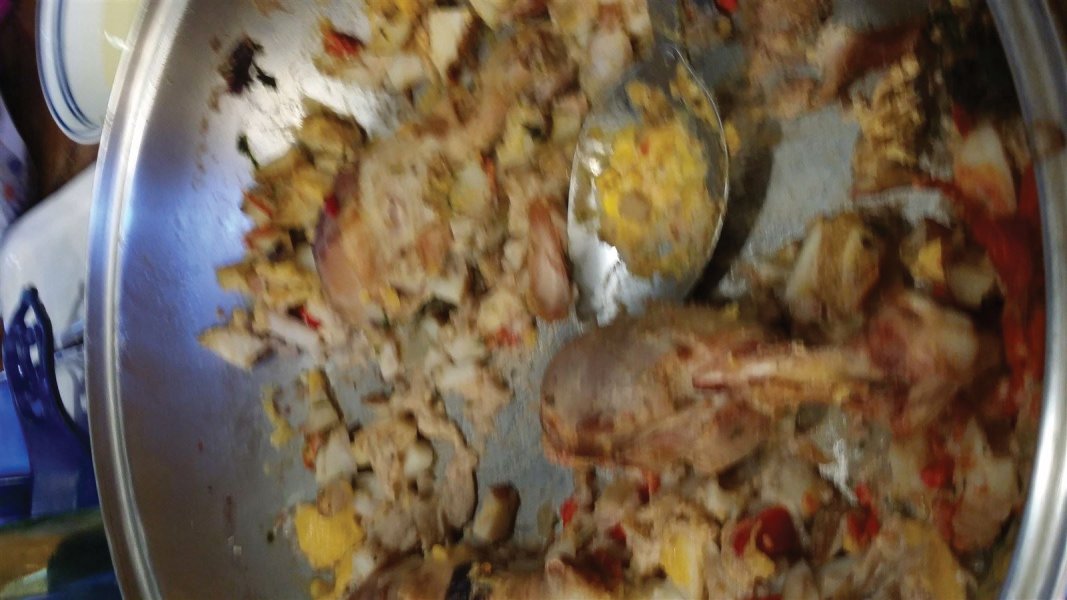 Here is some leftover
Spanish corn
that was also in the fridge...looks pretty bad...huh?
Now, I get out a soup pan and put some water on to boil.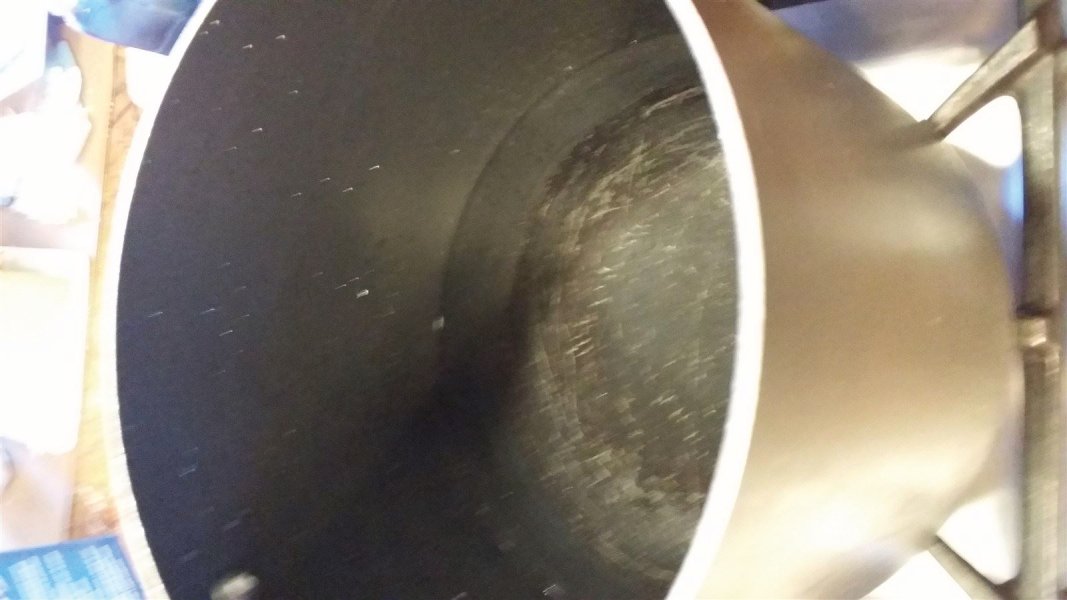 I then add the leftovers to the water. I deboned the chicken and added all the leftover veggies from the chicken, the leftover corn, and there was some leftover rice, too.
I also added some cilantro, some chicken bullion, a can of mixed vegetables, salt, pepper, a little dehydrated onion, a little garlic, and presto! Look!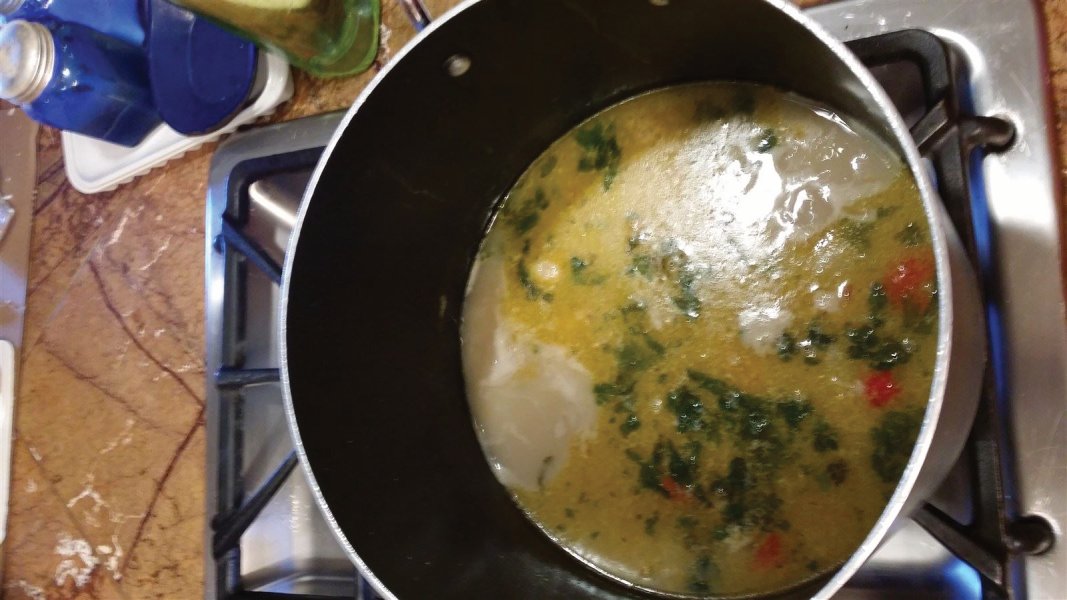 If I have celery or tomato, etc. I might cut up some and add it. Cabbage, leftover vegetables, beans...anything really. Be creative. Yes, occasionally, what I have invented has ended up going to the chickens. But each year I get better at this.
Remember, water rehydrates food. Dehydrated food only needs water to reconstitute, and leftovers have usually only dried out...so water works miracles. 
I have had meat so dry it looks like jerky, but after some time in boiling water, it becomes soft, juicy, and tender again.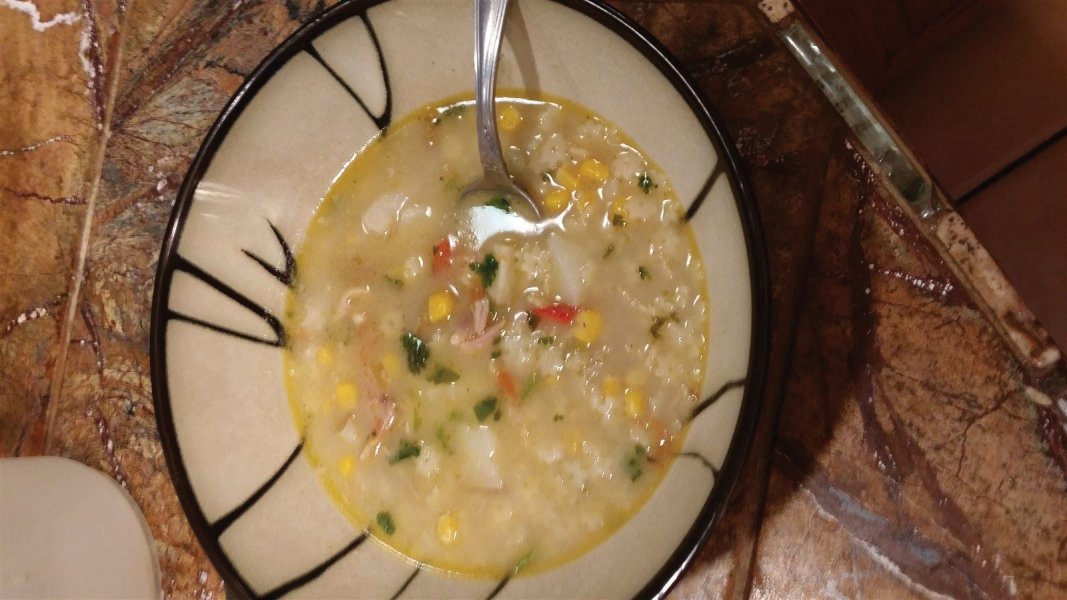 This was very yummy soup! Amazed?
I did a meal for 140 missionaries about two weeks ago. The first thing I did was about a week before the meal, I bought two turkeys, each around 25 pounds, and I cooked them in roasters pans using my
Spanish Turkey
recipe.  We had turkey for dinner that night, along with mashed potatoes, corn and peas, and rolls.
Later in the evening, when they had cooled down, I de-boned them, putting all the meat into one of the roaster pans, putting it into the freezer, and freezing the broth from the other turkey.
Then three days before the meal, I went to Sam's Club and bought everything else that was needed. I bought around 50 pounds of hamburger and several #5 cans of pinto beans, crushed tomatoes, tomato sauce, and corn. The next day, I pulled out my other three roaster pans and my large canning pot and I cooked all the hamburger. I then added all the ingredients to make
Tammy's Taco Pile-Ons.
The Taco Pile-On recipe is a real easy and inexpensive meal to make that I use when I have to feed a large group. We had a version of it in our buffet at the restaurant that we owned; only we had small cubed potatoes mixed in with it. Actually, you can make any variety that you like, but canned beans are the easiest and cheapest to add.
All of these pans went into the fridges. Then I mixed together two large mixing bowls of bread. One bowl was for
Poppy Seed bread.
The other bowl was for
Apple Coconut Bread
. Measuring is the most difficult part of baking for me, so if I am making a large batch, I just pull out my two large metal bowls and measure flour into one, and then measure flour into the second. Then do the same with the sugar, eggs, etc.
It is less work than making one batch and then turning around and making a second batch. That way, I only have the flour, etc. out only once, and use only the measuring cups one time. It goes faster and is easier. I also doubled my recipes and then doubled them again. So one batch of bread uses 12 cups of flour and 10 cups of sugar. I bought the large glass measuring cup that measures 4 cups at a time. That way if I need 12 cups, I only fill my cup 3 times (as 3 x 4 = 12). See how this is easier and faster? I can make 21 small loaves in almost the same amount of time someone can make 4 loaves…so why not make more and give bread away?
I also use baking spray, (which is different than cooking spray…it has flour mixed in with it) to spray the pans as this makes the whole process go faster, and makes sure the bread does not stick. After the bread is done. I leave it in the pans to cool down. In fact, I leave it in the pans until I am ready to cut and serve it. I do not put the bread in plastic or other containers. (If you think of a bakery…their products are not covered or in a container).
Sweet breads do best not covered, especially, my recipes as the top is crunchy. However, I do not want the bottom to dry out, which is the reason I leave it in the pans. I put all the pans of bread to the church in boxes (leaving the bread in the pans) and only took the bread out of the pans when I was ready to serve it.
Another thing I did, was to gather up all my utensils, knives, soap, sponges, etc. and put it in the car the night before. You never know when you go to a different kitchen if they will have exactly what you need…I just plan accordingly and take everything I think I will need.
I made a list of every dish I was serving then gathered and put into the car everything item I thought I would need. That way, the morning of the event, the only thing I had to put in the car were the food items from the fridges.
As you can see, I broke the work up over several days, and did things step by step. This is the way to do any large task.
The morning of the meal, four other individuals came to help me. I had asked 4 people who were real easy going, but good cooks and hard workers. We chopped up the lettuce and tomatoes. We put the shredded cheese and sour cream in containers with serving spoons. We opened the many packages of chips I bought and filled baskets and set them out on the tables.
I also brought 8 quarts of my
home made salsa
and we put it into small bowls with serving spoons and put it out on all the tables.
We put all the other food on 3 long tables where serving lines could go down both sides of the tables. We had the plates, bowls, etc. first, and then the bread cut up in trays, then the turkey and hamburger, then the cheese, lettuce, tomato, salsa, and chips.
Two other tables against the wall had small plates with strawberry shortcake on it.
I do not believe in serving people at events such as this. When you put the same amount of food on each plate and serve it to people, I can guarantee that you will throw away a vast amount of food afterwards.
People are not cattle. They do not all eat the same amount of food. Some will eat more, some will eat less. Some are vegetarians and will not eat the meat. With our meal, they could easily make a salad and eat salsa with chips. Those who are glutton-free could actually eat everything except the desserts.
I had three types of meat combinations. Individuals could choose what they prefer and only take food that they like, thereby eliminating waste. It also goes faster to let them go through the lines and the food stays hotter in the big roaster pans. I have been to many events where I was served cold food…not ever a good thing.
Yes, I do have to admit that being served is always nice and does make you feel important…but as the host or person in charge of the meal…I have to ask myself this question, "What is more important? To make them feel good that I served them? Or to allow them their choice to choose how much food and what items they want and that the food is hot."
I go with the latter and it has served me well through the years. People always leave full, happy, and say they felt welcome and comfortable. AND, I did not kill myself serving them and therefore do not mind entertaining because I haven't made it such a chore. (A secret to life and entertaining that took me years to learn, but sure has made my life easier…relax, chill out, and enjoy your friends…)
Seek to Bless; Not Impress
I wanted to share some ideas of how I cook for a lot of people, but do it in a quick, easy, and inexpensive way.
First of all, I buy bigger items which tend to be cheaper. For example, I buy a whole frozen turkey which is usually the cheapest way to buy poultry. I also have two upright freezers that I can fill, so I will buy many turkeys when they go on sale, which typically happens around holidays.
I keep the roaster pan on high until the meat is falling off the bones (even at the breast bone as well). Then I know it is truly done the way I like it. Tender, soft meat that is juicy and has the flavor of the juice cooked into the meat.
After the meal, and when the turkey has cooled down, I de-bone the turkey. I take a couple of paper plates and begin to grab the bones, veins, fat, pieces of skin, etc. put them on the plates then throw them away. This does not go to the chickens or in the compost.
Turkey is 10 times easier to de-bone than a chicken as the bones are larger and it goes very quickly. Likewise, as I cooked it until the meat separated from the bones makes de-boning it much easier.
I put the pieces of meat in a large metal bowl, add some of the broth so that the meat stays extra moist and then put the rest of the broth into quart jars, wipe off the rims with a Clorox wipe, put a lid and rim on it, and either can it that night or stick the jars in the fridge to can another day.
This way, one large turkey that costs around $20+ will provide 3-5 meals for 7 people or so. Not only is this a cheap way to feed your family, it is less work to de-bone a large turkey one time than to have to prepare the meat for every meal.
I also buy large hams (with the bone) when I can find them on sale. I bake them in the oven in a large baking dish. I put an inch of water in the bottom of the pan and add some brown sugar and pineapple to it for flavor. I then completely cover it with heavy duty foil so no air can escape, thereby, keeping in the moisture and ensuring a very moist and tasty ham.
Thursday evening, we had a church gathering at my house. This year we are trying to promote self-reliance so each month we are doing different meetings on different aspects of the theme.
Thursday's meeting was, "20 ways to use Rice and Beans". I had about 15 different packages of beans, about 4 of rice, of course. There are many more types of beans and rice, but I was concentrating on what I mainly use.
1 to 1 and1/2 lbs. pork (I buy the boneless, trimmed chops that have less fat as I have gall bladder problems and cannot tolerate much fat), cut into 1 inch cubes (kitchen shears are faster than knives)
2 (15.5 ounce) cans white or yellow hominy (I do not drain them
2 teaspoons  of granulated garlic
2 teaspoons of salt
2 teaspoons of ground black pepper
2 packages of Goya Sazon (the orange package with Coriander and Annatto)
2 teaspoons ground cumin
2 Tablespoon of dehydrated onion
1 small can of diced tomatoes with green chilies
Add enough Ragu Traditional Spaghetti sauce to thicken broth and give it some Italian flavoring (I do this on many recipes as Spanish food does use Italian seasonings)
Half a small cabbage, thinly sliced
Chopped fresh cilantro
1/2 white onion, chopped
2 avocados, chopped
4 limes, quartered
A bunch of red radishes, thinly sliced
Salsa
Sour cream or Tammy's Spanish Cream
Fresh white cheese or shredded Cheddar cheese or Monterey jack (It's really up to you…or serve all 3 and let your guests choose)
Tortillas or chips
Many recipes call for Red Chilies, but a Mexican woman made this recipe for us in Houston without them and I like it best.  
It was a nice evening of good food and great company, and hopefully, something learned.
Last night, I went to the emergency room with Maria and her two babies. Alexander was crying and rubbing his eye. She had already called me two times that afternoon about his eye. I was afraid that maybe something/debris was caught on the lid and perhaps doing damage to the cornea. The eye is too delicate to mess with. I told her, "Let's go, and check it out."
I worked Monday through Thursday, did errands, laundry, cleaned my mom's room, etc.
Duncan is an hour and a half from our home, whereas Dallas is 3 hours away. the only thing, though, is when i arrived at their home, Rebeca and David were playing outside playing with 6-8 of the cutest, fuzziest puppies ever.
Somehow, Fito and I were talked into letting David bring one home, so now we have another dog. He named him Brew, and he is part Austrian Shepard and part Gran Pyrenees. One big ball of fluff.
Actually, Fito just called and told David that he and Elizabeth need to go mow.
Maria and Greyson outside on a warm day this past week, as he needs the sun for his jaundice.
Wednesday we had an ice storm. This is Oklahoma's crazy weather! One day, sunny and 70 degrees, the next day, icy, cold and hovering at 32 degrees all day. Since Oklahoma is in the center of the country, the south warm moist winds meet the cold winds coming down from the north.
The result is ice storms which are incredible beautiful, but damaging too, as they break tree limbs and down power lines. Tornadoes are a result of such fronts, as well.
The ice storm pictures came from:
I woke up early one morning and could not sleep. I kept thinking about the large amount of money that my mom owed on her taxes.
So I went to the Internet and started Googling different tax
items. I spent a lot of time on the IRS site reading publications and researching. I then pulled out her taxes and started going through them line by line. I also called the 800# at the IRS several times to ask questions to clarify certain points.
About seven hours later, I had learned enough and made a few changes, found some things her tax representative had not seen and made changes.
I went back on Monday and we made the changes, meaning an amended return, but now owing $2000 less than original.
My husband kept saying "Wow, you're so smart!" However, I really don't see it that way. I think persistent is a better word for me.
Once something is in my mind, I just have to pursue it, research it, look, read, study, ponder, and ask questions until I resolve whatever it is.
This can be a very good quality when it has something to do,for example: with my taxes as it saved us money, but I also know that at times,I have driven people around me crazy while I am consumed in my present search.
This past week brought two snow/ice storms to Oklahoma. One day, the ice came in just an hour before school. Of course, all the schools were closed for the day, including my husband's. But instead of being able to be lazy, we had a funeral to attend.
I had volunteered to help with the food. The day before I had made 4 pounds of a mixed
beans
(15 types) soup. I also had some leftover small red beans and added them all together. I used the ham bone that was left from last week's ham.
My goodness, it was some of the best beans I have ever made,or was it just because it was so cold and miserable outside that the beans tasted so good.
I also made 2 large pans of corn bread. I used a cheap mix from the store, but right before I put them in the oven I sprinkle some sugar(very lightly) on top. The sugar makes all the difference. It browns the top and creates a seal that makes the bread moister.
For us (for dinner), we made
mashed potatoes
,
rice
, and
carne guisado
(but using pork). Wow, the house was full of good smells. Every inch of counter was covered with food, then we had to go to work, instead of staying at home and eating...which, I guess, is good.
I also made 20 loaves of
Apple-Coconut Bread
, a pan of
brownies
with chocolate chips and melted marsh mellows on top, and three large pans of
peach cobbler
. Other ladies brought a myriad of food, as well.
When we got to the funeral and were bringing in the food- oh my, was there food. Oklahoma is great for feeding people. We always have plenty of food at pot lucks which is a great thing.
After we left there, Fito and I went to do errands. It was nice to be together, even if it was just doing chores. We have been so busy lately and work different nights that we just don't spend enough time together. 
I went with Maria and Rebeca one afternoon to buy everything to paint Xander's room. We plan to paint it tomorrow. She is planning a monkey and jungle theme. Xander absolutely loves his stuffed monkey. 
When we lived in Kansas, I did all kinds of decorating: painting, stenciling, wall papering, glazing, and so on. This house was already painted nicely so I have only had to do a few things.
It actually is very fulfilling to plan, look for bargains, paint, and completely transform a room (and when you do it for very little money) it is even more amazing. 
This past week, too, Maria and Travis found a beautiful wood crib for $100 on Craigslist. Then the next day, I went with her and she bought a nice mattress for $30. Today, I sold a wheel chair hitch for $200 on Craigslist. We really like Craigslist.
Last night I did Matthew's taxes and some other paper work. One of life's frustrating tasks, but always important to so.
I took my mom to get her hair done today. We went to a different place than normal and the lady did an incredible job. She also clipped the hairs on her face and trimmed her eyebrows for free. It is also a walk-in place so I do not have to set a specific time. Nor do I have to pay if she doesn't go. 
It seems at times we have used a certain service for so long we just do not want to change, but then when something in life happens and we make the change we may just find out that it was welcome and indeed, a blessing. Do not be afraid of change.
Remember it is our attitude that determines more than anything our happiness. Happiness is a decision, and I pray that each of us may choose to be happy and serve others.  
The world keeps going around and my life is spinning right along with it. I feel as though my main function in life is to cook, clean, and do errands for others. Hummm….I guess that's what moms do, but sometimes I just want to be invisible for one day.

This next week, though, I will have a break. It is our 29 Wedding Anniversary (read about
how we got married
).
I made arrangements to go to Branson, Missouri for the weekend. Branson is a fun, family friendly tourist destination that has more shows than even Nashville, Tennessee.
We have gone in the past and always have an enjoyable time. And we will be ALONE! Oops…I'd better be careful or I am going to jinx our trip. It seems that each time that Fito and I go anywhere that something happens at home.

One time, a child ended up with an earache and we had to cancel the trip. Another time, the sewage backed up in the house (poor Matthew was the oldest at home at the time). I had to get him to call our plumber, get things fixed, and then he had to clean it up with the children. And they did a good job. Now that I think of it…maybe that was a good time to be gone.

10 years ago, we went to Branson, and Benjamin ended up in the hospital. He was actually life-flighted to a major hospital center 2 hours away from our home, which put me six hours away.

We were driving home frantically, not even knowing if he would be alive when we got home. My poor mom lived next door to us at the time, and she and a good friend had taken him to the emergency room and were worried sick.

It was in January and was during a horrible flu epidemic. We all assumed he had the flu as he was throwing up. Even the emergency room assumed thus, seeing he was dehydrated, they also started a glucose IV.
Then the blood work came back and his sugar was through the roof. By the time they got him to Wichita, Kansas, his sugar was over 1400 (a normal blood sugar is 70-120…super high is 300+).

Benjamin went into a coma, his brain was dying. I was just praying that if God was going to take him that he would at least let me say good bye to him. Our Bishop from church had driven to Wichita so that Benjamin would not be alone.

This was before cell phones in rural areas, so I had been stopping now and then and using a pay phone, but hadn't been able to find out anything for more than an hour. When I got there, Benjamin was in intensive care and was still alive, but he did not know who I was, or for that matter, anyone else. He was just fighting for his life.

Benjamin, of course, was diagnosed with Type II diabetes. We were informed that something (the flu?) had attacked his pancreas and killed the cells inside. It was no longer functioning and was not making insulin anymore.

We were told that perhaps over time some of the functioning might return, but his never did. As far as we know, his pancreas is basically dead.

He takes a shot of insulin every time he eats, even snacks. He also has to check his blood sugar throughout the day, which means he has to prick his fingers six to seven times per day.

Clearly, this was one of the worst episodes in our life. I was seven months pregnant at the time and I was staying and sleeping in a hospital two hours away from home.

At least my college classes were on line, so when Benjamin was asleep, I would go and find a computer and do my school work.
Another interesting fact involved in this story, is the fact that on a whim (or prompting) I had taken Nutrition the previous year. I was a business major, but was always interested in nutrition…so I took the class.

When Benjamin was better, his doctor came in to teach us about the disease, teaching us to read food labels, count carbohydrates, determine dosages of insulin, and more. I already knew about simple versus complex carbohydrates, how to read the food labels and what the information meant.

Benjamin was allowed to go home two weeks earlier than normal because of the knowledge that I had accumulated previously, even before I knew why I would need it. This is what I call a "tender mercy" of God. He is in control and is always watching out for us and working to help us.

Other times Fito and I have been gone away from home have resulted in broken items in the house, a child hurt on the go-cart (which resulted in a hard spanking for the older child and a long grounding), a thunderstorm that left broken tree limbs on the ground and children hiding in fear.

At times, I wonder if it is even worth it to go anywhere, and now that my mom lives with us, I have to find someone to stay with her, which makes it even more difficult.

One trip, Fito and I had checked in to the hotel, were relaxed, and were about to be romantic, when my cell phone rang. It was an older child that had a problem and needed to talk.

After the conversation, I told Fito, "We will never be alone. Even when all the children leave home, they will still be part of us and our lives." But I wouldn't have it any other way.

At Christmas when we had everyone home; what a crazy wonderful time. The grand babies brought such a joy and innocence as little children always do.

To see my children be parents, and to see the other children be aunts and uncles; to see them playing with their nieces and nephew, and to watch them caring for them, feeding them, changing them. What a blessing; what joy.

This past weekend was a cooking marathon for me. We had two girls over to spend the night, had the dedication for our new church building, had company over on Saturday night, Sunday afternoon, and Sunday evening. Lots of meals.

The recipe for Spanish Corn follows:
Spanish Corn (and Peas)

2 Cans of Corn 1 Can of Peas (if you want)
2 Tablespoons of Butter

1/2 cup of Heavy Whipping Cream
Salt and Pepper to taste

Sprinkle on some Jalapeño juice or Tabasco sauce to taste (I add enough to give it a flavor, but not enough to make your tongue or throat burn).

Cutting the corn off the cob, without a doubt, makes the best Spanish corn, however, from the can is really good, as well.
Of course, I used a #5 can of corn and added 2 cans of peas to make enough for a crowd.

I used the above meal for our company on Saturday evening, then after they left, I de-boned both Turkeys and put all the meat into one roaster pan.

I took all the extra broth and poured it into 6 canning jars (which are in the fridge right now waiting to be canned). I took the Turkey, rice, corn, and bread to church the next morning.

After church, we had a pot-luck which was a wonderful time to visit with old friends (and new ones).

Then we went home (after cleaning up at the church), and I started making
Pupusas
for our company. I had all 3 griddles going and made Pupusas, beans, rice,
salsa
, and chips. Fito made
Slushies
.
We visited with the 3 couples we had over and Fito kept visiting with them when I received a call from Douglas, my son. I excused myself and went to visit with my grand babies and loved ones.

When I came back an hour later, they were saying goodbye and our second set of company was coming in. Maria; her family, Felipe; and another couple came for dinner.

I made more Pupusas, heated everything up again and this time we talked about Home birth as this couple is expecting and looking at doing a
Home Birth
.
Six of my 10 children were born at home. Four of those with a midwife, and 2 with just Fito as the midwife. Under the right circumstances, a home birth is a very safe, healthy, incredibly spiritual experience that profoundly affects a woman and her family the rest of her life.

By Monday I was worn out. Thank goodness I still have not started all my classes and still had time to recuperate.

We made
Chili
, and
chicken
and mashed potatoes. Also, I took a
Goulash
out of the freezer for one day. Then another day, I took the leftover turkey out of the fridge to make
enchiladas
.
However, I really didn't want to roll the tortillas after I fried them so I put some of the turkey mix and sauce on the bottom of the pan, then put a layer of the fried tortillas, then a layer of turkey, another layer of tortillas, and so on. (Just like you do with
lasagna
).
Then I put shredded cheddar cheese on top – lots of it. It was just as good as the regular enchiladas, just not as pretty.

Saturday, I made 21 loaves of Poppy Seed bread. I make the bread to have as thank you's. But I also make it to have for breakfast for Fito. He likes hot milk and a piece of bread for breakfast. I also like to have something sweet that is healthier than eating salty snacks or candy. The bread is perfect.
Sunday, more company. I wasn't planning on company, but then I see friends at church and cannot help myself. i want to be with them and visit them. David had put the Pupusa meat in the microwave to defrost and had melted the cheese. Also, there simply wasn't enough...so I had to switch gears and come up with enough food.
So I made Green Eggs and Ham (which is simply: Fried Potatoes and Scrambled Eggs.
We also had some leftover Goulash, which I put in a smaller pan, sprinkled a new layer of cheese on top, then sprinkled some water over it (as it was a little dry).
I put out salsa and chips.

Then I made coffee cake (from a mix...I cheated), and
Blonde Brownies
for a youth activity that night. we also had the poppy Seed Bread and
Peanut Butter Cookies
(which I had made during the week when Benjamin came...but was too tired to make cookies so I just put the dough in a baking pan and made bar cookies) However, they came out really moist and chewy.
[Sometimes as I am writing this blog, I just pause, sigh, and then think....wow, no wonder I am tired most of the time...]

The week went by. Laundry, cleaning, school, work, working on the computer, paying bills, and so forth.

It was cold most of last week and we had a fire in the wood stove the whole week. We have years of wood because of the tornado…(see good always comes from difficult times).
The boxed up Christmas decorations were finally put in the attic and Christmas cards finally all sent out.

Now time to gather stuff for tax time. Life continues.

May each of you be blessed as you continue, too, in your own life.

Sometimes that is all we can do….continue on…doing the best we can at that time in our life.

That is why organization is such a blessing. Many times we cannot control how much we make, or what our spouse or children do, or how our work or life is going, but we can bring order to a small section or part of our life.

It is one place or area or order where we are in control and feel peace.

May we all find more peace in the year to come.      
I have done so much this past week that I amaze even myself. However, it is taking its toll. I am so tired that I fell asleep sitting up waiting in the doctor's office for Maria and Xander. I keep falling asleep waiting for David from seminary (an early morning religious class…I usually walk, but haven't lately because my hip joint is out of place).
I fall asleep waiting for classes to start, during a TV program, etc. I am just worn out.
But, boy I am way ahead of where I usually am at Christmas time. All the decorations are up. Almost all the shopping is done…I only have two more gifts to buy.
Maria, Xander, Elizabeth, and I went shopping on Monday. Ross met up with us and we got a lot done and had a good time. The week before, Maria went with me and we did some shopping, too. I had received an I-Pad from the doctor's office that did my Lasik surgery as a promo.
Originally, I planned to keep it for myself, and then I decided I would give it to Ary, my daughter-in-law for Christmas. She is on the Internet looking for crafts and has a blog and so on so I thought I would give it to her. Then I thought about Maria, but we already have helped them quite a bit.
Then I thought about Tony…but to give such an expensive gift to just one child and not have such nice gifts for the others. Finally, I went to Best Buy and they exchanged it for store credit. I had to explain to the store manager (it wasn't opened, but had a series of numbers written on it). He was very gracious when he found out what I wanted to do; to turn one gift into several gifts as I have nine children, two–in-laws, and three grandchildren.
Once I had the store credit I called Maria and we went shopping…fun. I think all over we did well and people are going to be happy. Not a spectacular year, but a good one. Plus it was fun having Maria to help play Santa Claus.
She and the girls have also wrapped all the presents this year. I did not have to wrap a single one.
I also found a couple of the presents online and one of them was only $39 online, whereas it was $180 if I had bought it in the specialty shop. When it came in the mail, Maria and I opened it to see if it really was as nice since it had been so cheap…and it was! We were ecstatic and a certain individual is going to be especially happy on Christmas as I already told them there was no way I could buy something so expensive.
Friday, I cleaned the freezers and pulled out all the frozen stuff from the gardens. When it is summer, as we pick tomatoes, bell peppers, jalapeños, and so forth, we cut it all up and put it into freezer bags. Then when it is cold in the winter…like right now…I pull it all out to can it.
This has been a really good way to can food. If you can in the summer, you only heat up an already hot kitchen. In the winter, it actually feels nice to heat up the kitchen. I also like that you're not doing all the work at one time.
Picking, washing, and cutting up the stuff is enough work in itself. Adding the canning is just too much.
In this picture, you can see the three tubs that I have all the garden stuff in to defrost. There wasn't as much this year as we are in the middle of a drought. (Yes, we still are in the middle of an extreme drought… whole lakes and ponds have dried up and the land is brown, dead, and cracking in places…it is really sad).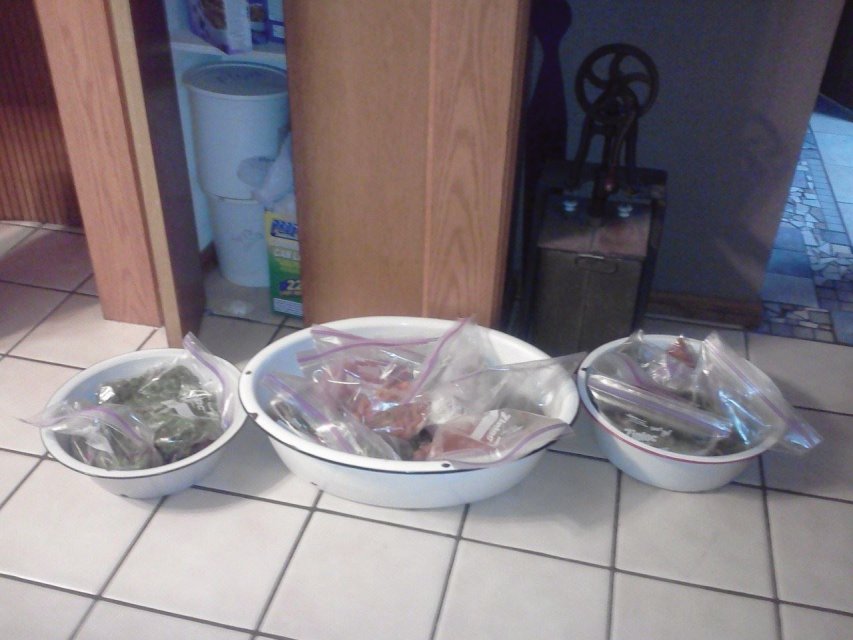 Then I take the tomatoes, bell peppers, and jalapeños and run them through the food processor. Also I drain off any extra liquids (this saves me from having to cook the salsa as long).
Then I put all the processed foods in my huge cooker. This year I had to add #5 cans of tomato sauce as we had many more peppers from the garden than tomatoes. Tomato plants do not bloom when it is too hot and without the blossoms…no fruit.
I then added granulated garlic and dehydrated onion (I used to use fresh onion and garlic, but what a horrible task it is to cut and peel and run garlic and onion through a food processor. Your eyes water, your nose runs, your hands and eyes burn. Major yuk. The dehydrated onion is also cheaper and it hydrates as you cook the salsa.)
I also add cider vinegar, sugar, salt, and pepper, then stir it, taste it, and add whatever I think is missing for flavor.
When I do such a large batch, I do not measure exactly. I am just "guess-timating", but it always tastes good. I just look at the recipe and try to keep the proportions the same.
This picture is the salsa all ready. I do not cook it long as it will cook as it is canned.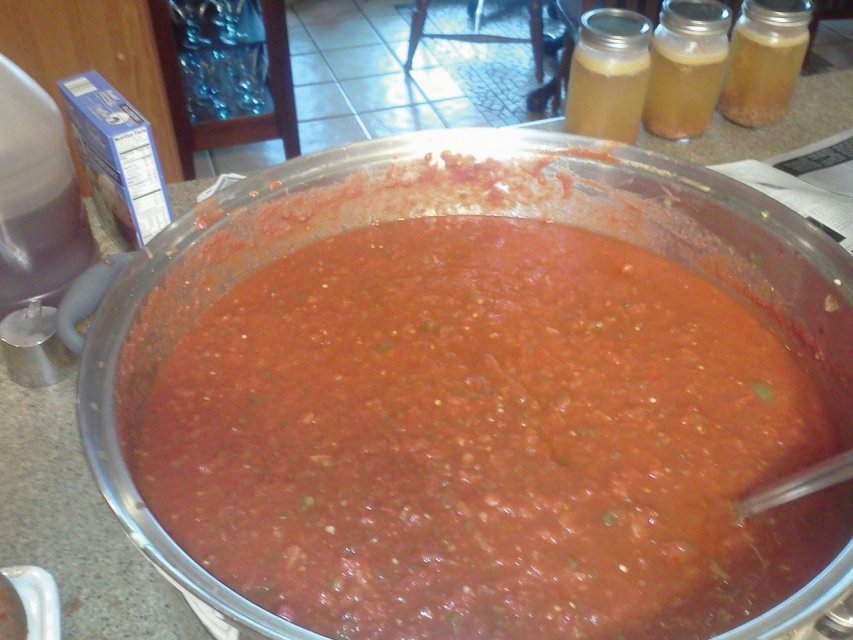 I then put it in the jars and get it ready for processing. You can go to this link on my website to learn more about
canning
.
In this picture, you can see three jars of turkey broth that I had left over. I made a
Spanish Turkey
for our church Christmas social and put the leftover broth in these jars. Once it is sealed and canned, the food can last for several years. Broth can be used in so many foods, so it is really nice to have canned and in your pantry.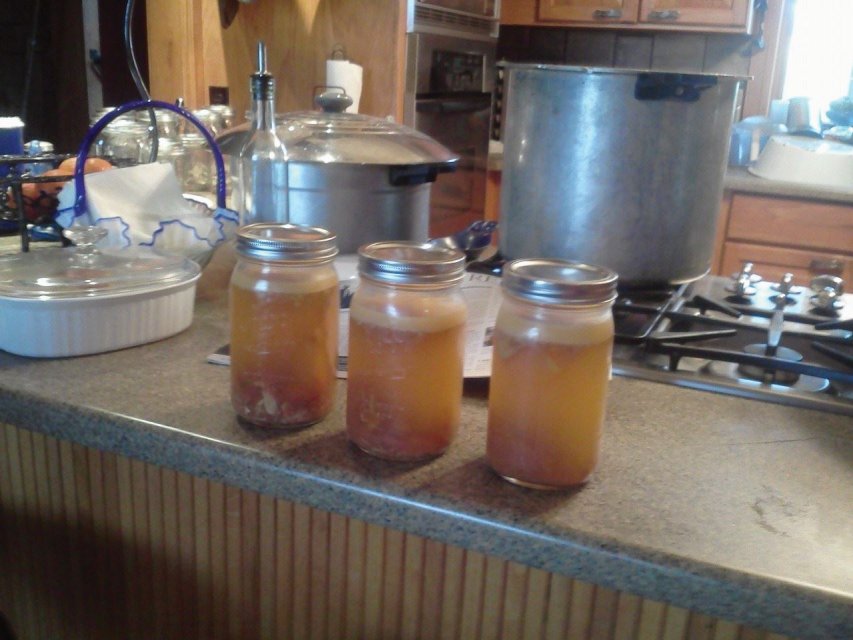 I also had some black bean salsa that was in the freezer. I took it out with the garden stuff and canned it as well. I figure I can use it in a pot of beans or heat it up as a warmed up salsa or use it on top of enchiladas…hummm…I'll find a use for it.
I spent the rest of the day canning. I had both canners going and processed food until late.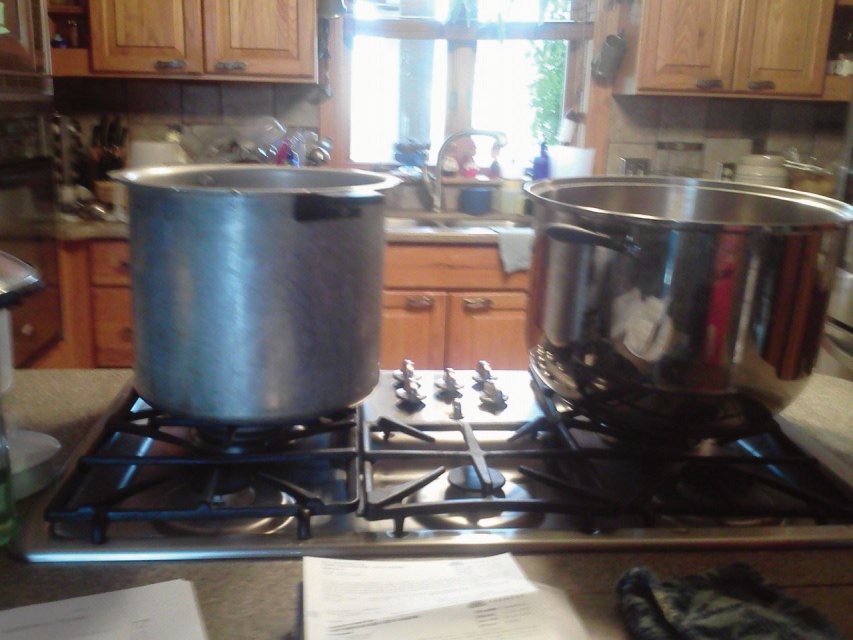 The one on the left is my canner and the pot on the right is full of the salsa. I waited for years to find and finally be able to buy such a nice. large pot.
The next picture shows both canners going and filling the jars with salsa.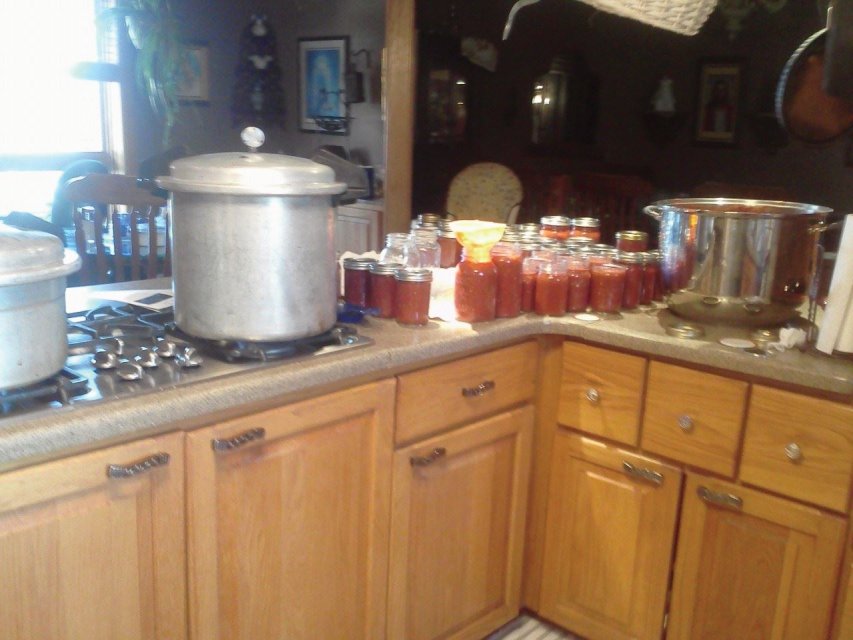 Tammy's Salsa Recipe
2  6 ounce cans of tomato paste or a 24 ounce can/jar of tomato sauce (I have done both and try to buy a cheap generic that is veryplain...no basil flavoring, etc. that will change the flavor of the salsa)
22 tomatoes chopped ( I have used a #5 can of diced tomatoes...run through a food processor...unless you want it really chunky...same with the bell peppers)
5 large onions chopped (or again through the processor or just use 1 cup of dehydrated onion)
7-10 Jalepenos seeded and chopped (again...I run these through the food processor and have used canned ones...run through the processor)
2 Bell Peppers seeded and chopped
6 cloves of garlic (I use 2-3 Tablespoons of granulated garlic)
3/4 cup of sugar
1/4 cup of salt
1 cup of apple cider vinegar (DO NOT use white vinegar...yucky flavor for salsa...believe me...it does matter)
If you want your salsa chunky, chop up everything. If you want it like the restaurants, run it through a food processor. If you want it smooth, do it in a blender. It is a personal choice.
Boil it for 5-10 minutes stirring everything together to make sure all blended well and tatstes good. Add more blended jalepeno if you want it hotter. Sometimes, I have even added Tobasco sauce or green chili sauce to make a batch HOT. Do what you like.
If you want it very mild, only start with 4 jalepenos and see what you think. You can always add more later. But you do have to add some or it will taste really bland. The jalepeno is not just for HOT it is also for flavor.
Process for 25 minutes at 10 pounds of pressure.
(What is not mentioned in some canning instructions is that venting time (ten minutes after the water boils in your pressure canner) plus getting your canner up to pressure (another ten to fifteen minutes) plus letting the pressure go down (another 15 minutes or more) brings your real processing time to 45 minutes or more.)
Also, I do not use the hot water bath to can anymore as many of today's variety of tomatoes are low acid which means they can go bad after a few years in the jars and you have to throw awy the whole batch.
Just be safe and pressure can everything. It is faster and safer! What is there not to like?
The next day was Sunday, and I wasn't planning on having anyone over, but then felt prompted to invite a family. The thing is they came home with us and my kitchen was a big mess. The two canners were still out and the counters were full of all the jars of food.
But "Many hands make light work", is very true. I put people to work unscrewing the metal rims (which are not needed once the lid is sealed). Then I washed the jars and people took the jars to the pantry.
I teased them and told them that was the only reason I had them over…to help me.
As I hadn't planned for company, I didn't have any food ready, but I did have a large metal bowl full of
Pupusa
Mixture in the freezer.
I had made this during the week so that I would have it ready for when the whole family is together for Christmas. As soon as I realized we had company calling, I texted David and told him to put the metal bowl in the bathtub with super-hot water.
It actually worked. I would flip it, scrape off some defrosted mix, send the stuff back to the tub, and use the mixture to make Pupusas. We did that four different times to have enough Pupusas.
We also opened a salsa to eat with the meal and I had some black beans that we heated up, too.
I had made
beans
earlier (again to have at Christmas) and had frozen most of them, but had saved some for us.
Again, as always…good food, good company, a wonderful day. The afternoon went by too fast and I headed off to choir practice.
Xander was sick during the week, but is better now. It is always sad and difficult to see a baby sick.
I need to tell you what I made for dinner yesterday. Many years ago, people would make "Saturday Soup" which consisted of all the leftovers from the week put together to make soup. Well it was Tuesday, but I made "Saturday soup yesterday and it came out great.
I put the leftover bean soup in a large pot (this soup had ham in it), then added the leftover chicken legs, rice, and mashed potatoes from the fridge. Then I added the leftover hamburger gravy I had.
Well, then to give it more oomph, I added two cans of corn, 1 can of diced tomatoes with chilies, one package of Sazon Goya Annatto flavoring and some salt, pepper, and garlic.
The Rebeca wanted it to be, "A, B, C," soup. So I added one package of ABC pasta.
Oh my goodness, it came out soooo good. I have done this in the past and had to give the invention to the chickens, however, this time, it came out delicious.
You would think the three meats (chicken, ham, and hamburger) would not go together, but they did and yum. Of course, beans, rice, and corn go together. The tomatoes and chilies made it more Spanish and the mashed potatoes thickened it and made it smooth and yummy.
I finish my computer class this week. This has been the best class ever (I know…I know.. I say that about every class...) but seriously, they have been an absolutely perfect class. Fito and I also have some GED class this semester and it has been the same; good students, respectful, friendly…they want to learn…they can cook! We have had one dinner and have one planned for tomorrow. Food always enhances learning…my belief).
I also took one day last week and CLEANED. And I mean cleaned. The children worked like crazy. We dusted, de-cluttered drawers and closets, and so on. I even caulked two windows shut. Both were damaged in the tornado and have never worked well since- letting in outside air. Neither has to be opened so I cleaned them really well and then simply caulked them shut with clear caulk.
I should have done that a year ago. What a difference. Now you cannot feel any draft. I still have more things that need caulking and we have a couple of places where I need to replace the weather stripping. Home maintenance never ends does it? Oh well. The price for having a home and one I will gladly pay.
The outside Christmas lights are up and we have a beautiful lighted manger scene. Each time I come home and see where I live, I am overwhelmed that I am so fortunate.
I thought that perhaps I would have such a place in heaven, but never expected it here on earth.
I will enjoy it for as long as it lasts. May each one of you be blessed with a home. One filled with friends, family, love, good food, and happiness. May you be blessed with warmth, peace, happiness, and prosperity.
Thank you for your comments about my blog, for your prayers and thoughts. May you be blessed with the righteous desires of your hearts, is my prayer for you and all your loved ones.
Thanksgiving is over and a resounding success. Good food, good company, beautiful weather, and lots to be thankful for.

This was the smallest group we have had in years. Tony was able to come from Missouri, and Matthew came down from Edmond.  Benjamin had to work so he didn't come. Douglas is saving his days off to come at Christmas, so they did not come, either.

But Maria, Travis, and Zander were here. My mom, and Gabe (a nephew) and Ross (basically, an adopted son) were here. 14 in all. We usually have 20-30 people. It was nice having a smaller group, although we missed having all of our loved ones together.
The children always want the largest group possible. They want their cousins, friends, brothers and sisters here for every occasion. It is true that they have more fun. The house is alive with laughter, games, friendship, and love.

Yes, there is more cooking to do, more dishes to wash, but there are more hands to do the work. It is really true the old saying that, "More hands make light work".
I did several errands on Monday after work, including going to the Boy Scout office and finishing up the paper work for Felipe's eagle. His Eagle has been such an exercise in tangled bureaucracy. He is our fifth son to make it to Life and our fourth son to do an Eagle project, but in the other states and districts where we lived, they were not particular or picky or policy oriented as this district is.

I think this district is more concerned with how perfect the paper work is instead of how successful the project is, how many people it helps, who it benefits, etc.

Monday, I took some pork, cut it into small bite-sized pieces and cooked it in a little water, salt, and pepper. I cooked it until the water was all cooked off and the meat browned. I also made Spanish rice. Yummy and easy dinner, and cooking the meat that way is healthier than frying it in oil and still browns the meat nicely.

Tuesday after work, I did the Thanksgiving shopping. Wednesday, I put up the Christmas tree, made Rice Krispy treats and Puppy Chow. I also made bacon and eggs for dinner.

Thursday morning, I woke up early and Fito and I went for a walk, after I put the turkey to cook in the roasting pan. I made a
Spanish Turkey
.
Then I MADE everyone go outside, and I told them that for the birthday (which is in December) and for Christmas that they had to help in the garden. I think I told you that we have been working to take out a large garden in front and also make one of the other front gardens smaller.

Both gardens were edged originally with cut telephone poles. The previous owners meant for them to last forever because they were in the ground more than 3 feet deep. We had to dig down around each pole, then work it loose, then use a bar to lift the bottom, and then tie chains or ropes around it and pull, pull, pull. They are now all out and piled in the burn pile.

When this drought is over and we can burn again, they will become ash. The previous owners had also taken bags of cement and laid them in rows as edging, and then they must have wet them down, and then removed the paper. Then they painted them red. Not the prettiest edging.

David and I dug them out almost two weeks ago, and then Fito and the boys loaded them into the trailer, took them to the back, and put them in a line in the vegetable garden where there is an erosion problem.

Thursday, Felipe and Fito, then Felipe and I loaded up cut limestone rock that we had brought from Kansas. Years ago, when Fito and I were much younger…we took apart a limestone building for the gas company in return for the rocks.

The rocks had been cut into a brick shape, then stacked and put up with mortar. Really pretty rocks. They make a great edging. The garden is probably a third smaller, as well, so less work.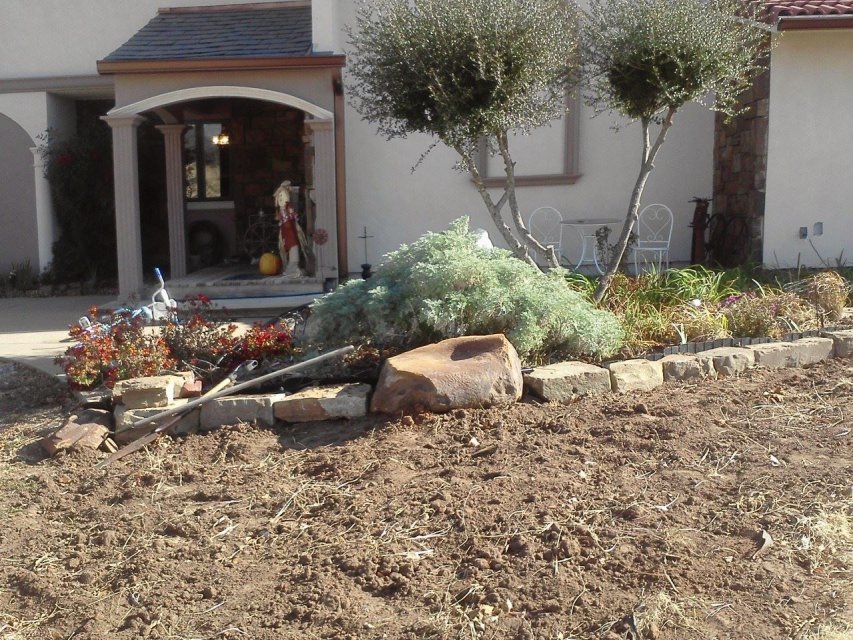 (See where dirt is...was garden...then I think I will put river stone in front of largest stone).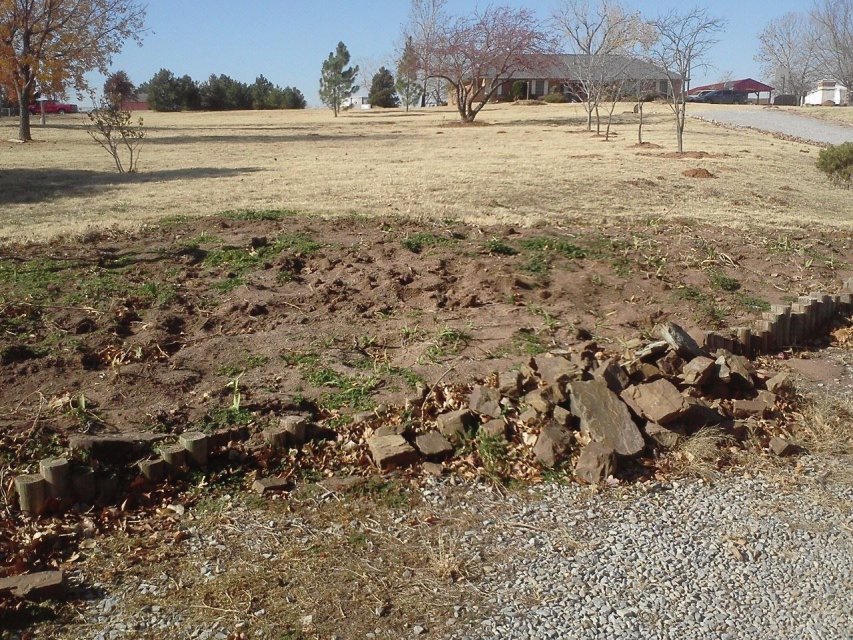 (this is the other garden we took out. It was large and you couldn't even see it from the road...yea! less work!)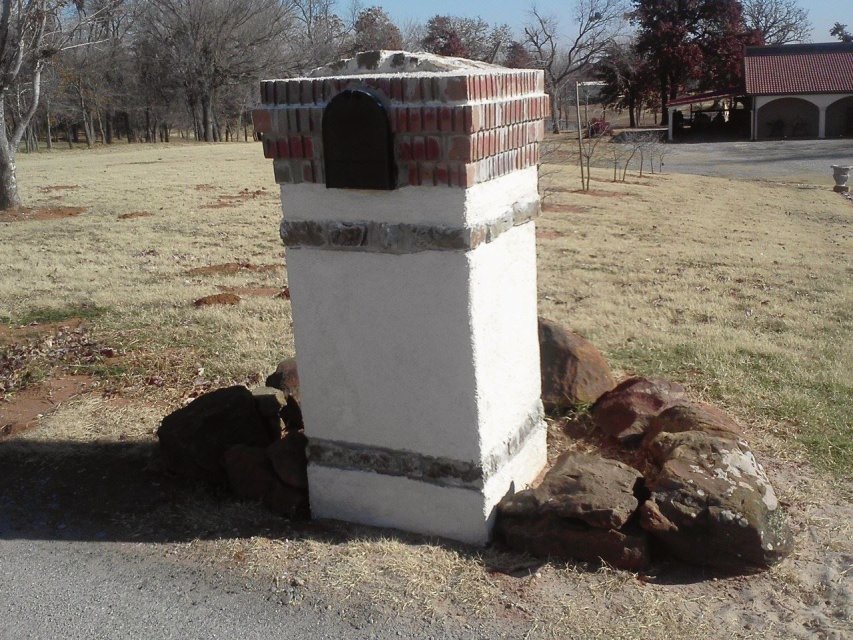 (Previously, I showed a pic of our new mailbox, but I hadn't put stucco on it yet, here it is done).

I would have been happy if we had finished half of the work, but with the extra help, we finished the whole garden, and I was ecstatic.

I then went inside, put the two hams in the oven, and proceeded to make a green bean casserole, a sweet potato treat, and Spanish corn with peas. Elizabeth had already cleaned the kitchen and she and Maria already had the mashed potatoes cooking.

I then took a shower and came back, finished the meal, waited for everyone to come, and then then great meal.

Everyone had to say something they were thankful for, and when it was Matthew's turn he said, "Making out". Ohhhkaay. Of course, we vetoed that comment.

The day after Thanksgiving, we used the left-over turkey and made
Bolios
. A sandwich made with a small French-loaf like bread. We pile on lettuce, tomato, cucumber, pickled beets, onion, radishes, sliced cooked potatoes, cilantro…anything.
Then another day, I cooked some egg noodles, drained them. Added the left-over turkey to the leftover gravy, heated it up, then added the two together…turkey and noodles…and it was incredibly good.

Then the following day, I baked some huge baking potatoes in the oven then added sour cream, butter, salt, and pepper, then cut up left-over ham, and then shredded cheddar cheese. Super yummy. I even packed one into a Tupperware container for Fito for his lunch.

I then took the two ham bones (that still have meat stuck to them, but it doesn't want to come off), and put them last night in my large canner and added 6 pounds of small black
beans
, lots of water, garlic, onion, pepper, and 2 packets of Sazon Goya Cilantro and Tomato. I am still cooking the beans today. I will add a small can of diced tomatoes with green chilies and salt later when they are soft.
David invited some youth for Friday which is why I made so much. Also, when the beans are done, I will bring them to a boil, then crack eggs and drop about 7 or 8 eggs into them and let them cook.  Eggs and beans are an incredible combination. The Spanish then crunch of chips or tear up tortillas and add them to the soup. We also add cut pieces of avocado, shredded cheese, or other toppings…yum, yum, yum.

Saturday morning, we went to the Temple as a family. Afterward, we met Tony at a Mexican Restaurant. We very seldom eat out as a family. It was fun and they even had live Ranchero music. Tony then headed back to Missouri after he dropped the children off at home.

Fito and I were going to do some errands when we saw a car in a small car lot priced at $1400. We stopped to look at it and drive it. It pulled really hard to the right and had hail damage, but everything else seemed okay.

We took it to a mechanic and he said it looked good. It is a 04 Chrysler Concorde with 147,000 miles. We bought it for $1200 and then went immediately and put new tires on it. No pulling and drives great.

Our day was spent, but a great car for Felipe.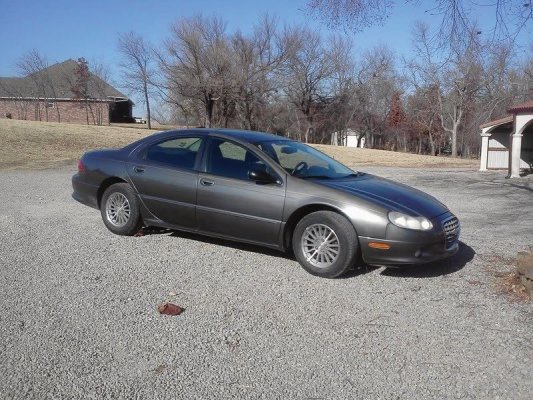 (It has leather seats and a sun roof, too.)

Now we just need to find a car for David (he turns 16 in March), and try to find better cars for Benjamin and Matthew….ahhh the joys of parenthood.

Rebeca, Elizabeth, and I went with Maria and Travis to their ultrasound today. They found out they were having a boy. But then they spotted a cyst on the brain of the baby. They have to go back in six weeks to do another ultrasound and to do blood work.

There is a possibility that it is Trisomy 18, an extra chromosome, which usually leads to death in males…not a good prognosis. But the doctor said that since the hands were not curled, and since the heart is in good condition, that it might not be Trisomy 18, and there is a chance the cyst will go away on its own.
We are fasting this Sunday for the baby, Maria, and Travis. 

Travis's grandparents were in a wreck on Thanksgiving Day. They both are okay, but very sore and beat up. But what a blessing that they were not killed or injured even worse. Their Mercedes was totaled and it was a bad wreck.

It was cold today and I just started a fire in the fireplace. There is nothing quite as comforting as having a blazing fire, eating chocolates (which I am) and having all the Christmas decorations up (which I do). I am almost ready for Christmas.

I am till practicing for the Choir (we're getting better…we had a full choir rehearsal last Sunday which went well, and we have a full rehearsal Saturday with the orchestra…getting exciting!)
for information on our concert. It will also be on TV...see details on website, and a smaller group of us are singing December 15 at Penn Square Mall at 6:00 pm.

I also need to buy gifts as I have only bought some of them. We always struggle to play Santa Clause, but it always somehow works out…it always does…and I am amazed year after year how it does.

There was one particular year when Fito was in school and only had a part-time job. We did not have a dime, but someone or several individuals…we do not know to this day who did it…but we found a large garbage bag on our porch and it was full of wrapped presents. There was something for each of our children.

I still tear up when I think of that person's charitable act to our family. Thank you to each of you for each act of kindness that you perform daily. For your smiles, for your patience when I do something dumb while driving, for your kind words, for the sincere compliment, for noticing when I do something well, for helping the homeless, the sick, the elderly, the young, the busy, the frustrated, the lonely.
Thank you for service to humanity, for making the world a better place…one act at a time, one individual at a time. Thank you. I and many others appreciate all that you do.
It has been a month since I last wrote anything although I feel as though it has been 3 months or more as so much has happened. We had a family reunion of Fito's siblings, his mother, and an aunt and uncle. It is the first time in 12 years that he and his five siblings have all been together.

His sister and her family came from Ohio. His sister from Tacoma, Washington came with her husband. His two brothers and their wives came from Vancouver, British Columbia, Canada (and brought one child), and his other brother came from Los Angeles, California. His aunt and uncle that came are from Australia, and his mother was already here from Canada.

What a reunion. They went one weekend to Houston (a 7 hour drive) for a nephew's wedding and saw cousins, aunts, uncles, and friends that they had not seen for years. Then they came back with more relatives in tow. We had Maria's and our house packed with family.

We ate great food, talked till the wee hours in the morning, watched the August meteorite shower, went antiquing, went to a museum, shopping, took naps in the hammock, and talked and talked. I went to work…and had plenty of work, then came home to conversation and great food.

Life basically, was on hold. Everyone has now gone home, except my mother-in-law. She will be here until the middle of September, and then she will head on down to El Salvador and stay there for about six months.

I also had Lasik a few days before they came. That is why they went to Houston without me. But Lasik has been incredible. I was 900 in one eye and now I see 20/20. I can drive without glasses. I can get up in the middle of the night and see the clock, walk to the bathroom, and I can see!

People's faces are clearer; the scenery is sharp and clear. Wow. I didn't even have to wait for the resurrection, although, because of my age I still need reading glasses, but that is 10,000 times better than progressive lenses that never seem to focus… Anyway, enough about that.

I did an amazing amount of cooking during this past month. I have baked countless cookies and sweet breads. I do need to tell you, though, that I tried a new combination and it made for a super, incredible sweet bread.
I grated carrots and was going to make carrot bread, but then I got adventurous when I saw a can of mandarin oranges and added them as well as a can of crushed pineapple. I also added cinnamon, and all-spice, and nutmeg.

It was perhaps the best bread I have ever made (except for the apple coconut bread I made last night…ha). Everyone raved about it and told me it was a different, but amazing new taste.

I used the same recipe as the
coconut-apple
, but then added the other ingredients, and voilà, a great new recipe.
It has been extremely hot and dry as many other places right now. Every day that his family was here, it was over 100 degrees. The Friday they came, it was 113 degrees. The next day it was 109.

Coming from Washington state and Canada where 80 degrees is hot to Oklahoma in August…whew. And worse, that we are in a drought and everything is burned up.

The yards are brown and scorched. There were wild fires when they were here. I kept telling them that usually, Oklahoma is beautiful and green, but certainly not this year.

It did rain on Saturday, and it was a widespread long rain. It was phenomenal! It rained hard and really soaked the ground. What a blessing. They say we are 15 inches from being out of the drought, but this was a great start.

Back to food. One afternoon, a cousin, who is a chef, made Chicken Alfredo. After everyone had eaten, I realized there were plenty of noodles and Alfredo sauce left over.

I then remembered that I had left-over Chicken fajitas. We heated up the Fajitas, added them to the Alfredo sauce, which we then added to the noodles and stirred it all together. There was enough to send dinner to two different families. Always a nice thing.

The interesting thing, is we decided we actually liked the taste of the Chicken Fajita chicken better than the original Chicken Alfredo. Very fascinating to a cook.

I tell new cooks; don't be afraid to try different things. I take leftovers all the time and try to change them somehow so my family feels as though they are eating something new.

For example, I went to a friend's home yesterday, to help with something and decided to start dinner for her. She had some frozen chicken breasts. I took them out of the freezer and put them under hot water until I was able to take the plastic wrap and foam off.

Then I put the whole frozen chunk of stuck together chicken breasts in a frying pan, added 3-4 cups of water, and put it on to boil. The chunk stuck to the side until it cooked some, then slowly I was able to break it apart, have all the chicken inside the pan, and then put a lid on it to cook even faster.

As she doesn't have the same spices as me, I had to improvise. I found some onion powder which I added, plus salt and pepper. When the chicken pieces were finally all separated (but not completely cooked. I pulled them out one by one to the cutting board and cut them into bite-size pieces. (Meat is easier to cut when partially frozen).

Once the meat was done and had cooked enough to soften it, I added some spaghetti sauce (to the water which I had used to cook it-keep about ½ to 1 inch of water in the bottom).

By this time my friend had come home and with her, we added some fresh minced garlic and some salsa. Basic Spanish flavorings.

I told her there was enough chicken there to compliment two meals (see my article on
using meat sparingly
). That she could use part of the chicken with pasta. She could make it into Chicken Spaghetti (by adding more spaghetti sauce) or Chicken Alfredo by adding Parmesan cheese and some whipping cream to the sauce.
Or she could add 2 cans of diced or sliced potatoes, a can of sliced carrots, and a can of corn, and a can of diced tomatoes with peppers if you wanted it spicier.

You could add water and more Ragu or V-8 juice, celery pieces, a can or corn, a can of diced tomatoes with chili peppers to turn it into tortilla soup.

Just be creative, add a little, taste it, add a little more of something, and keep trying. Leftovers can always be changed a little to make them different and to break the monotony. Just experiment!              
This past week I did two different meals, where I took leftovers and changed them into a new meal. As I do this frequently, I thought I would share with you what I do.
The first meal was made from leftover turkey. Actually, I had canned the leftover turkey from Christmas, but one of the jars didn't seal and was sitting in the fridge.
When I opened the fridge to "stare" at the contents for a while and try to come up with dinner, I saw the jar and thought, "Oh, I need to use that."
I took the jar and poured the contents in a pot, then added one can of corn, one can of chilies with diced tomatoes, one can of mixed vegetables, and some water. I also added salt, pepper, some dehydrated onion (1 Tablespoon) and some granulated garlic.
When this mixture came to a boil, I added one bag of alphabet pasta (the really little pasta). Voilà!…chicken noodle soap. Everyone went crazy over it.
We ate it with chips in it, sliced avocado pieces in it, salsa added to it, and some ate it with just crackers.
A couple of days later, I had just the bottom of the pan filled with black beans so I took a pound of hamburger and cooked it with a little water, some dehydrated onion, salt, and pepper. I then added the hamburger to the beans (I only buy the 93/7 hamburger…if you buy hamburger with more fat…you will have to drain the fat first), then I added 1 can of pinto beans, 1 can of red kidney beans, 1 can of corn, 1 can of green chilies with diced tomatoes, and one can of mixed vegetables.
I then added a little more granulated garlic, salt, and pepper and more packages of Sazon Goya natural seasonings.
This made Chili that we ate for two days. We ate it on rice, with chips, with avocado slices, etc.
Yesterday, I made
Pupusas
for lunch, but cooked up a batch of pinto beans. As I went to put them in the fridge in the evening, I found some leftover ham from the holidays that I didn't know was still there. I took the ham and cut it into small pieces and added it to the beans.
The old timers, on Friday's would make leftover stew which consisted of the week's leftovers. I have put mashed potatoes in soups and stews (they thicken it and add flavor). I have added all types of leftover vegetables or meats to soups or stews.
Another thing I do to save time and effort is to double or triple recipes. For example, when I came home Saturday afternoon after being in an all-day meeting. We made
Goulash
…but we made enough to have one large pan for dinner and freeze another batch. That way, someday when I work late or something, they can pull that from the freezer and have a meal.
I just finished a training for a business this morning (I have another one this afternoon), but the morning session went incredibly well. It was one of the best trainings I've done. There is such a sense of accomplishment, when you prepare well, and things go so smoothly.
Now we will see if the afternoon session goes as well.
/