Shopping Cart
Your Cart is Empty
There was an error with PayPal
Click here to try again
Thank you for your business!
You should be receiving an order confirmation from Paypal shortly.
Exit Shopping Cart
ORGANIZATION AT WORK OR HOME
Does life ever slow down? We did the garage sale again and didn't do very well, but I worked outside the whole day and put stucco on the new mailbox, moved plants from one garden to another, and cooked for Sunday.
Then a whole week went by again with home schooling my children, work, cleaning my mom's room and feeding her, juggling activities, cooking, shopping, and sneaking in the reading of The Hunger Games series. (Yes, I read them all in the space of three days).
My two youngest, which are girls, were at their cousins the whole week, but two of the cousins plus a friend came here, which means I had 5 teenage boys the whole week.

Therefore, I had to cook big time this week…and actually…I thought all my children except Felipe (who's in college) were going to stay in Dallas for the week.
I had made plans of using the whole week to write in my book, blog, work on my website, etc. Instead, I had to cook, make sure they did chores, ended up subbing at work, etc.
Life has a way of robbing our best laid plans…doesn't it? Oh well. I finished 2 different trainings and only have an evening Spanish class the next 2 weeks. Thus I plan to write, write, write…so I am ordering everyone in my family to not get sick, to not need mom, to not make any messes… (Hey—I can dream can't I).

Did I mention that a son at college just emailed me and on Monday wants my help to straighten out his Financial Aid mess?
With nine children…what do I expect? What did I expect?
But I would not trade or change anyone or anything. I love my busy life filled with unexpected events. I live a soap opera…maybe that's why I never have watched them.
Today, I canned butter (I do it in a pressure canner so it will last for years without being refrigerated). Braum's had it on sale this week for $1.99 per pound, and so I bought 20 boxes. I canned 13 pints and one quart of butter, 4 quarts of leftover Spanish turkey, and 3 quarts of leftover Chili.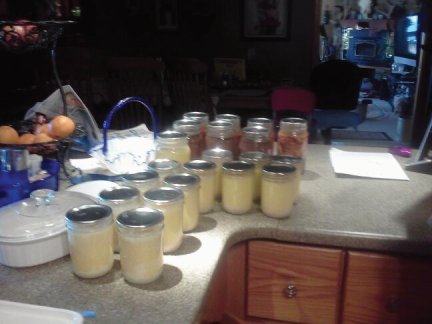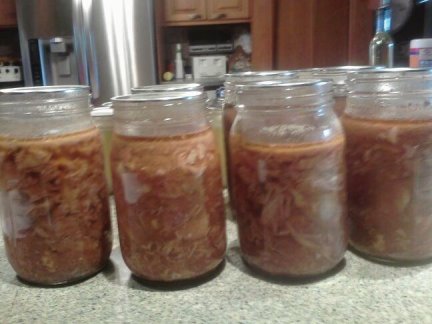 That is the marvelous thing about canning. Instead of freezing the leftovers or giving them to the chickens, or worst of all-throwing them out; you simply put them in a jar, process it, and now you have a meal in case of an emergency or for one day when you do not have time to cook.
We are having a class at the college this month on canning. People are always asking me to teach them so I asked the Director of Community Education to try a class. It's on a Saturday morning. We will see how well it goes.

I also made chicken today and Spanish rice. Both came out really well. For the chicken, I took a bag of frozen legs and put them on to boil in about 2 inches of water with some dehydrated onion (about 2 Tablespoons),

powdered garlic (2 teaspoons),

2 packages of Sazon Goya con Culantro y Achiote (Coriander and Annatto), and
some salt and pepper.
I did not add any Traditional Ragu this time and no bell pepper. It was different than I normally do it, but it was excellent. I guess I need to come up with a name for it.
I did not cook off the water, so there was a broth that I put on the rice when I served it…extra yummy.   

I also made 22 small loaves of Sweet Potato Bread. I used the
Apple Coconut Bread Recipe
, but did not add the coconut and instead of apples, added a can of cut sweet potatoes (but I squished them with my fingers). I also added a teaspoon of cinnamon and a teaspoon of all-spice. Wow! What yummy bread.
I took some to give away at choir practice, and brought some to give away to some individuals at a meeting tonight at our church. Having small loaves of bread ready makes for a quick gift…a nice thank you…a "I miss you"… a "I'm sorry", etc. It has served me well though the years.
This week hams were on sale, as well as chocolate chips, so I stocked up on both. I made a ham on Thursday, and we had mashed potatoes, asparagus, pickled beets (I just added ½ cup of sugar and 1 teaspoon of apple cider vinegar to a can of sliced beets…leave the juice on). Let them soak in the sugar and vinegar mixture for at least 30 min.—45 is better. Then, drain the juice, and serve them cold.  

We also took two cans of corn and mixed them with a can of peas, drained them, added butter salt, and pepper, and heated them up in the microwave.    

(Just a hint: When you bake a Ham or Turkey in the oven use a deep enough baking pan that you can add about one inch of water to the bottom of the pan. you can even add seasonings to the water like I do when I make
Spanish Turkey
.
I also use heavy duty foil and completely seal the top. then i do not even check on it for at least 4 hours or so has gone by. Adding water, and keeping a tight seal with make sure that the meat is juicy and tender.
I always add water when I cook meat...unless I am grilling it and then I marinate it...water? Yes...I use some...so yes, I always add water when I cook meat. remember the words: tender and juicy.)

This was a really nice dinner, because we had had leftovers on Monday and made
Goulash
on Tuesday, ate the Goulash again on Wednesday, so we were ready for a nice meal on Thursday. I packed up a nice dinner for Felipe to take to the missionaries.
We had to work that night, and they had visits, so it didn't make sense to go pick them up from another town, have them at home for a bit, and then have to take them back so quickly. But I don't like to do that very often; because I know they like to be in homes where they feel welcomed and where they can relax.
I also made miniature M & M cookies...super yummy. (Use the Chocolate Chip
cookie recipe
and replace it with another chip...). Especially iced...but who knows how many calories. I have avoided them for three days now, but right now they are calling to me. hopefully, they will be gone when I get home...
Friday, Fito and I finally had some time together. He worked every night this week and besides that, he just signed us up to be in Amway. At first, I was so angry that he did so without talking to me, but then I realized that he has wanted to have "his own business" for years, and many of the things he has tried, have not done so well.
At least with this, he cannot lose a lot of money, and as I looked at their new product lines, books, gift cards, make up, nutritional supplements, and so forth; I was impressed with their products and their new marketing. Therefore, I will support him in this endeavor and we will go from there.
We went to Brass pro Shop today with the whole family and Maria, Travis, and Xander. I had not been in years and forgot how much fun and how interesting the store is. My son-in-law, Travis, is really pleased with me right now because this past week I told them one evening when they were at the house that one of my new favorite shows is "Duck Dynasty."
It is a reality show about a family in Louisiana that have made their fortune selling duck calls, but it is more than a show about a successful family business. They are the type of family that makes America and the world great.
They are concerned about their children, who they are dating, where they are, who they are with, and so on. They worry about each other. Spouses work together. In-laws, grandparents, aunts, and uncles are all part to the family, have a say so, teach, help out, and enjoy life together. I love the beards.
I agree that children should spend most of their day outside. That they should grow up using guns, canning food, cutting firewood, being self-reliant, living off the land as much as possible, gardening, working hard, being pure, being a person of integrity.
I know all of us are struggling to raise righteous hard-working children. Each day seems like we are doing battle and some days, it seems, that we are losing the battle. But don't give up. Do not give up. Keep praying, keep hoping, keep loving that child who has gone astray. I truly believe that if we have enough faith and if we keep our own covenants, that someday, in His own way; god will somehow bring them back to us.
What a great weekend I just had.
Friday morning, I woke up in one of those strange moods where something was really eating at me…I didn't know what or why…but I knew I wasn't happy or content with life at the moment.
I ended up getting angry at Fito. We both left for work upset.
Of course, we cleared it up later and I realized what had been bothering me (and poor Fito, it had nothing to do with him).
Anyway, on the way to work, I was stopped by a Highway Patrolman. But a tender mercy from above was bestowed and he did not give me a ticket or even a written warning.
He just told me to have a great day and to slow down. I don't know if he could see that I would have broken down and cried had he given me the ticket (hopefully, not in front of him). But somehow, someone knew I was at my limit and needed mercy, not justice.
Well—through the years, I have learned that when you are discouraged, down trodden, or sad: to work, serve others, and count your blessings.
I did all three this past weekend and as always it pulled me out of the doldrums and I feel 300 percent better.
I started with work. Saturday, I woke up early and cleaned out both upright freezers. First of all, I only intended to pull the frozen bell peppers, jalapeños, and turkey that I had in bags to can them. But when I saw how dirty the freezers were, I ended up cleaning them.
I then cleaned the back pantry as I was still waiting for the bags of stuff to defrost. It really wasn't that disorganized, but it had been invaded by weevils. They had been killed by a bomb, but I had never come in and cleaned the shelves, etc. It took a couple of hours to clean it and set everything in order.
What a great feeling! A place for everything and everything in its place!
I then took a break to eat lunch…actually…I had taken occasional breaks as I was reading the book, "How to Kill a Million People".  A good book that I finished on Saturday…everyone should read it. I am writing a book on Critical Thinking because I believe that if people did know how to think…they would be able to discern between truth and lies.
This book and a conversation with a friend about female circumcision really reminded of my blessings and then I took meals to two other families that are struggling…made me realize how blessed I was…
After eating, I went and gathered jars, washed them, and then packed them with the stuff from the freezers. I ended up with 22 pints of peppers, 4 quart jars of peppers, 3 quart jars of turkey broth, and 2 quarts of turkey.
I also tried canning something new. I canned seven half pints and one quart jar of butter. I had read somewhere that they had canned butter…either during the depression or during WW II. So I thought about it, Butter is a fat. I can meat that has fat and it is okay. The butter will melt and boil while it is canned, but when it cools it should go back to a solid…
Hummm… Let's give it a try. I did it in a pressure canner, just as I do just about everything else-- at 10 pounds of pressure for 45 minutes.
BTW—I did Google this and some people were showing how to can it using the oven, But DO NOT ever can anything using the oven. Without the pressure, you cannot get the temperature high enough to kill all bacteria that lead to botulism.
DO NOT ever can using the oven…I do not even use a hot water bath anymore as through the years I have learned that many of the new varieties of vegetables, tomatoes, etc. are low acid and they will go bad after a few years on the shelves.
I ONLY can using a pressure canner.
There are three pictures of the butter. The first is before I canned it. I just put the softened butter in the jars and used Clorox wipes to clean the glass rim before I put on the lid and metal rims.
The second picture shows the butter just after I took it out of the canner and it is still hot and a liquid. Notice: it separated.
The third picture is a picture of it a day later, opened, and ready to use.
I did try shaking a jar to keep it from separating, but as it cools, it just naturally separates.
When I broke the seal, and opened it, I then took a butter knife and stirred the two parts together. We ate it on bread, and also on toast.
Yummy. Exactly like butter. No difference whatsoever…except…canned butter should last about seven years without going bad or rancid.
I even canned 4 more pints, yesterday.
I am so excited about this…imagine fresh butter in your pantry when others cannot buy it. Butter on freshly made bread (from all that wheat in the pantry). Sounds wonderful to me!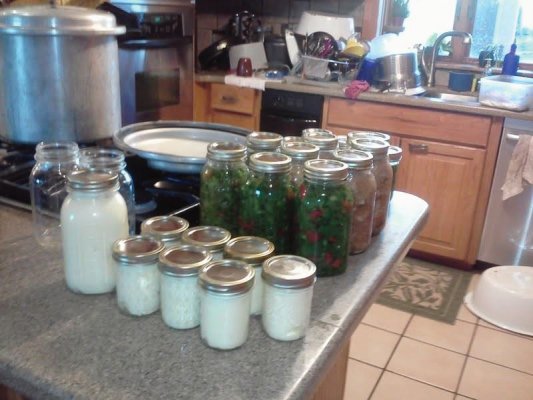 BEFORE CANNING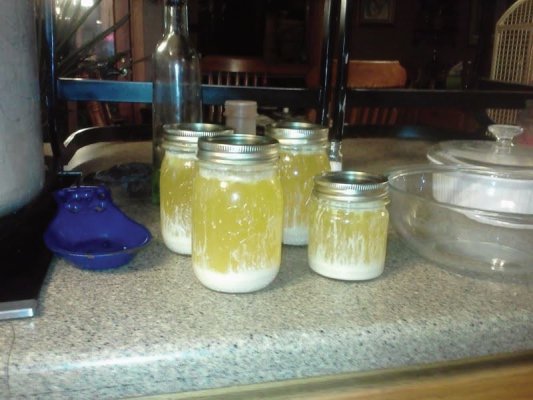 STILL HOT--AFTER CANNING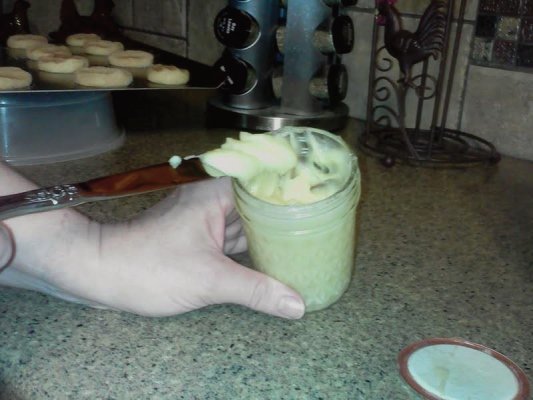 THE NEXT DAY--READY TO SPREAD--YUMMY AND SAFE!
A friend recently ask me how to get started on food storage and where and what to buy, this was my answer:

I buy most of my bulk items at Sam's or Costco's. They are cheaper than other places, and then I buy canned goods when they go on sale, usually at places like Sav-a-lot or Aldi's.
I buy Sanalac Powdered Milk (I think it tastes the best) In OKC Grider's was the cheapest. People buy (I think it is called Moo Milk) a product that they say tastes good. Well of course it tastes well, it has a huge amount of sugar in it.
Which would be okay for storage and as a supplement, but should not take the place of powdered milk and would not be suitable for baking.I just bought 10 cans of powdered eggs.
A church I was visiting in Dallas did a bulk order from Emergency Essentials so I was able to get a better price through them. (I really did not have the money at the time, but I did it anyway, and then paid my cell phone bill late...)
 Mainly, I know prices and when I see a good price I buy all I can at that moment, even if it means skipping on the rest of my groceries that month.
For example, during the ice storm when eggs were not available, Walmart marked down the brownie mixes to 90 cents each. I bought 2 cases of brownie mix that night.
I am not fancy about storing items.Go find a donut shop that will sell you their used 5 gallon plastic containers. They get icing and other food in them. Then wash them out, leave them to bleach in the sun for a day or so, and use them to store stuff in. 
There is one type of container that has a snap on lid that I really like and a couple of years ago I was at a garage sale and I bought 11 large plastic containers.They were maybe 40 gallons? The man said they had sucrose (a sugar) in them and that they were from a vitamin company. They had a great, easy to use lid and I put water in six of them and have other foods in the rest. 
There is no reason to go and spent lots of money on fancy products.  Just buy and hide...is my motto.
 Before we lived in a big house, I hid food under beds, in the linen closet, the bathrooms, under table cloths, in china cabinets (on the lower part), in cabinets, the garage, the attic, etc.
 Maybe they weren't ideal, but hey, having food to eat is more important than waiting for the ideal conditions in which to store it. 
 I have been working more and it is more difficult to manage my time, but as always, I reset my priorities, perhaps let go of something and then keep plugging along.
I am working Thursdays all day now, so I am paying maria to take my mom to her hair appointment.
I think it will be a good arrangement for us all.I have not been able to sleep, though, due to ideas about a project that keep popping into my head.
The ideas are great and I love being the recipient of such...but sleep is so crucial. I fell asleep while waiting for David after school. Then when I took him to Sonic to get a drink, I fell asleep waiting for the order.
The lady told me, hey, you do not get to nap unless I do.
I did sleep through the night, last night, but woke up at 5 am...much, much better than waking up at 2 am and not being able to sleep.
I have an extremely long day and even have a Managing Generations Seminar tonight...but at the same time, teaching and training people invigorates you...as it drains you...I don't know how to really explain it.
/