Shopping Cart
Your Cart is Empty
There was an error with PayPal
Click here to try again
Thank you for your business!
You should be receiving an order confirmation from Paypal shortly.
Exit Shopping Cart
ORGANIZATION AT WORK OR HOME
Wow. Has it been since November that I last wrote? At that time, we were in California, headed home after Tony and Colette's wedding in the Bellvue, Washington Temple on November 8.
We stayed with Colette's family for the first part of our stay. They live 3 hours southeast of Seattle, Washington. It's where they grow food. 
Orchard after orchard, vineyard after vineyard, and vegetables as well. It was fall, so the colors were red, gold, yellow, and brown. Then when there were pines, the bright colors contrasted against the green and just simply beautiful.
It's a rugged land with tall rock formations, but it has its own beauty.
We fell in love with her family and friends. It was as though we have always known them. We think alike and we are so blessed that Tony found a girl from such a family. It's just too bad that we don't live closer where we can do things together.
The first night after arriving, it was to the church to prepare for the reception. Decorations, setting up tables, chairs, ironing, prepping food: all the thousand little tasks that have to be done. We had paid the extra $25 to bring an extra bag on the plane and we brought 4 duffel bags full of ice cream buckets (3-4 in each bag) of
Pupusa
Mixture,
Taco Meat
,
Spanish Turkey
,
Re-fried Beans
, and 1 box with 44 loaves of
Poppy Seed
and
Apple Coconut Bread
.(or
Cooking for a Crowd
)
The next day, was the same. Preparation. I was smarter though, this time, than at the previous children's weddings. I had Colette's sister do my hair early in the morning in a French Twist with pretty pins and spray it really well. Makeup done. That way, I did not have to leave the food or kitchen later. Worked out much better.
We had the taco meat and Spanish turkey in roaster pans that we had borrowed, then had chips, bread, salsa, grated cheese, diced hard-boiled eggs, mushrooms, onion, lettuce, tomato, cucumber, avocado, Spanish cream, etc. that people could either make a pile-on taco or make sandwiches with the turkey. I also made two roaster pans of
rice
and we had re-fried beans. And strawberry lemonade to drink with the Poppy Seed Bread and Apple coconut bread for dessert. There was also ice cream, and chocolate and strawberry to drizzle on.
The reception was that night and the church had been converted to an enchanted fairyland. It was simply beautiful with floating Japanese lanterns, flowers, a metal gazebo, candles, etc. Fun music, a video presentation, good food, and lots of love flowing. Colette and Tony sang to each other and we had a wonderful evening.
We drove on to Tacoma that night to not have to make the 3 hour drive in the morning, which probably was a mistake, because I was so tired and the roads were curvy. We finally made it to Fito's sister: Blanca's home. Then surprise! His other sister, Maria, who lives in Ohio had flown in for the wedding!
We stayed up another hour or so. Then it was time to get up a few hours later and get all pretty again.
We went straight to the Temple on Saturday for the ceremony. What a beautiful temple and the landscaping is so incredible. Even though it was fall, the grass was super green and flowers were blooming. That part of the US is so beautiful.
After the ceremony, Colette was still glowing. I am dead serious that she was glowing. I believe in auras, and occasionally see them at certain times, and Colette was radiant- she was truly glowing. Partly from happiness and partly, I believe, from her purity.
After the Temple Wedding, friends of Tony, from West Point came in their uniforms and sabers and did a fun tradition. They made a tunnel that Tony and Colette had to pass under. As they went through the tunnel, two of the officers would lower their sabers, stopping them and Colette had to kiss Tony in order to pass. It was really fun.
Then lots of pictures, then off to the church for a family dinner. This time, I made Pupusas with the help of my mom and sisters-in laws and Fito and my children. They came out great. We had four griddles going and whipped out several 100 in about 40 minutes. Another success. Having the meat frozen and prepared beforehand made a big difference and it was cheaper to bring it all on the plane than to FedEx it.
The dinner had the same program as the reception, but was more formal in the table settings, but less decorations. The family was wonderful and we had such a wonderful visit with Fito's family, as well.
Sunday, we went to the farmer's market in Seattle which is amazing. We also had to drop Fito off at the airport as he was going back home to work, and drop Colette and Tony's rental car off, and pick up Colette's car as I and the 3 children (David, Elizabeth, and Rebeca) were driving it back to Oklahoma. Tony and Colette were headed to Florida for their honeymoon but their plane left really late.
It was a day that required a lot of patience. We had to wait several times as things simple did not go as planned. Everyone waited so patiently. Fito's family is amazing: other people would have been frustrated by all the things that went wrong and all the waiting, but they were great.
Monday morning came. I took Colette's car to the post office, packed up all their things into 4 boxes and mailed them to Missouri where she and Tony reside. We had too much luggage and could not leave until I made room. I then went back to Blanca's, we loaded up and left.
We headed down though Oregon, then through northern California. The whole drive was spectacular. The ocean, the tall mountains butting up to the Pacific coast, the magnificent Redwoods, the red, yellow, and golden deciduous trees against the green pines, the amazing villas and foothills of wine country.  We stopped at San Francisco and went to China Town. I want to go back some time with Fito: it was amazing and I didn't see enough (or buy enough).
Then we drove across central California into the rugged mountains and desert of Nevada. We were going onto the Grand Canyon, but headed straight for home. 18 hour straight drive through Arizona, New Mexico, Texas; then home to Oklahoma. Amazing rock formations, striking deserts, incredible sunsets, star lit skies with an almost full moon in the New Mexico landscape. No man made light to dim the magnificence of the heavens.
We headed home as bad weather was coming. It had been following us all the way home, but was just about to catch up with us. It snowed the night we made it home.
Home. What more needs to be said. The US is incredible. Each of the 34 states I have seen, is its own kind of pretty. But home is always the best place to be.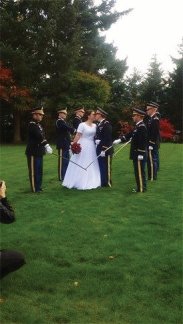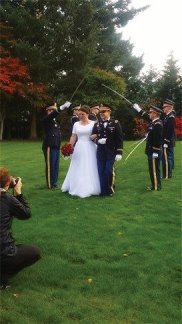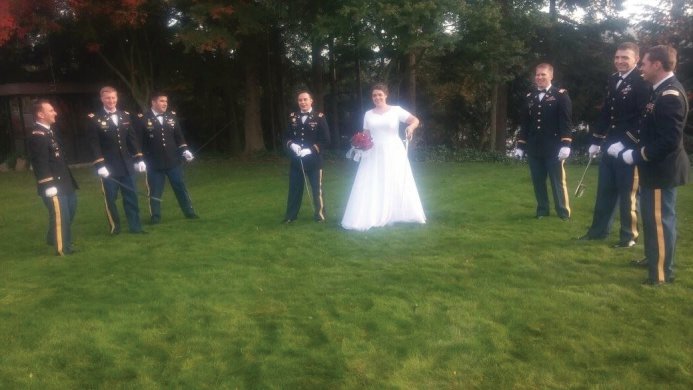 See how she is glowing?!
I have to admit I was wrong about my husband's business convention. I was sure I was trapped the whole weekend in what would be an irrelevant and boring time. And yes, there were parts that I did find irrelevant to me, but they had brought in some motivational speakers that were incredible.
One in particular, Kyle Maynard, who has a condition known as congenital amputation, was just phenomenal. He doesn't have lower limbs on his legs nor arms. No hands, just part of elbows. No legs below the knees.
He was just so inspiring. All the things that he has accomplished with the limitations that he has…how could we do less? One's perspective on barriers or limitations changes and we realize that what we thought we couldn't do…we really can do.
All week long, I thought about what I could change in order to accomplish my dreams, my goals…but I still have the same dilemma that I always have- time. I try to manage my time better and more effectively, however, something simply has to give.
I simply am doing too many things for too many people. To really meet my goals, I am going to have to begin to say no, and that is always a hard thing to do.
On Wednesday, I took some hamburger ( about 2 lbs) and thawed it out, then added 1 cup of uncooked rice, salt, pepper, and 1 teaspoon of dehydrated onion, and 1 teaspoon of garlic and mixed it all together.
I then made ball out of the meat and rice mixture.
Fito had purchased a mix of vegetables: cabbage, red onion, carrot, potato, cilantro, corn on the cob, green onion, celery, ayote (in El salvador they use it green...acorn squash?).
I cut up all the vegetables, put them in water, added pepper and salt, and 2 packages of Sazon goya Natural seasoning. After they were cooked, i added the meatballs one-by-one, and then cooked it until the rice was soft.
Oh my, was this super yummy on a cold day. In fact, I am going to take a break and get a bowl right now!
Matthew's birthday was yesterday. My number three son turned 25. It hardly seems possible that it was 25 years ago I had my third child, but the first child born at home. What a spiritual experience. It really was one of those life-changing moments that affected my life from that point on.
He invited friends over and Rebeca made strawberry cupcakes for his cake. She put them on a glass platter and we made it like one big cake. It was a cute and fun idea.
(Also, if you use an ice cream scoop to put the batter in the pan…it is twice as easy. In addition, let the batter set for about 10 minutes. It will become foamy and not drip as much, making it easier to fill the cups.)
We cleaned up part of the house…we didn't clean as much as I would have liked, but their bedrooms and bathrooms are the cleanest they've been in a long time. I was going to work on my website, but I never had the time… (what a lie).
Actually, my nephew, Preston Norton, just published a book, "Blud and Magic," and
I spent the afternoon in the tub reading and I didn't even finish it! People came for Matthew's party and I had to get out and come back to real life…super bummer.
I have not had such a lazy time in who - knows - when. Then my children took the book to Dallas with them… (but I ordered another one, which hopefully will come soon).
I normally do not read paranormal, fantasy, type books. But of course I had to read this one. But it is great. Really good writing. I was impressed and the main thing is that I did NOT want to put it down; the hallmark of a good book.
Maria, Xander, Felipe, David, Elizabeth, and Rebeca left to go to Dallas last night. A mini family trip of 5 siblings and a nephew. They are going to a cousin's baby shower in Dallas then driving on to Houston to stay with Douglas (another sibling) and his family. All my grandbabies will be together and I will not be there.
Their cousins from Vancouver, Canada will be in Houston this week as well as cousins that live there. A fun trip of family, good food, and love.
I plan to write the whole time they are gone.
This past week, I worked really hard with Rebeca on her math and reading trying to help her along. She does so much better when I can spend one-on-one time with her. I really need to quit work completely, but need to finish paying off some bills first.
Oh well, I am thankful I have work as there are so many who do not at present. We also have some friends who are losing their home in May. It looks as though they will need to live with us until they get settled somewhere else, so another side of me tells me to hang on my jobs for the time being.
On another note: I have so many readers to this blog from all over the world now, that I find myself thinking of them. What is their life like? How many freedoms do they enjoy? How different is their life from mine?
I do know I am blessed tremendously. I also know that each one of us is given specific trials to help us grow. I also know that although material prosperity may elude us, we can prosper as families and individuals as we apply certain principles to our lives.
May each of you be blessed to find those true principles to have peace and comfort through your trials and problems is my hope and prayer.
Why did I trust my husband to plan this weekend away? Iknow better. He is not the planner…I am.
But this is something he wanted to do,so I let him make the plans and take care of everything.
We left this morning, and it has been one mistake afteranother. Our reservation was messed up, he forgot the tickets to the event(they are in a bag at home…and at least someone else gave us some extra tickets).
I wanted to bring our car, but he insisted we go on the bus with all the others in the group and now that we are here, we found out that the convention centerwhere the event is- is not close to the hotel.
In other words, we are stuck at the convention center for hours. There is not anything close to the center. I couldn't rent a car because we are leaving Sunday afternoon and they are closed on Sunday so we would have to return it to the airport and then how would we get back to the hotel to return on the bus?
I guess it is taxi time, which is okay, but I am a control "almost freak" and I like having a car so I have the freedom to go wherever I want when I want and I do not have to wait or pay someone to take me somewhere.
At least I have my laptop so I can write. I guess you have figured out that we are at a business convention, but not one that I want to be at…but we all do things for our spouses, even things we do not particularly want to do.
Hopefully though, it will be a very productive weekend for both of us, him- listening to the speakers and me- writing away.
I made all the food on Wednesday after work. Early Thursday morning, I took the girl who has been staying with us to the airport. She is headed back home to Houston. She doesn't drive and is a young adult and wants to go to activities at church. I told her she needs to live in an area where she is in a city or area where there are buses or transportation.
This past week, I worked extra hours, and then came home each afternoon to do home-schooling with the girls. Rebeca does better at math when it is oral versus written. I find it amazing when people can do math(or spelling) in their minds. I am the type of person that has to write it down. It is as though I do not see "it" unless it is written down.
Maria, Rebeca, Elizabeth, and I went to the mall yesterday. I wasn't paying attention to the time and was actually late about 5 minutes to my meeting, however, the girls and I had a wonderful time. We didn't spend much. Just bought some candy, stuff that smells good, and looked around.
There was one point when the three of them were walking in front of me, arm-in-arm. It was an awwww moment. I am so happy and blessed that my three daughters are best friends. They also love and adore their sister-in-law, but she lives far awayand therefore, cannot do as many things with her.
Maria is getting big and definitely looks pregnant. We are so excited to meet Sebastian and welcome him to the family. We also wish Celeste and Isabella, our granddaughters, were closer so we could watch them grow up as well.
Celeste and Isabella playing on a warm day...Grandma wants to play in the water, too!
Sunday afternoon was a warm sunny day. We did not have company over as Fito was sick, so I went outside and worked in the garden for awhile. I can be completely frustrated with someone or just life in general and go outside, put my feet in the dirt, pull some weeds, plant some new "babies"(flowers) and all my frustrations, trouble, anger, etc. just blow away in the breeze.That is what happened Sunday.
Thank goodness for warm days and gardens.
By Tuesday, we had blizzard warnings, freezing rain and snow, and the rest of the week it was in the low 30s. Such is Oklahoma weather.
I just paid the gas bill and it was low for this time of year. I know natural gas is lower than normal, but we also have lots of wood from the tornado…and so have been burning wood all winter. I actually prefer heat from a fire. It just feels warmer, and I like warm…I do not like the cold one bit (except, there are no flies, mosquitoes, or fleas….hummm…maybe I do like the cold for something).
Last Saturday, we spent the whole day at Maria's. The girls, David, and I helped her paint Xander's room and two walls in the bathroom. Fito and Travis worked on Travis' truck. It was a fun day. I hadn't painted in  a couple of years and forgot just how much paint can change a room…and do so quickly, easily, and cheaply..
Xander, after feeding himself....glad mom gets to clean him and the chair!
Xander's room. It was plain white before.
Maria got these wall stickers online...oh how we love the Internet.
These last two weeks have been hectic beyond belief. We had our Christmas concert on December 22. We had a 2:00 pm and then 7:30 pm concert. It was incredible. Dr. Craig Jessop, our guest conductor,(previous director of the Mormon tabernacle Choir) taught us more in 9 hours of practice than we had learned in years of singing in church and community choirs.
He was so humble and amiable, while at the same time sharing his expertise in a powerful way. He truly is a master teacher and a professional at the top of his field. It was a pleasure to work with someone of that caliber and not only that, but to work with the choir members and orchestra, people who had sacrificed so much time to work so hard to serve others through the inspiration of music.
My family had arrived from Houston, Missouri, and Kansas while I was at choir practice, so I did not see them until later. However, I had cooked several meals in advanced (3 large pans of Goulash, which nick and David made…2 large pans of Enchiladas from leftover Spanish Turkey, and a large pot of beans) as well as 40 small loaves of Poppy Seed and Apple Coconut bread. Having the loaves before Christmas allowed me to give loaves to people as needed. There are always last minute gifts needed around this time.
On Sunday, it was such a relief to know that the choir was over and now I had my Sundays free again. We played games, ate good food, and visited with each other. The grandbabies played with each other, were carried around by everyone and loved and kissed.
I made Pupusas. I had made the meat and cheese mixture beforehand so I only had to cook them. Monday was a relaxing day, as well, as the presents were bought, food was ready, and decorations had been up for more than a month.
The choir had taken a lot of time, but knowing that three days right before Christmas would be dedicated for rehearsals and concerts had forced me to prepare even earlier, actually making the final preparations less rushed.
I do have to note, that Fito and I were not giving gifts to each other as we had already given gifts to each other. He and the children had made a manger and he had bought the Holy family for me for Christmas.  I collect nativities and have always wanted an outdoor manger scene.
But then on Thursday, I had realized that I wanted to have a present he could open on Christmas morning. I spent several hours on the Internet, looking at Craigslist, calling pawn shops, and just looking for either a log splitter or a pole saw. He needs both, but both are expensive tools.
Last summer, he was on a ladder cutting a tree branch when the branch fell and swung down knocking the ladder out from under his feet. He grabbed another branch with one hand and was hanging by that hand while holding the chain saw with the other hand. Thank goodness, Felipe was nearby and put the ladder back up. A pole saw would be great and SAFER.
I couldn't find a log splitter in my price range (I didn't realize just how expensive they were), and was becoming discouraged more and more as I called more and more pawn shops, box stores, home and garden stores, and farm equipment stores. I ended up calling every pawn shop in OKC (4 pages worth), and still no pole saw.
However, I knew by then what type I wanted, what brands, and so on…so I then simply googled that information.  Voila, a Husqvarna saw was on Amazon.com for just $212. The shipping was $20 and I clicked on 2-day shipping, just to see what the difference would be. It was just $10 more. Yea! I found a saw and it came before Christmas. Incredible! I love the Internet.
Christmas day was wonderful. We make everyone wait, start with the youngest and open each present one by one. That way, we can see what each person receives and see their face and reaction. I was very pleased as I think I surprised several people (Or they sure did a good job of acting surprised to please me).
My mom for sure, I know I surprised. In the summer at an antique mall, I found a uranium glass punch bowl set. She loves glass, especially uranium glass, and the set was a beautiful group. I also surprised Fito with the saw.
When the long box had come in the mail, I had told him it was a new Christmas tree for me. For some time, now, I have wanted a new tree, so he believed me. He had no idea it was for him until Christmas morning when I told him to open the package.
Elizabeth wanted these metal anime keys that go with some show she watches. At the anime store they were around $8 each and there were 18 in the set, definitely beyond our price range. I had told her I might buy a couple, then one day when Maria was with me, I asked her to look online and she found a complete set on Amazon.com for just $39. Wow.
They were ordered and she was really surprised and happy. Maria sold me her DS really cheap and that is what I gave Rebeca. In addition, I had received an I-pad when I did my Lasik. I took it to Best Buy (after taking it to 3 other stores first). I spoke with the manager, explaining how I had received it (it was still shrink wrapped, but I did not have a receipt).
I told him I had nine children, two in-laws, and 3 grandchildren to buy for. I simply could not spend that much money on one individual. He very graciously allowed me to return it for store credit. We used that to buy several of the gifts.
I made a Spanish Turkey, mashed potatoes, peas and corn, beets, homemade rolls, and homemade cinnamon rolls for Christmas dinner. I even did the dishes and did not ask for help.
It snowed about 2 to 3 inches on Christmas day and everyone went out to sled. Matthew tripped and fell just as he was going down with the sled and smashed his face on the ground. He scraped his nose, chin, and cheeks. Got a bloody nose and black eye. He looked really sore, poor guy.
It was Celeste's first time to see snow. Oh the joy of a child's first snowfall.
Wednesday, was spent getting people on the road. It was bitter cold, around 13 degrees so packing the cars, etc. was not fun. We also cleaned the house and I made two huge bowls of Pupusa mixture, a large pot of beans, rice, and Guatemalan guacamole to have ready for a party we were having on Thursday.
I actually had a pot of small red El Salvadorian beans and took 4 plastic containers I had of black beans and combined them. They were a yummy combination.
Thursday, we spent looking for tile/granite/travertine….something to use for our kitchen counter. Sunday night, Matthew was leaning on the bar area when it cracked loudly and the whole slab broke and fell to the ground and shattered. For some time now, we knew we needed to replace our kitchen counters.
There were several cracks, another area where it had swelled up from a hot griddle. We called a contractor friend who wants our enclosed trailer. He is going to do the labor in exchanged for the trailer. Therefore, we only need to come up for the materials.
We went to Habitat for Humanity to look for cheap stuff. We also went to a derailed commodities place, but I still do not know what I want to use. Clearly, if cost were not a factor, I would use onyx or something of that nature, but as always, I have champagne taste on a beer budget.
Nevertheless, just watch and see. I am the queen of make- do.  I will find something incredible at a good price. God always helps me.
Our friend did come over Christmas Eve in the early evening and at least replaced the broken counter with plywood. For the party yesterday, I just covered it with a table cloth and day-to-day, I am putting newspaper on it to protect the wood.
We also extended it out on two sides to give me an even larger counter which is needed with all the baking and entertaining I do.
We also had dentist appointments the week before Christmas…they weren't planned but we had switched companies during the year and had not gone in for the second yearly checkups.  We were able to get everyone in except Felipe and it was time to get Elizabeth started on her braces. I knew it was coming, but they were more expensive than I thought. He also put spacers in Rebeca's mouth as she will need braces, too.
David needs a new mouth guard, Benjamin needed two crowns…and now we are in debt again. The ever continuing saga of the Sagastizado's. Oh well… c'est la vie… Life goes on.
And we have been blessed beyond measure. Maybe we owe a few grand for dental work, but we live in a country and have the means for our children to have their teeth taken care of, to be able to have glasses, to have food, to have a beautiful warm home that protects us from the elements.
To have one another, work, our health, our minds, and freedom.
May you all have the same blessing and in the coming new year, may each one of you be blessed with the righteous desires of your hearts and be comforted in your trials, and have discernment in your decisions, is my prayer and blessing for you and your family.
Just a note: We are in Houston...it is new year's Eve...will tell story later and will put family and choir pics on later. Happy New Year!
Another week older, and yes, I think a little wiser. I just had to throw out some food that had gone bad, which is always sad. I think it is a shame when food is wasted and this time it was my fault…and the worst part is it was the mixture to make
Pupusas
(which takes time to make and is one of our favorite foods.
I knew I needed to put it in the freezer as I cooked other stuff through the week and I never made the Pupusas, but I didn't.

Today, when I pulled it from the fridge it was bad and so it went to the chickens. And that was disappointing because we all were ready to eat Pupusas.

We sold Felipe's truck last night. He was using Tony's old pickup, but wanted something smaller and more economical. The truck is a 97 Dodge with 200,000 miles on it and we sold it for $2000.

Now to find another smaller car for him. Actually, I am just plain tired of the whole buy cars, look for cars, get cars fixed, etc. Right now we have seven cars on our insurance.

We really can't help our sons in college, but this is one way we have tried to help them is through helping them with repairs and their insurance. Our car insurance is one of the largest bills each month and they just raised it quite a bit which means I probably ought to check out other companies. Ugh…something I do not relish.

I only had to work 4 hours this week so I actually cooked every day this week. I made a
Spanish Turkey
one day and they ate it on
Bolio
bread (like small French loaves…sub sandwiches) with lettuce, tomato, etc.
Then the next day, we had
Goulash
. Then the following day, I took the leftover turkey, put it on to boil (added the broth, too) then cut up about 5 potatoes, boiled them with the turkey until they were soft, then added a package of angel hair (extremely thin curled up noodles).
Basically, a homemade chicken noodle soup with potatoes. My goodness, it was so good. Sometimes the simplest foods are the best.

The next day, I made
Carne Guisada
with just potatoes added and made
Spanish rice
. Now I need to let you know I went to do something in another room and when I came back to the kitchen the meat was burning big time. Smoke was everywhere and it smelled of burnt.
What you do is immediately grab the pan, take it to the sink, and add water. But be careful that it does not splatter on you and burn you.

Then loosen the meat carefully with a bamboo or wooden spatula or spoon. Pour the meat and burnt juice into a colander in the sink. Then wash and/or pick off all the burnt sections. Wash the pan, add the clean meat to the pan, and continue on.

If the burnt food is a soup, stew, potatoes, or something like that, just pour the food into another pan, but leave the stuck part in the old pan. Do not try to get it out or the burnt part will go too. You have no idea how many times I have burned something and then salvaged/changed it into a scrumptious meal.

Then if you can believe it, I was making pork guisada yesterday, and I burned it! I washed off the pork and had to wash it piece by piece as there were little black burnt pieces mixed in.

Then when I tasted it, it had an extremely good flavor, but was a little dry. Thus, I ended up adding a little water and a squirt of oil to a clean pan and heated it up again. I did not add anything else or make into Guisada…we just ate the little piece of meat with rice. A very yummy meal.

Today, we had mashed potatoes and hamburger gravy. Another simple cheap meal that the children (and my mom) love.

Yesterday, we worked outside for several hours working on taking out and redoing the front garden. We are redoing all the front gardens; eliminating some and making the others smaller. Downsizing now as we face getting older and older.

It is not just the physical; it is also simply that there are other things I want to do with my time. Plus the fact, that although my children are not as physically demanding on my time…they are actually more demanding mentally as they grow older and their lives become more challenging.

It takes a sheer amount of time to counsel them, help them with a car, school work, taxes, babysit, and so forth. I was foolish to think I would somehow have more time when they left home. I have less laundry to do, but I do not have more time.

We cleaned the house today…amazing how dirty it can get so quickly. And I dislike dusting immensely. When I am filthy rich someday…that is something I will indulge in – I will hire someone to come every week and dust the house.

Our Christmas program is getting closer and a local station has agreed to broadcast the program. We will have a 300 person choir, a 60 piece orchestra, and our guest conductor will be Graig Jessop who used to be with the Mormon Tabernacle Choir.

I am already nervous. I am too much of a perfectionist and it worries me that we are still working on parts this late. I would love to have more practices and be further along.

However, as always happens in these things, I worry too much and they always seem to work out. Fito keeps telling me to not worry and why do I do these things if I am going to worry so much. I do have to admit, though, I am extremely excited, as well.

I used to do a lot of musical things when I was younger and have not had the opportunity to do something of this nature for some time. It is an amazing thing to participate in a program of this magnitude. I am blessed to be doing so.
I also had time this week to write for my book. I am currently writing a book on Critical Thinking.

Fito went to Dallas this past weekend for a work-related conference and I went with him. I stayed in the hotel room the whole time just writing. If I could have perhaps twenty more days like that, I would finish it. I think I am going to have to just disappear (I keep saying that, but never do it).

Oh well, the life of a mom just keeps going and going (and where do we get new batteries from?)  And then she becomes a grandma and still keeps going.

It just occurred to me that our batteries are recharged each time our children do something really mature, really kind, do service, are obedient, selfless, accomplish a goal, and so on. Then you know your sacrifices have paid off.

Oh…something neat just happened. When I had my Lasik surgery done, they had a promo sports package where they gave you a certificate for two sports tickets plus hotel stay. We had not used ours. Then when I went in for a follow up appointment this past week, I noticed that their new promo was an I-pad.
I spoke with their manager, had to make several calls to another company, but got it all worked out where I can exchanged the sports package for the I-pad…so someone is going to get a very nice Christmas present. And believe me, every year I worry about Christmas.

This definitely is when have nine children is more difficult…but at the same time…come on…Christmas morning with only one child? That would be rather sad. And I have many readers from China where I know you would have more children if you could.

My heart aches for you and all the other couples who have not been able to have children. It is better to have no presents or small presents and have a large family with whom to share this day than to have all the wealth of the world.

May each one of you be blessed in this upcoming holiday season to be comforted and blessed with the righteous desires of your heart is my prayer.    
I am sitting in the living room waiting for the third Presidential debate to start. Most people who know me well, know that I am a political junkie.  Actually, as I wrote that I realized that I am not a real junkie in that at times, I tire of the whole mess and have to ignore it, or I would lose my sanity.
There are times when I will go several days or even a week without listening or watching my favorite political shows, however, I will then hear something or read something in the newspaper and have to research and try to find out what happened and what the implications are.
Again this month, time has gone by, and I spend so much time doing the day-to-day chores that I do not have time to do some of the personal things that I have been wanting to work on. It is really frustrating, because I only have one class right now and I had anticipated having more free time.
One thing that has taken my time is that my son, Felipe, is working on his Eagle Scout project. It will be on Saturday. There has been a lot of paper work, visiting with individuals, going to meetings, etc. This is the third project he submitted…the first two did not work out.

I will be so happy when the whole thing is over. I have had to nag, beg, and pester him as he is not as motivated as he could be to finish his project. Then we will have only David to finish his Eagle. He has all of merit badges, so he is further ahead than Felipe. Felipe turns 18 in November, and he must be done before then. I think that deadline has been a stress factor.
This is the type of thing that is simply part of life and simply has to be dealt with. This happens to all of us. We plan to use our spare time for something…we anticipate that time…then life hits us with something else that robs us of that time.
Today is Wednesday, and I had started this blog on Monday. Between cooking, homeschooling, laundry, work, taking care of my mom, and volunteering to help someone…two days just went by and I didn't write a thing.
This afternoon, while cooking (and pondering while doing so), I remembered a strategy that I used while I was working on my doctorate, and realized that I was going to have to incorporate it again in order to have time to write: NOT Be at home.
When I am at home, people call me, people come over, I have to take calls, I end up cleaning or gardening, and so on.
When I was in school, I would disappear at times. I would go to the library or to a restaurant that has WIFI, turn off my phone and just stay there until I had the reading or assignment done.
When my children were young, I would usually go to a place that had a play area and would let them play while I read or wrote.
I hadn't disappeared in such a long time, I had forgotten about doing so. But my children are old enough now, that I could easily take one day a week, and go someplace to write all day.
I could leave them with their school assignments and have lasagna or something similar already prepared for dinner. Or better yet, they can be in charge of dinner that day.
I am starting next week. Yea! I am excited and motivated again, which feels so much better than being frustrated, which I was.
I made chicken yesterday. It was thighs that were frozen. I put them (frozen) in a pan with some water, dehydrated onion, powdered garlic, 2 pkgs of Goya seasoning, salt, and pepper. I put a lid on and just let them cook until the water was mostly cooked off. I left some for broth to put on the rice.
I made
Spanish Rice
and used dehydrated onion and probably 2 Tablespoons of the Knorr Chicken bouillon with tomato.
Both came out really well.
On Monday, we made Mashed potatoes:
I use Yukon Gold potatoes instead of Russets for mashed potatoes, but as russets are usually cheaper, I use then as well (but I peel them).
I like to use Russets for baking and French fries. Gold's or the red potatoes are better in stews, soups, mashed potatoes, or for roasting.
Ingredients:
5 lbs. Yukon gold potatoes, peeled if you want (I do not peel them, but cut out any bruises or deep eyes) and then I cut them length-wise in half…cut the two halves, length-wise in half. Then take the four long halves and chop them cross-wise into pieces about half an inch long. (Diced)
1 teaspoon salt
1/3 cup heavy cream
½ stick of real butter
½ cup milk
Salt and Pepper to taste
Put potatoes into a saucepan. Add the teaspoon of salt. Add cold water until the potatoes are covered. Bring to a boil, reduce heat and cook on a simmering boil 15-20 minutes, or until done - a fork can easily be poked through them. You want them soft, but not mushy.
Drain water from potatoes. Put hot potatoes into a bowl or if you don't want to wash as many dishes…put them back into the same pan.
 Add the cream, butter, and milk. Use a potato masher to mash potatoes until well mashed. Some people use a hand mixer to make them really creamy, but fake potatoes are really creamy…to me, homemade mashed potatoes will always have some pieces of unmashed potato, and that is perfectly fine. Also, if you over-beat them, your potatoes will get gluey.
I like the metal potato mashers that go back and forth best. The ones that have little squares don't seem to work as well, but each person is different. The plastic ones aren't as strong.
Add salt and pepper to taste.
Potato Soup
I always make more potatoes than we need so I can make potato Soup from the leftovers (which I did…as it is one of my mom's favorite foods).
I just add milk to the leftover potatoes (another reason to just return the potatoes to the pan instead of using a serving dish…Thanksgiving and holidays are the only time I use serving dishes).
Add enough milk to completely cover the mashed potatoes by about an inch and ½.
Then add a little dehydrated onion.
I take my hands and squish the potatoes and milk together. It is easier than trying to stir them to mix them.
Then I bring the mixture to a boil.
I take a glass cup, fill it about ½ to ¾'s full with COLD water, and add 1 tablespoon of corn starch. Use a fork to briskly stir until dissolved.
Once the potato soup is boiling (stir it constantly as it will burn very easily…as the potatoes are starchy they stick really easy to the bottom…a nonstick pot is best).
Right before you add the corn starch mixture…stir it again as it settles sometimes. Then pour it into the boiling soup.
Boil the soup for another minute or two, stirring constantly, and you will feel and see it thicken right before your eyes.
Corn starch is great!! You can thicken anything and turn a broth into gravy just by this one little step.
For example, the chicken I made…I could have done this to thicken the broth.
Just remember to always use COLD water to first mix the corn starch and do not add corn starch directly to a broth (or grease) as it will just clump together and you will have lumpy soup or gravy.
You can replace the water with milk if you want the broth or gravy to be more white or creamy.
Add this to leftover sausage/bacon/turkey/fried chicken/fried steak grease and viola…you have gravy.
I never finished about Monday. We made hamburger gravy to eat with the mashed potatoes and I cheated by simply cooking some hamburger then adding cream of mushroom soup to make a gravy.
A very simple, but yummy food that small children, especially, like.
We also made
blonde brownies
with chocolate chips on Monday.
Pupusas
on Sunday (we had company and then I had to go to choir practice).
And today I cooked bacon, and potatoes and eggs. We probably eat eggs for dinner at least once per week.
I made
Poppy seed bread
last week and had to leave while the last batch was in the oven. I asked Felipe to watch it…showed him how to stick a toothpick in it to tell when done and told him it probably only need 3-5 more minutes of baking.
Well, needless to say, he left it and they burned. Then another day, I left stew meat cooking and explained to David exactly what to do…he left the room and burned the meat…big time.
He called me wanting to know how to turn off the alarm as it had set off the smoke detectors which are connected to our central alarm.
The house smelled of burnt meat for hours. We finally opened windows and turned on the attic fan, even though it was chilly, just to rid the house of the smell.
I have done the same…so I can't really say anything. It's part of learning how to cook (and parenting) and growing up…although, I must admit…I have burned more things as an adult than I ever did as a child…hummm…is that why they say to never leave the kitchen?
Another week goes by and as always, I have more to do than I have time to do it. Last Saturday, we had a garage sale and actually, it went very well. We made about $250 in cash and we have a new mailbox.
Let me explain. Three Spanish men came to the sale and were very interested in a small motorcycle we had. Fito spoke with them for some time and then decided on a trade.

They then spent the rest of the day building a mailbox. Fito had to go and buy some cement blocks. We already had cement, rocks, and a mail box. They already had sand and bricks.  It took most of the day for them to build it and it is very sturdy. No one should be able to knock this one over or bang it up, which is what happened to our last one.

It is incredible, but there are people that go around and vandalize mail boxes for the fun of it. I don't understand such behavior. I think some of these other countries are correct in having harsher penalties for such things.

I am putting a picture of it, but it is not completely done…where there is just cement—will have stucco to match our house. The rock too, is the same as what we have on our house. The picture doesn't show it, but there are two rows of rock.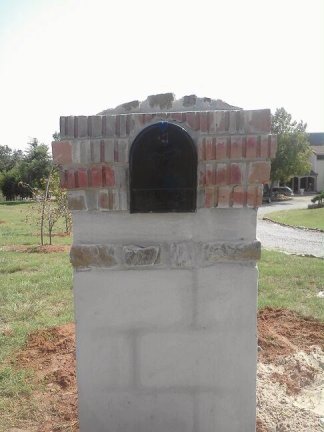 The rock is from the garden I am removing. I almost have all the plants out of it. I worked on the garden while I was watching the garage sale, and actually did quite a bit. Of course, for the next few days, I could feel it in my muscles. The joy of getting older.

After I closed the sale, I went in and prepared the mixture for
Pupusas
and made 20 loaves of
Poppy Seed Bread.
The bread came out absolutely perfect. I hadn't made it for maybe six weeks and forgot how great it is.
We had my Vietnamese students from a class come over on Sunday. We had all kinds of great food. They brought Shrimp rolls, a chicken and cabbage salad, a type of apple cake, a drink made out of barley and shavings of a tuberous root, steamed rice and shrimp….yummy…really good food.

I have really enjoyed their food, their art, their culture, and their friendship.
It was a perfect day, not hot, not cold. We walked down to the dock, took pictures, got to know each other's families. They really liked the hammocks under the porch and down by the lake. They said it made them feel as though they were in Vietnam again.

Tomorrow, we are having students over from more classes. I went ahead and invited all the classes. I decided if we are going to entertain again, why not just have everyone over?

I need to go to the store and buy things to make some more bread and to make more Pupusas. But I am not in the mood to go. I just want to work on the gardens while the weather is so perfect.

I am going to put the Garage Sale signs out again when I come back from the store and leave them out until tomorrow afternoon. Hopefully, we will make some more money.

Maria and Travis still have stuff left over, too, that they need to sell.

We have also been working each day to take out Sand Burrs (sticker plants) out of the yard. This property has so many of them. Each year we spray in the spring, and pull out plants in the fall. Little by little we are eradicating them, but it is a slow process.

I still have my cough, but it is better. It doesn't keep me up at night any more, but when I am tired, it grows worse. But I am thankful that I do not have allergies like some do. It would be frustrating to live like this chronically.

I have been very blessed with my health and strength and the capacity to be able to accomplish things. It is my hope and prayer that those who are ill may be made whole.
Today is Monday, July 02, 2012 and the family reunion is winding down. People were still here, but in the process of going home. Since Benjamin had come for the reunion, I planned a day of dentist, eye doctor, and doctor visits. He lives in Kansas, but Fito's insurance only works in Oklahoma, therefore, we always set up visits while he is here.
He hadn't come to the house and didn't answer his phone, so I called Matthew to make sure he was up. Matthew told me he was at Maria's. I then called Maria and she said she would wake him up. I called about 20 minutes later as he still hadn't shown up.
She said he was being belligerent and wouldn't get up. I told her he was probably having a low (he has Type 1 Diabetes) and to get something sweet down him. She tried apple juice (with extra sugar stirred in it), but he would push it away. She then did get him to eat a piece of powdered donut.
By that time, I had arrived to her house and could see he was not conscience of his surroundings. I was able to get him to sit up, but it was really hard to get him to drink. I told Maria to call 911.
The firefighters got there quick. Probably within 1 minute, then the ambulance was there within another minute. They both were right there in the area when we called.
They had to fight him to get his blood sugar. (He wouldn't let Maria or I take it). By that time, I had gotten two glasses of apple juice down him, but he still wasn't coherent. He didn't know what day it was, where he was, who we were, and so on.
His blood sugar was 64, and when they took it a little later, 61. So I am guessing when Maria first tried to wake him up, it was probably 25-35…very, very low.
The paramedics had a tube of a glucose gel that I was able to squeeze into his mouth. It took 3 squeezes and two of them, I squeezed a lot into his mouth…and then it was like a light came on inside his brain. Our Benjamin was back! He knew us, he knew where he was, and he realized that there were paramedics at the house…what a blessing when the mind works.
I told Maria, it was a blessing he stayed with her and had an appointment. If he had been allowed to sleep in this morning, it is very possible; he simply would not have woken up. It scares Fito and I to no end that he lives so far away from family and even though he has a roommate, he is alone much of the time.
I will feel so much better when he marries…assuming he marries someone responsible that will help monitor his health.
Rebeca and I spent all of Monday with Benjamin. He had an eye appointment, dentist appointment, and then the doctor. They were able to work him in the afternoon as he missed his morning appointment. A very long day.
The family reunion was a success. No one yelled. No one stalked off angrily. No one cried. As all families know that is remarkable.

There was lots of good food, good company, many games played, and new buddies made among cousins. My mom was so happy and contented. She held her great grand babies and loved her children and grandchildren.
Of course, I am so tired; I think I could sleep all day, but not yet. Maybe tomorrow I can take a nap. Tony is planning on going to Houston to see our new granddaughter, Isabella, so I asked him to drop off David, Elizabeth, and Rebeca in Dallas so they can spend the 4 (big Holiday in US) with their cousins.
Fito and I were going to go, but as we decided to go to Houston this weekend for the blessing of Isabella on Sunday, we will leave Thursday or Friday after work, pick up the 3 in Dallas, and head to Houston. We will have to come back on Sunday after church as both Fito and I work on Monday.
I do have to confess, I did the grilled chicken, as Fito had gone to the Spanish church with his mom and wasn't here…I did a horrible job. It was grilled nicely, but was bloody near the bone. I had to put it in the oven and cook it longer…oh well.
Today is Sunday morning, July 8. We are in Houston. Isabella Rosa, our granddaughter will be blessed today. She is soooo cute and has so much hair. She definitely is a Spanish baby.
We drove down to Houston Thursday night. We left at 9:30 pm as Fito had a class until 8:00. Stopped in Dallas around 12:30 am to pick up David, Elizabeth, and Rebeca. Then drove on to Houston arriving at 4:00 am (which was really good time as Dallas is usually a 4 hour drive from Houston).
On the 4 of July, Fito, Felipe, and I went to prune, mow, and weed at two different homes. About 3 hours. Then home.

We had some Spanish friends that had camped at our place the previous night and were celebrating the 4 together. They had quite the camp with about 10 tents, a grill, a fire pit, chairs, fishing, volleyball, etc.
We joined them for breakfast and then later for fireworks, but mainly left them alone to enjoy their day.
I was lazy and watch TV, but did make about 12 dozen Snicker Doodle cookies to take to Houston. Snicker Doodles are Douglas's favorite cookie. I baked most of them, but did take one Ziploc bag of frozen cookie balls that he can bake later.
Tuesday evening, some friends had come to visit and while they were here, I made 22 loaves of Poppy Seed bread. I sent 6 loaves home with them, used 3 loaves for the campers, and then took the rest to Houston to give to different families there.
Friday, in Houston, I slept in until 1:00 pm. Actually, I had gotten up about 9:00 and eaten, then Rebeca and I went to lie down for a while and we were out!
We then went to see Douglas, Ary, Celeste, and Isabella. Celeste has an incredible time playing with all of her aunts and uncles. They then followed us back to Carlos's house (where we stayed in Houston) and he and his wife made grilled meats, rice, beans, and salad…yum yum.
Fito's mom made casamiento (which means marriage) which is when you make rice, but when you add the liquid to the rice…instead of adding water or broth, you pour in the liquid from beans you have made as well as some of the beans.
Carlos's wife had made the small red beans that come from El Salvador. (Extra yummy). These were the ones mixed in the rice. It was exceptionally good rice.
Saturday was filled with visits and playing chauffeur, as I drove the children to the cousins, dropped them off, had to go back to the house, pick up swimsuits, drop them off…then drive around looking for a shoe store (as David had left ALL his shoes in Dallas).
We found a Payless Shoe Store and bought him  dress shoes and some men's leather flip flops. We were lucky in that they were half off.
I then took him to his cousins. Fito had gone with a friend so I went to some used furniture stores looking for a dining table for Douglas and Ary. I never found a set that would work, but I found an incredible consignment home furnishing's store in Houston. It is called Still Goode
http://www.stillgoode.com/home.php
and is on Louetta, west of Kuykendahl.
I bought a Chinese vase and later in the day, I convinced Fito, Carlos and his wife to go there, Fito and I bought a carved Chinese box that is camphor lined. We have been cleaning it with lemon oil and q-tips as it is carved fairly deep and has not been cleaned for years. It is a beautiful, intricately carved unusual piece.
Saturday night, we spent with Douglas's family and Sunday morning, we went to church with them. Douglas blessed Isabella on Sunday and it was a beautiful blessing. The whole family was in purple and white and very handsome. Other family members came and it was one of those special moments in life.
After church, we dropped off a cousin at her house, went and packed and drove the seven hours home.
Vacations are fun, but the best part is always coming home! I love home! And it is my prayer and hope and desire to help others create a home they love. A place of refuge. A place of peace. A place of belonging. May your home find all that and more.
I have a confession to make. I am addicted to a new TV show. It is Storage Wars. We watched it in the motel when we went to visit Benjamin in Manhattan, Kansas, and the children and I have been watching it since. I even watch it before I watch my political shows (which has never occurred) so you can see how much I like it.
Maybe it is the treasure hunter in me, but it is fun to see what they find, learn about the different objects, and then see if they make a profit, or even better, is when they do "strike gold" and find something really valuable.
Fito doesn't understand our fascination with the show and is always saying something about it. But then again he doesn't like Harry Potter or Lord of the Rings, so what can I say?
We have family coming this weekend. My siblings, their spouses, and nieces and nephews. Not everyone can come, but we will have 40 plus people at our house.
I have been planning menus and preparing food for the past week. I made 3 huge pans of
Goulash
last week, and a huge bowl of
Pupusa
mixture, both are in the freezer. Then on Sunday, I made two
Spanish Turkeys
with mashed potatoes, and peas and corn. In the evening, I deboned the turkey and mixed it with the sauce from the turkey and cream of mushroom soup.
That mixture is in the fridge and this afternoon I will fry the tortillas and make
Enchiladas
. I also made a large pan of cherry and pineapple
cobbler
(from cake mix) and then yesterday morning, I woke up early and made 18 loaves of
Banana Bread
. (But I have already given so much of it away, I will have to make some more.
I have also gone to Sam's Club the past two days and bought sandwich stuff, cereal, paper goods, etc.
I think the only thing I am missing is chicken legs. One evening or afternoon we plan to grill the legs to have with rice and beans. Let me tell you how to do them so they are succulent (plus this is really easy).
GRILLED CHICKEN

Put the chicken pieces in a big bowl and add 2 large spoons of mayonnaise (not the fake stuff) and 2 T of Lawry's Perfect Blend Seasoning and Rub for Chicken/Poultry. Use your hands and coat the legs with the mayonnaise and seasoning, rubbing and spreading the seasoning and mayo over each piece.

What happens is the mayonnaise acts as a shield and keeps the juices inside the meat. It seals the chicken and browns so nicely. It also allows the seasoning to stay on the chicken and helps it to be spread evenly.
You cannot even taste the mayo, or even tell it was used. The chicken just tastes fantastic and is not dry at all.
For your information, we use heavy duty aluminum foil (which I buy at Sam's in an industrial roll, which by the way, lasts about 2 years and is MUCH MUCH cheaper than buying small rolls throughout the year...plus it is better foil) to line the grill, which cooks the chicken without burning it.

Well, now it is two days later…I have bought the chicken legs and made 3 large and 2 small pans of enchiladas. I took one of the small pans to a friend who needed some extra care.
Some of the family has arrived and everyone else will come today. I took my mom to get her hair done yesterday, and today woke her early; to have her bathed and dressed before anyone comes over. She usually sleeps all day and stays up all night reading or doing word searches.
Her short-term memory is declining rapidly. The last few times we have been in the car to do errands, etc., and have been together most of the day; she has asked me over and over again the same questions. She doesn't know even what month it is, or day, she couldn't remember about the reunion, who was coming, and so forth.
Even this morning she asked me why she had to bathe and when I reminded her of the reunion, she asked me all about it again.
I compensate by writing things down and have her read them again and again, hoping they will be moved over to her long-term memory which is still functioning okay.
Everyone is excited to have cousins here and to be all together.
Oh, and I picked up a hitch-hiker on the way home from an evening class yesterday and ended up driving her to her destination, although it was about 40 miles out of my way. It was a young woman and she was 7 months pregnant. It was 101 degrees yesterday, and when I saw her walking, I couldn't help but stop.

Her story is one I see too often: ill-educated, bum husband, no job, no future, one of despair and struggles. She is Native American, so I tried to convince her that education is her ticket out of the dark hole she is in, and as a Native American she qualifies for free college. We talked about her options and her life, and hopefully, I encouraged her.
But now Fito is mad at me because I didn't call him and tell him where I was (which I agree is dumb, because if something had happened, no one knew where I was). But I didn't dare call him, because he disapproves of me picking up people (which I only do occasionally, and only if I feel absolutely calm about doing so…). One of the dilemmas in relationships…
Just one cute story from one of my ESL (English as a Second Language) classes.
Joseph, one of my students who is from Vietnam is in Toast Master's which is an organization dedicated to building leadership and public speaking skills. They have extemporaneous speaking at their weekly meetings.
Joseph was given a slip of paper that said, "Your cup of tea," which was his topic to speak on spontaneously. He did so, everyone applauded, and the meeting went on as normal.
Well, two days later, we were in ESL class, and had about 15 minutes left. I said, "Let's start on this worksheet that I have on Idiomatic Expressions (common sayings).
I would read a sentence with the expression, then tell the class what it meant. I read a sentence that contained "my cup of tea" in it, and explained that this expression means: Something or someone that one finds pleasing.
Joseph started laughing so hard and then explained to us through his laughter what had occurred at the Toast master meeting:
He said, he thought he was supposed to talk about tea and did just that. He gave a short speech about the different types of teas and their uses.
I asked him (while still laughing) if anyone in the meeting had explained to him later what "my cup of tea" meant or if they had said anything at all.
He said that no one said anything. I guess they thought his "cup of tea" was tea!
I was typing along and the computer blipped as when there is a power surge and I just lost four pages of my blog. I have auto recover, but the name of the document was the same…I just lost all the typing. The only thing that was there was the last word that I had typed.
I was just was catching up on the past week. We had a reunion on memorial weekend for the Getz side of the family. My mother's maternal side.
Whenever we have reunions or we have the opportunity to be with family members of either side, including Fito's side, I am always impressed by the caliber of people we are related to.
They are good, patriotic, hard-working, orderly, honest, fun to be with, and just plain good people. I have Dutch, Russian German, Irish, and Spain ancestors. Many came because of religious persecution, others came because of famine. But they all sacrificed that I, today, may have a better life and many more liberties than they enjoyed.
Fito's family went through a civil war. His father was shot and died when Fito was six years old. His relatives, through the years, fled to Nicaragua, Costa Rica, Honduras, Mexico, Canada, Australia, the Philippine's.
As the years have gone by, some have gone back to their country, others have stayed in their adopted countries, but all have prospered. They too, are an amazing family built on principles of learning, hard-work, religious principles, and being people of character.
Memorial Day commemorates such people. Those who fought wearing a uniform and also those who fought in the home, factory, or on the home-front.
We are beneficiaries of such people and of the many sacrifices they made for us. I admire and salute them.
I started working on rock steps going down a hill from our patio. Fito made rock steps several years ago, but used small rocks and it is difficult for older people to navigate.
I started to tear out the rocks on memorial weekend Saturday and then David finished taking them all out last Tuesday.
Then on Wednesday after work (I am only working in the mornings), I put David, a friend, and two of the cousins to work helping me. Fito and Jorge (a friend) had brought me some big flat rocks to use as stairs.
When we lived in Kansas, Fito and I took apart a rock building for the gas company. Our payment was the rocks.
The building was made of limestone, and each stone was cut into rectangular shapes. The tops and bottoms were smoothed and then they were stacked like bricks and mortar was used.
The six rocks for the door and windows are about 5 feet long, 2 feet wide and about 6 inches thick. In Kansas, these rocks were benches and bridges in our garden. The other rocks, we used to edge gardens, line streams, and so forth.
We also spent countless hours in Kansas, going to dumps, digging bricks out of piles. Also, if I saw someone digging up a brick sidewalk, I would offer to do the labor in return for the bricks.
In southeast Kansas, where we lived, there used to be many brick factories. These were in Coffeyville, KS, Peru, KS, and Caney, KS. I have red bricks stamped from each of these factories.
In Kansas, and now here in Oklahoma, we have a brick patio and brick sidewalks which I absolutely love. I have red bricks that have different designs on them, and I think they are fascinating.
In Kansas, when we moved there years ago, people saw the bricks as a nuisance and dug up the sidewalks and paved over the brick streets. I wrote an editorial telling them to leave them and use them as a tourist draw, but to no avail.
At least, some of that history is in my backyard.
Well, we used bigger rocks this time for the steps. Built retaining walls, and added the river rocks (that I brought back from New Mexico) around the lavender and thyme that were by the steps and it looks incredible.
It is not done; as now Fito want to add a waterfall and water garden to the side, but the new steps are much better and easier to walk on. We also want to add a railing, but have not decided what material to use or just how we want to do it.
Poor Fito came home from work on Wednesday, I am sure with other plans, but ended up helping me finish the steps. And then did not want to stop…ha!
With the extra company and then extra teenage boys (especially, if I want them to work hard) you have to have lots of yummy food.
I just made another huge pot of beans as I want to can some and made another large batch of bread (17 loaves) as I needed to say thank you to several people.
Rebeca made cupcakes on Sunday…she is really starting to bake and Elizabeth and I made cookies from cake mixes (really easy and yummy). They also made
home-made popsicles
earlier in the week.
We had our first corn-on-the-cob of the year, but it was too tough for me to enjoy. I like small kernels, but Fito likes the bigger kernels, so he ate most of the corn.
Did eye appointments yesterday for Felipe and David, today I have Elizabeth and Rebeca. That is definitely one thing that is more difficult with large families…and of course you always wait…and wait…and wait…exasperating!
That is why I brought my laptop and am utilizing my time. Lucky for me, I do not have a two-year-old that I have to watch the whole time anymore.
Another thought to parents (my aunts, cousins, and I talked about this). If your child cannot sit still at a restaurant once they are four to five years old. You have done them a great disservice.
A reminder, that no one likes to around obnoxious, bratty, wild, children. They need to be taught to not touch items that do not belong to them, to not ask personal questions, to not talk loudly, to not run around.
It is not the adult's (parent's) job to entertain children; rather, it is the job of a parent to help the child to learn self-discipline.
I know parents that will spend hours upon hours teaching a boy to catch or throw a ball, but have not spent any time teaching him to sit still.
Parents will spend huge amounts of money making sure their children excel in academics, sports, or something else, but give no thought to teaching them or helping them excel in etiquette, being gracious, or developing good character traits.
These things take practice just as motor skills do. Have your child sit on a chair, set a timer, and have them actually practice sitting still. No games, no devices, no music, no TV. Just sitting still.
It is a motor skill that has to be taught, practiced (and practiced…and practiced). Do it every day, 2-3 times a day. An 18 month-old can be taught to sit still for 5-10 minutes. A two-year-old can go 20 minutes. A three-year-old 30-40. A four-year-old for an hour. It just requires practice.
Do not lower your expectations. They can do it and it will make parenting soooooo much easier if you win the battles when they are young and you have well-behaved children.
I know we all have THOSE days. But each day should not be one of THOSE days. Determine what your priorities are: a child that has a skill set, but can and does not progress because people cannot stand to be around him or her or a child that is pleasing and well-mannered that everyone wants to help and see succeed.
Right now, I am teaching some summer classes to children and see both types of children. The ones that are out of control are sad to behold. Even the other children do not want to be around them or want them in class.
Drugging them is not the answer. Read and research, test them for allergies, watch their diet, discipline them, put them on a strict schedule so they go to bed and wake up at the same time every day.
Spend more time with them. Put them in a charter or private school if need be. Read parenting books (from the 60s or older seem to be some of the better books). Find an older couple who raised righteous children and ask them how they did it. Follow their advice, instead of some doctor's psyco-babble that never raised a child in their life.
The little things DO matter. Do not let them use potty words, do not let them talk back, be lazy, get out of chores, be spoiled, have too many possessions, watch too much media, spend too much time on electronic devices.
Make sure they have time each day to do something physical, BUT NOT structured. In other words…old-fashioned play time. Where they can run, climb, hop, skip, jump, play in the sand or mud, pretend to be an explorer, and so on.
I have a theory that children that are kept inside all day, especially in small areas or kept in structured activities all day long…day after day…are more anxious or more likely to be aggressive, especially if you add large amount of games or TV.
I just saw an article about gold fish that said the smaller the bowl or tank they were kept in, the more aggressive they were. I also saw an article about dairy cows, and how if the owners did things to improve their surroundings, they produced more milk.
Humans are the same, and especially children. They need physical activity to sleep, think, and work well. They need time to just be children, not to be dragged around from sun up to sun down according to their parent's schedule.
But, they also need to be taught manners and etiquette and how to think of others and observe socially what is appropriate and what is not appropriate.
If you think it is okay for your child to fart or burp in public, then get a book on manners and learn what the rest of the world wish you and your child knew…no, it is not okay. Nor the jokes, nor the rudeness, nor eating with your mouth open, or leaving food on the table or the floor.
No, it is NOT the waitress's job to clean up your child's mess. It is your job to teach your child to NOT leave a mess.
I know it is intense and is a huge amount of work, but I promise you if you do it well, it is the most incredible and wonderful accomplishment. Plus a well-behaved child will be a blessing to you all the days of your life.
/