Shopping Cart
Your Cart is Empty
There was an error with PayPal
Click here to try again
Thank you for your business!
You should be receiving an order confirmation from Paypal shortly.
Exit Shopping Cart
ORGANIZATION AT WORK OR HOME
The picture with the hands are Travis and his father's hands. 3 generations!
Maria and Alexander Michael are doing well. His heart rate dropped several times during the night, but now the nurses are wondering if it was just the electrodes being loose as he has done incredibly well today.
I just spoke with Maria and she just fed him a whole bottle. This is the first time he took the whole bottle.
They usually give him part of the bottle and then have to give the rest through a feeding tube.
Fito's sister, Maria Elena, (yes...the same name as our Maria Elena...they were born on the same day) was in Dallas last week because of a niece being married.
She went ahead and stayed here to be with Maria and will fly home on Sunday.
Matthew and Gabe (our nephew) will move out tomorrow. They are getting an apartment with Benjamin in OKC.
We will then clean up and disinfect the room and Maria and baby will come and stay with us for a few weeks until they are ready to go home.
Elizabeth and Rebeca can hardly stand it. They want to see and help take care of the baby. you have to be 16 or older to see him at the hospital so they are anxious.
I know the boys, too, are happy, but not the same as the girls. Wow! A real living doll! A girl's dream come true!
Just wait until they see how much work a baby really is...hum...maybe this will hep them make good choices as they grow up.
It is 2:40 am and Maria was taken to have an emergency c-section around 2 am. She had fought the good fight. She had tried so hard to have him naturally, but the fact that she was only 34 weeks, and his heart rate kept dropping.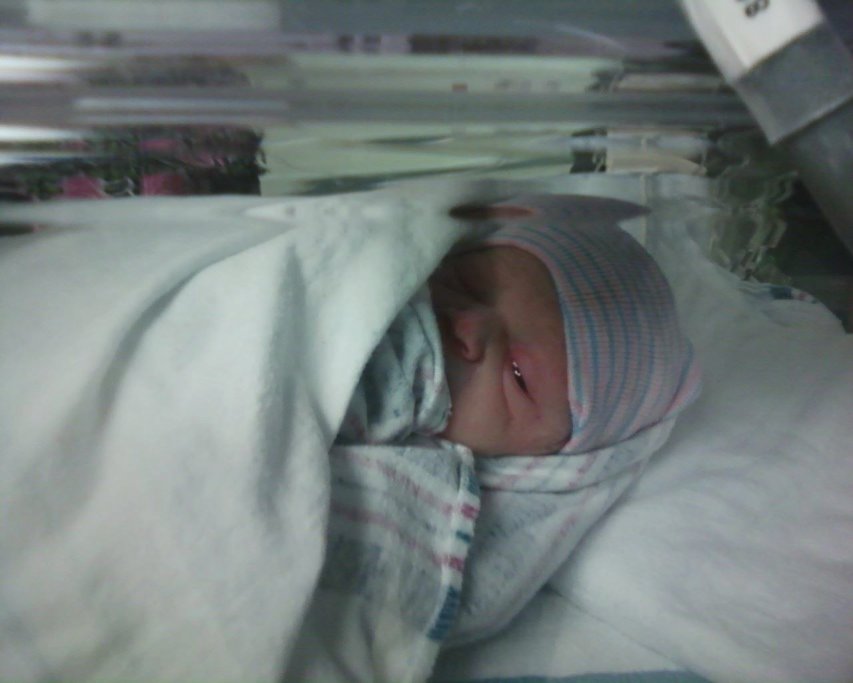 The nurses and doctors kept running in to take care of him and they tried everything to help them along. It finally became necessary to invite him into the world quickly as his heart-rate was down for a sustained time.
He still doesn't have a name and we still do not know how much he weighs as they whisked him away.
We took this picture as they were taking him in the incubator.
His APGAR score was 9.9 which is exceptional for a 34 week baby. See him peeking out at us?
I would guess he is between 4-5 pounds. He is little!
It is 8:25 pm and it has been a long day. Maria is only a 7 after over 40 hours of labor. There have been plenty of ups and downs today.
It is so frustrating what has occurred today. Since she is 34 weeks, that is considered borderline. They would not do anything to stop the labor, but at the same time, they would not do anything to help it either.
She stayed at a five for more than 12 hours and it was extremely frustrating.
The contractions are coming stronger now and it appears that she is progressing well now. It only took her an hour and a half to go from the 6 to the 7.
She has opted to go with an epidural...I have mixed emotions...I believe it is better to not have it, but she has not slept in 3 days and is really tired. She did get a nap this afternoon for an hour and that really energized her and she did really well after that.
Right now, it is just wait and see. We still do not even know for sure how healthy their little boy is or what to expect when he shows up this early.
I have done a lot of work on the computer today in between times and so it all around has been a good day!
Monday, I worked in the morning then spent the afternoon paying bills and doing boring stuff that has to be done. Fito was working outside with the boys planting some bushes they has moved from the front.
When we moved here, the front garden was full of large bushes. Little by little we have been moving them to other places on the property so I can plant more flowers in the garden.
We also went to check out a new meat market we had heard about on the radio. but I still like the other one I go to on SW 59 near Western, EL Rodeo. They are smaller, but very clean and the meat has little or no fat on it and it is the best prices in town, especially if you go on Wednesday or Thursday when they give you a discount.
It is a Spanish Place, but as we speak Spanish it is not a problem for us. I have seen English speakers in there and they usually get by with communicating what they want. I usually translate, but this time I wanted to see if the workers could understand them so I could send my friends there.
Tuesday, I worked all day, then made
Pupusas
when I got home. I only made enough for one meal, but have enough of the meat mixture to make another meal for later in the week.
Wednesday, I worked in the morning then came home and Fito, Travis, Maria, and I drove to Edmond for a sonogram session for Maria's pregnancy. It was incredible! Travis's parents had gone, too, and we were all amazed at how much technology had progressed. You can see so much and now it actually looks like the baby, whereas, when we were pregnant eons ago : ) the babies looked like blobs.
She showed us the cord, the placenta, arteries, the heart and organs, his face, yes his...as the technician said, "He's got baggage." Travis was ecstatic, Maria glowed. I had tears when I heard the heartbeat. It was a really neat afternoon. My baby is having a baby. Incredible!
Rebeca is only seven. I still have babies to raise. How is it my babies are having babies? Yet there are days I look in the mirror and it is obvious I am old enough to be a Grandma.
I have woken up early everyday this week. i wake up at 4:30 or 5:00 and cannot sleep. So I have been doing laundry, cleaning Mom's room, working on the commuter, and so on. One morning, I made 21 loaves of
Poppy Seed bread
 for the girls to take to school and give to people as this week is Teacher Appreciation Week.
I made sure they took them to the ladies who help out front and to the secretaries as these individual do so much unseen service.
I also took some to give to a couple of people I work with.
Thursday night after I came home from work, we went to the Spanish church in Norman. I am supposed to be teaching an English class, but we almost always just end up visiting while the men play soccer and th children run around.
One of the ladies told me she was had to defend her dissertation the next day, so I tried to do a mock defense with her. I asked as many questions that I thought they might ask. She did a really good job explaining things and her dissertation was extremely interesting. It was on rape in the military and she discovered some interesting data.
Friday night, I saw her at a Cinco de Mayo Party at the church and as she came running over I could see in her face that she had been successful. I jumped up and hugged her and exclaimed, "Doctor ...!"
My heart came into my throat out of happiness for her. No one can explain the dread of going in to that moment and then the sheer joy and exhilaration of finishing and being addressed by your committee as Doctor.
The years of work, writing, and endless research have finally paid off. I do not know how to explain the level of emotional agony and joy.
I guess it's somewhat like having a baby...lots of agony, but incredible joy, too.
Friday was a busy, but really interesting day. I woke up early, did some things, dropped the girls off at school as Fito took David to school. David had a field trip and Fito went as a sponsor. Felipe always drives himself as he goes to a religious class after school, then comes home.
I went to the Community center where I teach a Spanish computer class. These students were graduating from their program today. My class is just one segment of a business program they re attending.
I then went to teach another training class, but did not take my daily walk as I was in a really nice suit. (I usually have 20-30 minutes extra when I arrive at this company so I usually take a walk).
After the class, I drove back to the Community Center and was there for the last of the ceremony and luncheon. I spoke with the students, took pictures, then cleaned up afterwards. There was food leftover and I was able to bring some home.
I then drove to my next training class at a company in Moore. This is such a good company. Like my other training, they are concerned and want to help their employees develop professionally and personally.
There was a crisis and they asked me to come and translate for something. The HR Director handled the situation with such graciousness. I was so impressed. Allowing humans to have their dignity even in difficult situations is always commendable.
I went back to class and we played a game, so I could relax from the tension. That is the fun of being a trainer....games and activities are great to help learning and dispel stress.
I had one more session after the first class, and it was great. I then went home, packed up food and we went to the party.
I had made a
Spanish Turkey
during the day, but I had actually left the roaster oven on too low and it wasn't completely done. I took the chicken fajitas I had brought home from the graduation and a big pot of
bean
s I had made earlier in the week and also a pan of enchiladas from the graduation. I took a lot of food (even though it was all leftovers...don't tell anyone!)
The party at the church was fun. They had two huge piñatas that were full of candy. We also played some games. I guess everyone was too tired because usually after we clean up, we stay and dance for awhile, but no dancing tonight.
Today, Saturday, I brought Elizabeth to the church for a girl's camp activity and I am hiding in one of the rooms getting work done on the computer.
/