Shopping Cart
Your Cart is Empty
There was an error with PayPal
Click here to try again
Thank you for your business!
You should be receiving an order confirmation from Paypal shortly.
Exit Shopping Cart
ORGANIZATION AT WORK OR HOME
This is the old metal bridge that slammed into I-44 in Newcastle. This is about 5 miles north of where we live.
This is the Newcastle/Moore tornado. This is in Newcastle looking north. All these photos I found on the news's websites.
There are miles of neighborhoods like this.
You still see vehicles like this on the sides of roads and in the damaged areas.
This is the hospital in Moore. The back side is even worse and as you can see it from the highway...everyone slows down to see all the devestation...so traffic has been horrible since the tornado. Parts are still closed as they are still trying to get electricity back on.
Today we drove to Norman to try to find a cake for Maria's birthday. She wanted a Tres Leches...a Spanish cake. Sam's did not have any so then we went up the 35 over the 240, then on up the 44 to the Spanish section of town. I noticed on the 240 that all the businesses on the north side were closed. no electricity. The Spanish section was all shut down, as well, no electricity, no traffic lights working, debris and standing water.
We then headed south back to Newcastle after an hour and making a large, unproductive circle. Saw many damaged roofs, overturned buildings, etc. finally, just went to Wal-mart in Newcastle and bought an ice cream cake. Am going to look for a good Tres Leches recipe..
What a week. I am sure the whole world now knows of the tornadoes that hit central Oklahoma this week. Sunday, we had had the missionaries and an older gentleman over for dinner after church.
In the afternoon, the weather turned bad. Black skies, building thunderheads, darkened skies. Then the rain started. Hard, heavy,wind-blown rain. We put out the buckets in the one hallway where the roof leaks. But this time it did not leak.
It did hail, 3 different times. The first hail was tiny and quickly looked like a light snowfall. The second hail storm was the size of golf balls and scary. The third set of hail was a mixture of large and small hail.
Of course, it rains in between the hail and even the sun tried to peek out at one point. Oklahoma has the strangest weather of anywhere. I have even seen rain and lightning happening in the middle of a snow blizzard.
Since the north cold winds meet the south warm winds moving up from the gulf in Oklahoma, it is always fascinating to see them meet, dance, swirl, and decide whether it will rain, snow, ice-over, hail, or just blow.
The cloud formations are always fascinating and powerful. Even on warm days, we have miles of white puffy clouds, or lines of flat spread out clouds. On the hottest days, we still have breezes, so the wind isn't always a bad thing.
We missed a meeting at the church Sunday evening and David was upset with me because he wanted to see his friends, but then when the hail started, he realized it was best we had stayed home.
I was on the phone for part of the storm. At one point, I stood in the doorway and watched the hail, rain, and clouds. Then all of a sudden, right after the hail, it became completely silent. No wind, no rain, no birds, crickets, nothing. Then the sky took on a greenish, grayish overcast and I heard the distinct powerful rumble of a tornado. It was to the east of us which meant we were safe and just then Felipe came running in and said that his girlfriend had seen on the news that a tornado had touched down in Newcastle.
That is the same tornado that lifted back up and then came down near Shawnee and did the damage on Sunday.
Monday was a repeat of Sunday with thunderstorms, warnings, dark clouds and hail with rain. From Newcastle, where we live to Moore was devastated.The old metal bridge by the interstate was lifted, twisted with broken trees and dumped on the freeway. It was closed for almost 20 hours while they cleaned debris.
Then yesterday, all over again. Tornadoes, flash flooding, hail, high winds. We spend most of the evening hidden in my mom's bathroom. We lost our Internet and just had to wait for the all-clear.
I am buying a weather radio. We had one and it broke, but I hadn't replaced it yet. We are also putting in a storm shelter. Our dilemma though, is my mom cannot go down stairs so we need it to be above ground…then we will push dirt all over it…sort of like an underground house.
We are worn out. Those of us who had no damaged have been using much of our time to go and help out. Fito has gone several times with the boys on work crews to cut downed trees, to clean up debris, and so on.
So far, our area church has put in more than 3000 man hours and that is only the tip of the iceberg. We don't even know the extent of the damaged from last night.
Matthew has scared me, the last two tornadoes. The last one a week ago, he texted me to say he was on the 35 headed home, but it was congested and not moving and that he was getting off. I did not hear from him again for more than 2 and ½ hours. He had gotten off the freeway, but still was not able to go anywhere, so he and his girlfriend had stopped in a part of OKC where they were out of the path of tornadoes. They were at a theater and ended up watching the new Star Trek movie. The theater kept them caught up on the storms, and of course he turned his phone off.
Meanwhile, I was frantically trying to find out where he was as I had heard the tornado had hit the 35 as it went through Moore. I posted on Face book a plea for anyone to respond if they knew where he was.
Then last night he had to work at the college. Well they have a shelter where he ended up staying for hours while the many tornadoes passed. But as he tried to drive here, he kept running into downed power lines or flooding and would have to turn around and go another way. He had left the interstate because there was an accident or debris or who knows what…it was closed at one point. However, he finally made it back to the interstate and made it home.
The stress of the past 12 days has been like a dark cloud hanging over this area. Oklahomans are a very resilient people, but this has been constant. We have spoken of the Japanese and how devastating the tsunami was, the earthquakes, hurricanes, droughts, wars, violence, and other events of the world.
We have not suffered as much as others. Plus, the acts of kindness have been overwhelming. Each day the paper and news has been full of stories of kindness, acts of heroism, and miracles from God. There have been many more acts of good than bad. Kindness and charity will always conquer fear and trauma.
Another tool is simply to work. We are out of school(although, I still have two classes I am teaching) and so we finally started building a tree fort.
From our patio looking out toward the lake. See the dead tree? An oak that was damaged in the 2011 tornado and finally died...I took this pic this morning. It dawned a beautiful sunny day as if to apologize for last night.
This is from the fort looking up toward the house.
Start of the tree fort.
Rebeca working on the fort.
I let the chickens out this morning.
I took this picture yesterday, Look where the water is on the piers.
I took this picture today. It rained so hard during the tornadoes last night. They said anywhere from 5-10 inches...lots of water. and we had been in severe drought for two years and now we are having flooding...
We have two families of geese. this family has 5 goslings that are almost grown. i took this pic this morning. see how high the water is near the far shore? Two feet more and it will flood the homes behind the dam.
The other family of geese has seven babies and they are much younger. they still have yellow fuzz...but I haven't seen them since the storms.
Do you see how two trunks are broken off? A previous wind storm.
Last Thursday, I woke up at 5:00 am, took David to his early morning religious class and worked on my blog answering comments. It was a friend's birthday and so he stayed for the other, later class that starts at 7:00 am. We left the church afterwards and got home about 8:30.
I then started to do stuff on the computer and the dentist office called. David's appointment wasn't until 1:00pm, but they had a cancellation.
Could we go in at 10:00 am?

Rebeca and I quickly bathed and the three of us made it to the dentist's by 10. They had to make new impressions for a night guard for David and check Rebeca's retainer. While we were at the Dentist, the wind was blowing so hard, it kept blowing the door open. We made it home before the storm hit. (It is always nice to have your car under the carport when it storms in Oklahoma as we have so much hail here).

While at the Dentist, I worked on my book. At home I went back to the computer, paying bills, taking care of miscellaneous items, and so forth. We did some laundry, cleaned the kitchen, swept and mopped, and made dinner.

David made
Spaghetti
, and although he added too much sauce, it tasted really good. David checked on the chickens later in early evening after the storm.
Friends of ours were going to a convention and we watch 5 of their children Thursday evening and all day Friday. Of course, I had to cook a lot. It reminded me of the days when I had all nine children at home. At times, I marvel that I ever raised (am still raising) nine children. It definitely is much harder now at 52 to have nine children in the home than when I was in my 30's.

Friday, I cleaned my mom's room and made sure she took a bath. She received flowers from my sister, Shannon, for Mother's Day- a really pretty bouquet. I had sent Ary and Maria flowers as they are the mothers of my grandchildren. It was an online promo and they also received a "Best Mom" magnet, some bath stuff, and some chocolates with the flowers. On-line specials are great!

I worked part of the day on my book, went to work, and when I came home, the children had surprised me and had cleaned the kitchen.

In our church, we do not have a preacher who speaks to us each week. The members take turns giving talks. Wednesday evening, one of the leaders called and asked our family to be the speakers for Mother's Day. I spent some time looking for articles on our church's website for our talks.
I also weeded one of the back gardens. It rained two times this week hard enough that the roof leaked. We had to put towels and buckets down in the hallway to catch all the rain.

We thought this problem was resolved when we put on the new roof, but apparently when the west wind blows hard enough, it pushes the rain up against the wall at the top of the skylights and the water then finds a way in between the wall and roof.

I believe we are going to have to raise that portion of the roof to eliminate the wall, take out the skylights in order to correct the problem once and for all. I suspect the insulation is totally ruined in that part of the attic and who knows what other damage is there. One of the joys of home ownership…there is always something to fix.

This week, I have been washing towels. Do we really have that many towels? Every towel was used and wet. I haven't had that much laundry since the older children left home. Plus Elizabeth usually does laundry for me and since she has been at Maria's, I am left to do the laundry with a very unwilling David.

Saturday, I was on the computer, trying to finish some work when Fito came in and reminded me that Monday (our trash day) was the day designated to haul away big items. I gathered the three younger ones (Felipe had to work), we all put on work clothes and we went outside to work.

It has been a month or longer since we have all worked together and worked so hard. We hooked up the trailer to the truck and parked it by the very back shed.

Now you need to know, my husband it a pack rat. I think it is because he grew up in El Salvador and was so poor that he feels he has to keep everything in case we need it someday.

We had started to burn two different burn piles of debris. (We have 5 acres of land even though we live within city limits and are allowed to burn if we get a burn permit first).

It was a perfect day to burn as it had just rained. Whenever we weed, or as we clean brush, etc., we put the debris in our "burn pile." As we cleaned behind the shed, stuff that was burnable went to the burn pile and other junk was loaded into the trailer.

After a couple of hours, the trailer was full. Just then some men showed up in their pickup. They were scrounging the neighborhood to take metal to be recycled. My husband talked with them and they almost emptied the trailer. Good news for us…now we did not have to unload as much from the trailer.

We then went on to the carports, behind the other sheds, etc. We filled up the trailer two more times. What a great feeling to clean, organizes, and de-clutter. I told them that this was my Mother's day present- the best kind, too.

Elizabeth made us lunch: tomato soup and toasted cheese sandwiches which we ate outside on the porch. We worked hard all day long and it was such a perfect day. Warm, but not hot. With a nice breeze.

In the evening, we went to clean the church; it was our turn to volunteer.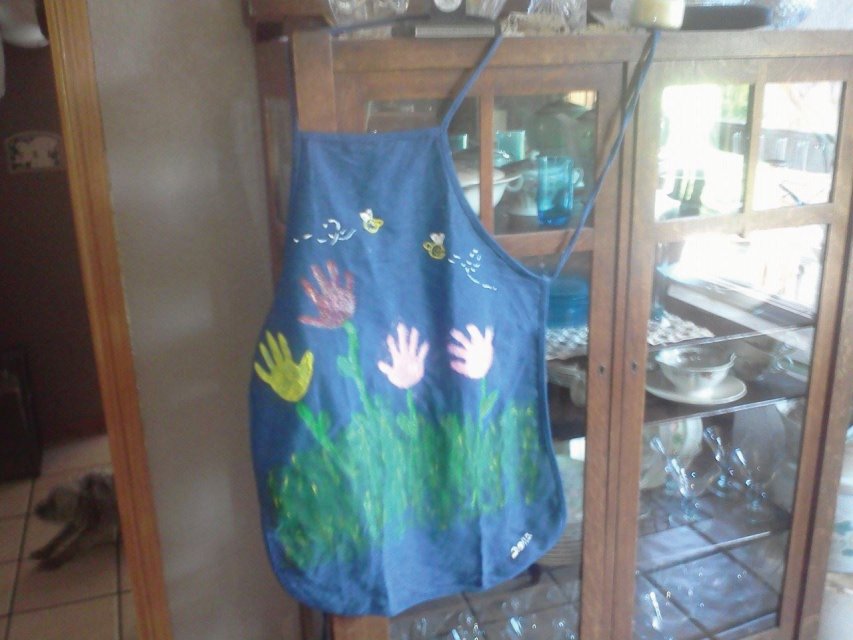 This apron is one of my Mother's day presents. My granddaughter's hand prints are the flowers.
Sunday, we spoke at church and I believe it went well. Rebeca, Elizabeth, and David all gave great talks. Fito's talk was really sentimental, too. He spoke of his grandmother and how she raised 3 different families and was such a godly woman.

Tuesday, we had my students from my Spanish classes over for dinner. I made
Pupusas
,
Spanish rice
, and
beans
plus we had
slushies
. Again, it was a beautiful day, so peaceful, the perfect day. We had such a nice visit.
It seems you can never have enough friends and there are so many wonderful people in the world…I just need to meet them all…

May all of you be blessed with such friends and such peaceful evenings.
My husband volunteered me to cook for an inservice at one of the schools where he teaches. (It is okay, cause that means I can volunteer him to do something for me).
The first thing I did was to retrieve my two large roaster pans from the pantry. I then took the two turkeys from the fridge, unwrapped them, cut off the excess fat, tail, pulled out the giblets, etc., washed them and set them in the roaster pans. I then added water and seasonings to make
Spanish Turkey
.
The gibblets just go in the scaps bucket and are fed to the chickens.
About 3 days before the meal, I made a huge batch (6 pounds) of
black beans
and set them in the fridge. I woke up early on Wednesday morning, and ran the beans through the blender, then fried them in bacon grease and onion for
refried beans
.
I had leftover liquid from the beans and used it in place of water for a batch of rice. This is known as
casamiento,
which means marriage. I guess the joining of beans and rice, which is my husband's favorite kind of rice.
I then had to go to work. I came back 2 ½ hours later and then made a batch of
yellow rice
; my children's favorite.
The turkeys were done and by this time, I had also moved the refried beans to another roaster pan and had them hot.
I had Felipe and David put the seats down in my car, put towels on the seats and carry all the food out to the car.
I drove to where my husband works, hitting a pot hole on the way.
Part of the turkey juice had spilled, the boys had only use on towel, and I ended up with a mess in the back of the car. I wiped it up the best I could with the towel and called my husband to let him know I ws there.
He didn't answer his phone so I went on into the school. I found a teacher who kindly helped me find a cart with which I could bring everything inside. By that time, Fito had found me and we set up all the food.
There used to be Teacher Appreciation Dinners in the community each year, but they are largely gone. Teaching is a very hard profession, and it becomes harder every year. It was nice to be able to honor the teachers.
It occured to me that I made enough food for more than 50 people in a relatively short time. I could not have done that 25 years ago. Experience sure helps us as we grow older and are more tired. We still get a lot done, but simply because we have become more knowledgeable and more efficient as time goes by (see
Cooking for a Crowd
).
The only thing is all the teachers were female except my husband and one other man, and they simply did not eat as much as I had planned. I am so used to feeding young men that I forget other groups do not eat as much.
But that was nice as I had plenty of food to bring home. We even had company over twice just to share the food.
Sunday afternoon, I made
Banana Bread
(21 loaves) and while the bread was in the oven, I de-boned the two turkeys, mixed the meat with Cream of Mushroom soup and set it in the fridge.
Yesterday, I fried two large packages of tortillas, took a quick nap while they cooled, then went into the kitchen and rolled
enchiladas
. I made 4 large pns and one small pan.
I had dentist appointments with children, wrote in my book, cleaned, did laundry, worked, and took care of my mom…plus I stayed up late one night reading a good book.
All in all, a good week.
Saturday, we had traveled to SE Kansas, where we use to live, for the 60 birthday party of a dear friend. What a pleasurable day, visiting with so many old and dear friends.
One friend told us of another friend who had cancer and suggested we go visit her. We did and she is in really poor shape. It was a good visit, and reminded me at just how frail life is and that we have to take time from our tasks and obligations to take care of relationships.
My friend was deceived into believing that she was going to hell for not fulfilling certain obligations. I told her that discouragement is one of Satan's most effective tools, and to not listen to him anymore.
This woman has spent her life doing small simple acts of service to her family, her friends, and her community. The Lord knows the intents of our hearts and forgives us when the frailties of the flesh keep us from doing more.
I did my best to reassure her and to help her find peace. It is my desire and prayer that each one of us can find peace as well. And have a Happy Mother's Day to all the women who mother in any capacity.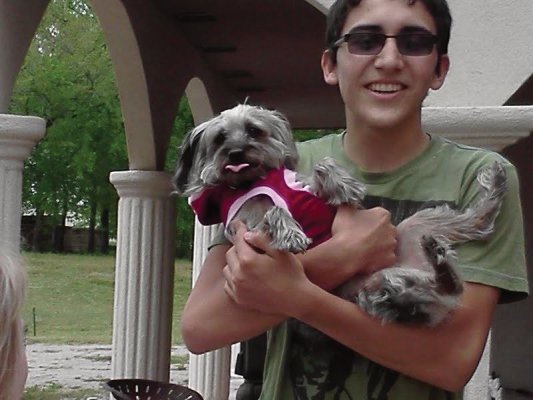 David holding Belle.
 Belle is wearing an outfit that my friend from Kansas gave us when we went to visit her.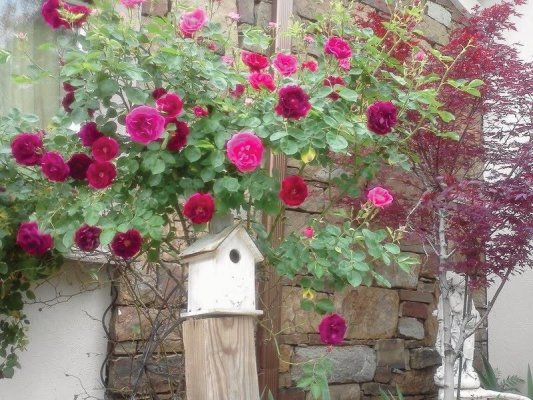 Roses from my garden.
Time just keeps plugging along and I am always behind it. I just never seem to be able to do what I would like to do. An appointment comes along, someone is sick or someone has a need and what I was going to do that day or evening is put on hold while I take care of life.

We are all in the same boat, floating along on this ocean we call life, sometimes the seas are peaceful, sometimes we are hit with huge waves, nonetheless, we keep afloat, try to do the best we can and keep trying to reach our destination.

I have been in a very reflective mood all week. Last Friday we went to a church meeting for the youth and I wrote two different poems during the meeting. One was about Jesus Christ and the other about Fito and I.  

When poems come to you, you have to write them down quickly or you will lose them. These came in phases and now I need to work on putting it all together in the right order so that the lines flow.

Saturday, we had a perfectly delightful day. Fito, Rebeca, and I woke up early and went to the flea market. It was windy, but that is just part of living in Oklahoma.

My hat blew away several times and Rebeca would chase after it. I decided to buy a scarf, cut it in half, and sew the two pieces to the inside brim then I can tie it. Fito has taken leather straps and put them in other hats, but I do not like the feel of the leather.
We did really well. I guess you could say luck was on our side today. First of all, we stopped at a garage sale that a church was having and found a beautiful oval mirror in a base made of Maple. We bought it for $20. The base has 3 narrow shelves. We just need to find a narrow hall or entry table to set it on. Maria is going to use it in her house for her entry way.

We also bought a matted and framed picture of an elephant. The frame is a gold bamboo. We bought an elephant table a few months ago at a thrift store, so this picture will go great with it in our living room. The picture was $5.

At the flea market, we found a double stroller for Maria. It was an Eddie Bauer which is a nice brand. It is in good shape and opens and closes easily. We paid $37. (Double strollers new are around $150-300).

We also found a small plastic car for Alexander for $12. I also bought two kerosene lamps for $25, Fito found large spool of weed-eater string, $25 and an old antique vise, $75. We also bought a wood bench, $10; a pogo stick, $15, and some other small items.

We went to two different flea markets and a couple of garage sales and just found treasure after treasure…and at the right price, too!

Several months ago, Maria, Rebeca and I spent one whole day going to different thrift stores looking for a double stroller. The cheapest one we saw was $189. And this one was $37! Wow!

Then this past Saturday, we went to the Oklahoma City Art Festival. It is one of the premier art festivals and is always a neat place to go. It was cold and rainy earlier in the week and Thursday, when it was finally nice, we could not go because I had a service project at the church.

Saturday, it was so crowded that it wasn't as enjoyable. Maria went with her baby and Alexander and it was hard to maneuver the stroller among the crowd. Then we had insisted that David go (Felipe came on his own) and of course, they were complaining about the whole thing.

We finally left, bought some pizza, and headed to Maria's house.

This past week, I de-cluttered some of the rooms which is always a good feeling. But I have really had the blahs lately. I have had such a nagging, almost depressing mood of not being able to accomplish what I want to accomplish. I keep looking at my schedule to try to see what I can delete from it to give me more time, but it doesn't happen.
I know what it is: I have a book in my head (on Critical Thinking) and if I do not spend the time to let all the thoughts come out…I will go crazy.

This is a personality function or dis-function of creative people. We can only go for so long with those thoughts in our head, but the point comes when you have to make time to allow the creativity to express itself.

When I was working on my dissertation, I would "disappear" for 2-3 days at a time. I need to do that again, for when I stay at home, something always comes up that I have to take care of.
Like right now, I am home alone writing…but I need to go to my mom's room to bathe her and clean her potty, etc.
Oh well, someday, my home will truly be empty (hummm…will it?) and I will probably not know what to do with all that time. At least that is what people tell me, but I do not believe them for a second, because I have enough books in my head, and projects planned, and places to go, and people to visit; to last three lifetimes.
I tell my children, if you are bored in this incredible, wonderful world…well…that's your fault.

May each of us be blessed with enough crazy projects to keep us busy till the day we die. (My hope is I die in my garden…or with my husband as in the movie "The Notebook".)

But my prayer, too, is that we may have the wisdom to say "no" to some of those projects and take the time to meditate, ponder, smell the new rain, look at a Harvest Moon, count leaves on clover, and lie on a blanket on the grass, and enjoy the earth, our loved ones, and all the blessings we enjoy.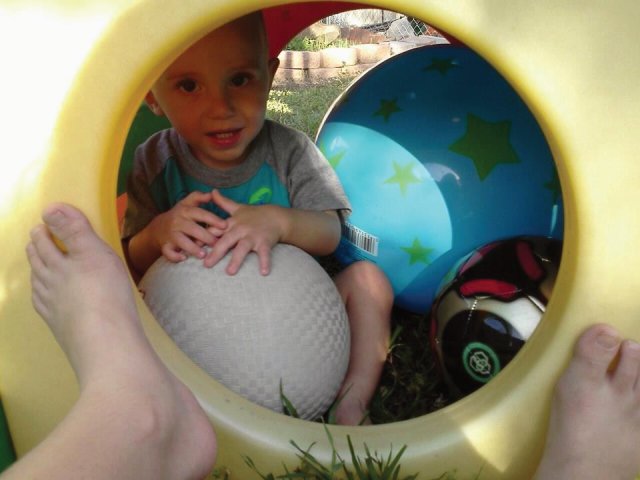 Rebeca's feet and Alexander. Alexander loves balls more than anything else. I was baby-siting him and Greyson one evening and he did not want to watch, Mickey Mouse Club. I switched it to basketball and he was happy.
then the researcher in me decided to see what other sports with balls he liked. No to hockey...is that because it's not a ball? Tennis was so, so. Football, yes, but his greatest reaction was to golf. He oohed and aahed as the ball sailed through the air, and clapped his hand when they hit it.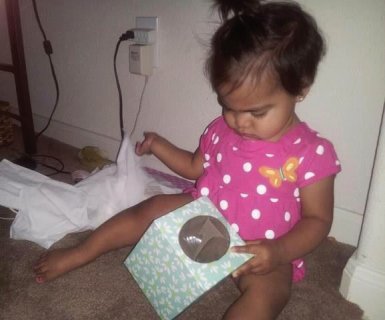 Isabella pulling all the tissues out of a box. She is definitely a Sagastizado...well...her dad or uncles would then have tried to flush all of them down the toilet to "hide" the evidence...so maybe she is a better model...
Thursday evening, we had a church gathering at my house. This year we are trying to promote self-reliance so each month we are doing different meetings on different aspects of the theme.
Thursday's meeting was, "20 ways to use Rice and Beans". I had about 15 different packages of beans, about 4 of rice, of course. There are many more types of beans and rice, but I was concentrating on what I mainly use.
1 to 1 and1/2 lbs. pork (I buy the boneless, trimmed chops that have less fat as I have gall bladder problems and cannot tolerate much fat), cut into 1 inch cubes (kitchen shears are faster than knives)
2 (15.5 ounce) cans white or yellow hominy (I do not drain them
2 teaspoons  of granulated garlic
2 teaspoons of salt
2 teaspoons of ground black pepper
2 packages of Goya Sazon (the orange package with Coriander and Annatto)
2 teaspoons ground cumin
2 Tablespoon of dehydrated onion
1 small can of diced tomatoes with green chilies
Add enough Ragu Traditional Spaghetti sauce to thicken broth and give it some Italian flavoring (I do this on many recipes as Spanish food does use Italian seasonings)
Half a small cabbage, thinly sliced
Chopped fresh cilantro
1/2 white onion, chopped
2 avocados, chopped
4 limes, quartered
A bunch of red radishes, thinly sliced
Salsa
Sour cream or Tammy's Spanish Cream
Fresh white cheese or shredded Cheddar cheese or Monterey jack (It's really up to you…or serve all 3 and let your guests choose)
Tortillas or chips
Many recipes call for Red Chilies, but a Mexican woman made this recipe for us in Houston without them and I like it best.  
It was a nice evening of good food and great company, and hopefully, something learned.
Last night, I went to the emergency room with Maria and her two babies. Alexander was crying and rubbing his eye. She had already called me two times that afternoon about his eye. I was afraid that maybe something/debris was caught on the lid and perhaps doing damage to the cornea. The eye is too delicate to mess with. I told her, "Let's go, and check it out."
I worked Monday through Thursday, did errands, laundry, cleaned my mom's room, etc.
Duncan is an hour and a half from our home, whereas Dallas is 3 hours away. the only thing, though, is when i arrived at their home, Rebeca and David were playing outside playing with 6-8 of the cutest, fuzziest puppies ever.
Somehow, Fito and I were talked into letting David bring one home, so now we have another dog. He named him Brew, and he is part Austrian Shepard and part Gran Pyrenees. One big ball of fluff.
Actually, Fito just called and told David that he and Elizabeth need to go mow.
Maria and Greyson outside on a warm day this past week, as he needs the sun for his jaundice.
Wednesday we had an ice storm. This is Oklahoma's crazy weather! One day, sunny and 70 degrees, the next day, icy, cold and hovering at 32 degrees all day. Since Oklahoma is in the center of the country, the south warm moist winds meet the cold winds coming down from the north.
The result is ice storms which are incredible beautiful, but damaging too, as they break tree limbs and down power lines. Tornadoes are a result of such fronts, as well.
The ice storm pictures came from:
I am standing in a meeting – yes, I said standing. It was poorly planned and they had it in a location where there wasn't sufficient parking or room for all the participants. This has happened before with this organization and somehow my husband talked me into coming again (even though I had said I would not…and I stood for more than 2 hours).
This is one of the dilemmas of marriage; each one accommodating and pleasing the other.
He promised me something extra if I came with him again. Hummm. What should I ask for? A massage? Having my back scratched? That he cook dinner?
Actually, what I would like more than anything else is one whole day to write. No phone calls, no obligations…just to go to the library and be able to write all day long without interruptions.
I am still trying to finish my book on "CriticalThinking" and I am so close. If I had two whole weeks, I think I could finish.
But who would feed and bathe my mom? Who would homeschool my children? Go to work? Do laundry? And on and on.
Little by little, step by step, I will finish. It is how I finished my degree. It is how I do most tasks.
This past weekend was Easter and we had beautiful weather.
Friday, our church had an open house for our new building. I did a display on
canning
,
food storage
, and
72-hour packs
. I had the children get some of our 72-hour back packs and put them in the Suburban. I also took my large pressure canner, a jar of
salsa
, a jar of butter, a jar of chicken, jars of beans, soup, peppers, apple sauce, etc. (All things I canned).
I took several canning books, and some canisters of dehydrated food. I made copies of different information to give to people.
I had colored my hair in the morning while watchinga movie, and then I prepared for the open house. I then had a burst of energy and decided to make tamales. Matthew had been begging me to make them and I had a bowl full of turkey left over from Maria and Travis's reception. I had also bought cans of Garbanzos and a bag of potatoes.
I scrubbed the potatoes and had the children cut them into cubes while I prepared the masa. First of all, I bought "Yukon Gold"potatoes that have a thin skin. This saves time as you do not need to peel them. Secondly, I used leftover Turkey broth (that was canned and in jars) to add to the masa. This broth came from when I cooked a Spanish turkey. I save the leftover broth to use with other meals. It already has herbs and spices and is super yummy. If you do not can, you could still save it in plastic or glass containers in your freezer.
Below is a link on how to make El SalvadoranTamales. These are really comprehensive directions, but I will tell you my shortcuts so it will not be as much work.
Then while the potatoes were cooking, I cooked the masa. That is the hardest part as you have to stir, and stir, and stir…
I added 2 quart jars of turkey broth, then I had Rebeca add some oil (I buy the 35 pound containers of Soy Salad Oil from Sam's…I use this oil for frying, baking, everything…it's cheaper and works well…I simply cannot afford Olive oil).
Rebeca added more than I normally do, but it was great because they were the best tamales I have ever made. They came out perfect.
Tamales from El Salvador are bigger and are filled with Garbanzos (Chick Peas), potatoes, and either pork or chicken. Yes, people add other things, but these are the most traditional.
Another thing I did different this time was to mix the masa with the mixture (of meat and potatoes). Usually, you keep them separate and put a spoonful of masa on the sheet, then add a spoonful of the mixture.
By combining them, I did half the work and it went quickly. I had them cooking before I left for the open house, and Elizabeth kept an eye on them.
Another step I eliminated completely, was my mother-in-law always puts the Garbanzos in water and washes off the thin skin that covers them.  She has always claimed it will toughen and will ruin the tamales. I left the skin on this time just to see.
Not one person knows I did this and everyone has said they are the best tamales ever. I really cannot tell the difference and have taken small bites trying to see whether there is a difference or not. No difference, and not doing this saves about 20-30 min.
Too many times we do something a certain way simply because it's been done that way for years and years. Many times, it is bette rto do it the way that has been developed over the years and for good reason. Nevertheless,we should always be looking for how to minimize steps, shorten a process, make the job more efficient.
Making tamales is such a huge task – I keep lookingfor ways to refine and shorten the process until I have the perfect recipe.
One other thing, the link I gave you talks about "recaudo",the sauce. What I do is I cook a
Spanish Turkey
for a family meal several days before I want to make tamales or
enchiladas
. That is our meal, either with rice or with
Bolios / Tortas
.
I then de-bone the turkey (which is less work than chicken) and save the broth for future meals. This way I have "recaudo" ready to use and do not have to make it. I also use the Spanish Turkey broth for my enchiladas.
I also do not use clove as it makes it have a sweet taste. We do not like olives very much so I do not add them. I have had tamales with either black or green olives. I also do not use the Plantain leaves. I have found that many times the leaves are bitter as it is hard to find good ones in Oklahoma or they are frozen. If they are bitter, they ruin the tamales.
It is amazing, but is really doesn't affect the flavor as what makes tamales good is the masa.  Also, as you steam the tamales, remember that when you unfold one to check the masa that while it is super-hot…it will be a little mushy. You have to let it cool for about 20 min to test it. When they are done, they will have a consistency of Jell-O.
I made 88 tamales and they, and the open house were successful.
Saturday, I drove to the panhandle of Texas for the 80th birthday party of my uncle. It is about a four hour drive, so I drove 8 hours for a 2 hour visit. It was worthwhile as I saw many friends, cousins, aunts, and of course, my uncle.
Easter Sunday was relaxing and just what I needed. Church was excellent. We had tamales for lunch, but as my mom doesn't really like tamales, I took some leftover mashed potatoes and made
Potato Soup
for her.
We had an Easter egg hunt for Austin (a cousin), Elizabeth, and Rebeca. Fito and did not do a thing. Matthew, Ashley, and Ross hid the eggs and conducted the hunt. Ross made it interesting as he put several dollars, five dollars, and even one ten-dollar bill inside some of the eggs. I think there is only one time we put money in some of them and that was quarters. Fito and I are just too frugal.
Monday, after work, I drove to Gainesville, Texas to take Austin home as he has a camp coming up. I thought David was coming home, but he decided to stay at the cousin's longer. Rebeca wanted to stay with Austin, so she went home with him. It is really nice that they and us homeschool and can be at each other's homes.
The only April's Fool that I did, was to go into the children's rooms in the morning and tell them that they had to do all this work (I gave them a long list). I also acted really strict and mean…and then said, "April'sFool!"
Tuesday, I went to a class, and then took Elizabeth to buy some shoes. I then dropped her off at Maria's and went to teach my Spanish class. This is a new class and is larger than normal. I have one gentleman that really struggled this first night. Hopefully, I can help him understand
more of the mechanics of language so he will not struggle so.
The next 3 days were shopping one afternoon with Maria, her babies, and Elizabeth (which was fun…and Maria does really well with both babies), working, paper work, paying bills, cleaning, taking care of my mom, going to the temple with Elizabeth, going to the meeting with my husband, and staying tooooo busy.
Elizabeth has said at Maria's this week to help out with the new baby. She is such a good daughter...so helpful.
Today and tomorrow is our church's bi-annual General Conference. This is such a treat for me, as I love to learn. To take two days and to just listen to the prophet, the 12 apostles, and other church leaders is like drinking cool crystal clear water after having almost died of thirst in the desert.
Last night, I saw a painting of a mother burying a loved one that touched me. The following poem came to my mind:
A mother touches her fingers to her lips
Then touches her fingers to her baby's lips
The lifeless baby is then laid in an open grave
While the distraught mother tries hard to be brave
A broken heart
A saddened mind
But life continues forward
Difficult but enduring
And yet hope shines through the suffering-
The trials-
The tribulations-
A future reunion of long awaited glory
A blessed awakening of joy
A foundation of peace
No more sorrow
No more gloom
No more confusion
Instead; light, understanding, reassurance
Enlightenment of a better world, a greater joy, a perfect hope, a complete knowledge
Of loved ones reunited,
Perfected and glorified,
Together forever, one with God.
May each one of you be blessed with this light and reassurance as you struggle with the sorrows, tribulations, and sorrows of this life, is my prayer.
And wonderfully, Maria had him naturally instead of c-section as she had with Alexander. We are so happy to have him here finally!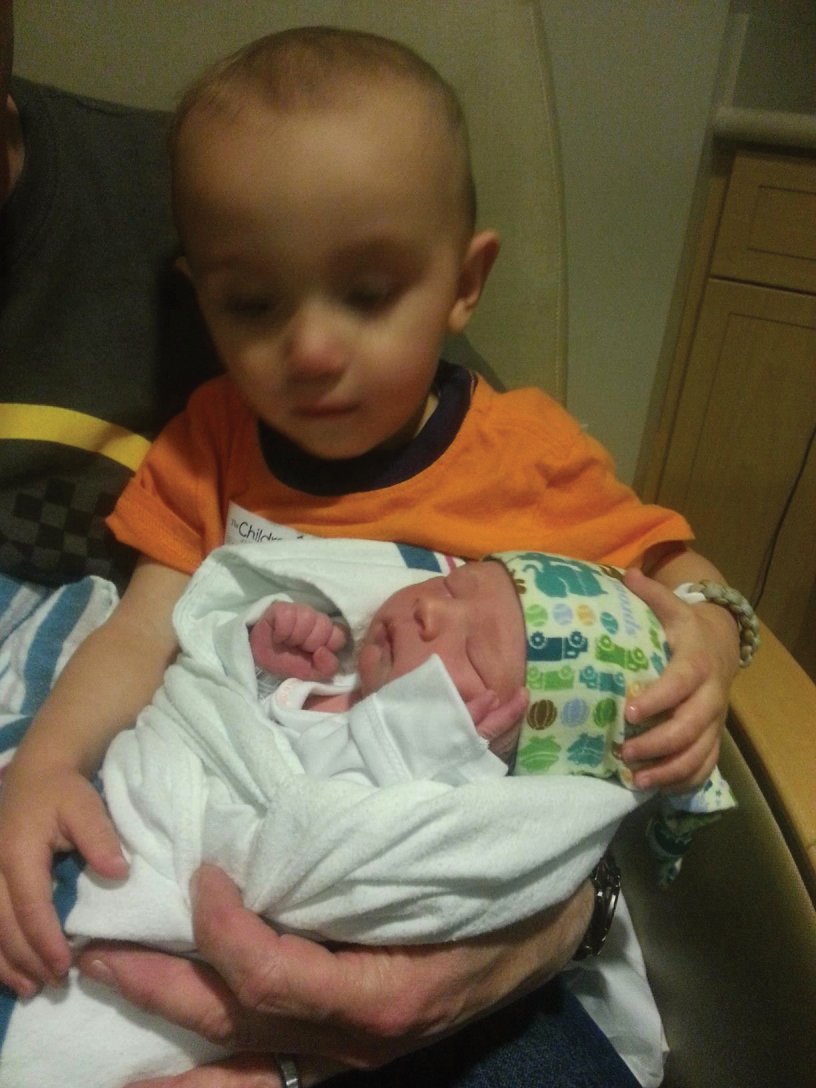 The past two days were a blur as I ate, slept, and lived at OU Children's Hospital.
Maria, my daughter, had called me early Monday (2:00 am) to tell me she was in labor. SinceAlexander had come at 34 weeks and as she was 35 weeks, I told her things she could do to try and stop the labor.
At 8:00 am, when we spoke again, she was still in labor, so I canceled my day class and went to pick her up. I dropped off Austin (visiting cousin), Elizabeth, and Rebeca at her home to take care of Alexander and Maria and I went to OU Children's.
She was not admitted until 3 hours later when she had progressed to a 4. She was having strong, consistent contractions and I was calculating that if she kept this up, we would have a baby sometime that night.
I had to cancel my evening Spanish class, and we kept plugging along. Maria's mother-in-law, Carrie, came to help as well as her husband, Travis.
Her father-in-law, Jonny, came, too.
Carrie is like a second mom and helped Maria so much. She massaged her, comforted her, encouraged her...just did what was needed when it was needed.
Well the baby did not come. labor and contractions continued steady, hard, and never stopping, but Maria stayed a 5 for the next 15 hours. Finally, at about 7 :00 am, they broke her water.
Things kicked in and she started progressing, but only about a centimeter every 2 hours. With some help to get the rim of her cervix open all the way, she was ready to push.
She was a valiant, STRONG pusher. She didn't give up and kept the pushes strong. Hair was seen, then the head worked out, and finally, a baby.

Our new grandson! Greyson James Randall is here. He was born at 5:25 pm. He weighed 5lbs 13 oz and is 19.7" long. He has a head full of hair.


Family and friends came. Pictures were taken. Matthew and his girlfriend, Ashley, had come to the hospital right before Maria was ready to push. Maria so graciously allowed Ashley to stay and watch the birth, which really touched Ashley's heart.
Birth is an incredible event to watch and participate in. it reminds one of God, his Creations, the creative power, the earth, nature, and to have a baby in Passover week/Easter week is amazing.

As I was driving home last night with a bone-tiredness of the past several days, I saw a huge harvest moon I know...it's the spring equinox...moon), full, glowing orange, and hanging deep in the sky.

The moon followed me home, then as I was pulling into our long driveway and could see the soft lights bathing our home and welcoming me to a warm bed and hot bath, the moon hung directly over our home as if to remind me of God and of all the great blessings he has given me and to all His children of the earth.

I went in the house prepared to tell my children of those things and found my mom sitting on a bench in the kitchen throwing-up. Elizabeth and Austin were helping her.

She finally finished, we got her somewhat cleaned up. We had to bring her chair and wheel her back to her room as she did not have enough strength to walk.
After getting her situated, I went in to the family and we talked of the birth, the moon, and so on. The children had been outside playing in the evening under the moonlight.
Then a nice hot bath, a family prayer and scriptures, and to bed. My bed, my pillow, clean blankets...not three cushions on a flour in a hospital room. How to describe the sensation of feeling blessed beyond belief to slip into my bed.

Also knowing just how many of God's children live their wholes lives on this earth without ever having the wonderful blessing of sleeping in a bed. my, are we blessed.

This morning, I made eggs and toast for my mom, bathed her, washed her hair, and am doing laundry, computer stuff, emails, etc.
Tomorrow, we have the open house for our new church building and I have been preparing for that. This afternoon, I need to go grocery shopping, then I have class this evening. I am teaching Fito's class as he has parent-teacher conferences tonight.

May each one of you be blessed as you celebrate this time of year; of new growth, of re-birth, of remembering our many and great blessings. My prayer is that each one of you may prosper and find joy and comfort in your trials and lives.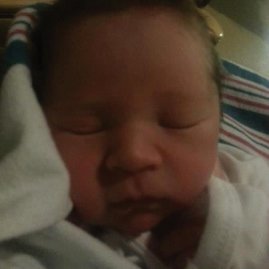 It is 6:29 pm on Tuesday, March 26, 2013. I am at the hospital right now. Maria called me at 2:00 am and said that she was in labor. She is at 35 weeks right now and so we wanted it to stop, not progress. I told her some things she could do that might slow it down. I also told her to ask her doctor if she could take her shot (she had Xander at 34 weeks and takes weekly shots to keep her from going into labor prematurely).
Her shot was due to be taken on Wednesday, but in the morning when she spoke with the doctor she was told to just come in and be checked out before she did anything. I cancelled my morning class and drove to the hospital and we have been here ever since.

They finally admitted her around 2:00pm. She had progressed to a 4 with her cervix 90 percent effaced. However, she still was at a 4 when they checked her around 5:00 pm. She is having constant strong contractions, so right now it is a game of wait and see.

This past weekend was when she and Travis were sealed together in the Temple for "Time and all eternity". Little Xander was sealed to them, too.
To see them all in white kneeling across the altar and see Xander in white being united with them was a great joy. One of those moments to a parent that makes all the previous sacrifices seems irrelevant and worthwhile.

Friday, I took David to the doctor as another doctor had told us he thought he had scoliosis. He has a place on his chest where the rib goes in and it appears deformed.
All week long I had been reading about scoliosis and was very worried for him. Matthew has scoliosis, but to a small degree, but with David's chest caved in in that area, I was beginning to wonder just how bad it was.

The doctor sent us to a medical center for x-rays. Once there and after having done the paper work, it occurred to me that we had switched insurance companies and I thought this place was out-of-network. It was.

Therefore, he headed across town to a facility that was in-net-work. Again, we filled out the paper work, had him admitted for the out-patient set of x-rays when the provider informed us that we had to go to their facility downtown. The scoliosis set is such that it needs to be done at a bigger facility.

We stopped and put gas in the Suburban, bought some lunch and headed to the main hospital downtown. At least this time, no paper work. We waited for about 40 minutes, did the x-rays, waited another 20 for copies and left.

Of course, David and I wanted to see the x-rays. As soon as we were in the car we looked at them. The strange rib looked curved and out of place. We even wondered if he had an extra rib. But his spine looked completely normal.

I ended up driving to my chiropractor and he very graciously offered to look at the x-rays so we did not have to wait for days to know what was what. David does not have scoliosis. What a relief.

He does have is
Pectus excavatum
that is causing the rib to curve, but with adjustments, exercises, and weight training can be made better we hope.
By this time it was almost 4:30 in the afternoon. We went home and I went to work. I made 3 pans of
Goulash
. I also cooked 2 packages of pork, ran it through the food processor, added 2 and ½ packages of cheese and the sauce then had some of the children mix it all together. This made two huge bowls of the
Pupusa
mixture. This was covered with foil and put in the fridge.
I had started a
Spanish Turkey
that morning and it was almost ready when we got home. I had also taken a ham out of the freezer in the morning and I now cut all the skin and fat from it, added 3 cups of water to the pan, covered the whole ham and baking dish tightly with foil and put it into the oven.
I made a large pan of
Spanish Rice
and put 4 pounds of
Black Beans
on to cook with a ham bone from the freezer to give them flavor. We also heated up a #5 can of
corn
, drained it, and added butter, salt, and pepper.
By this time, Maria, Travis, and Xander were there. Tony, from Missouri, and a friend from Washington state (a girl…whom we like very much). Matthew (with another girl who we like a lot as well), another friend of Matthew's, and Kathy and six of her children from Dallas, Texas. 22 of us all weekend together.

I let them have turkey, ham, goulash, corn, rice, and beans for supper, but told them to not touch any of the food on Saturday as it was for Maria and Travis's reception/David's birthday party. They were allowed to have some leftover homemade soup which we still had.

We decorated the house with flower arrangements. Fito also went to Sam's and bought several treats and a cookie cake for David. I had called Wal-Mart Thursday morning and had ordered a two-tier cake for Maria. I wanted a three tier cake, but it was $125, whereas a two-tier was just $48.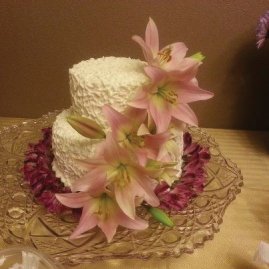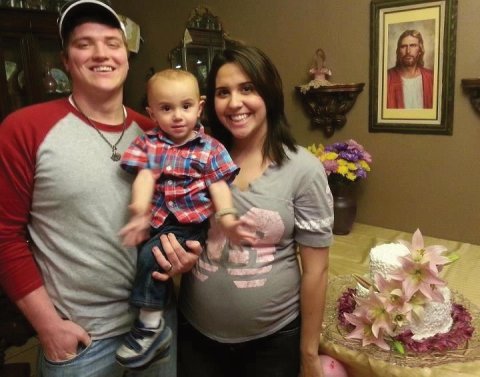 After we were done at the Temple on Saturday, I picked up the cake, 2 bunches of flowers, and went home to decorate the cake with the flowers, heat up the food, and start making Pupusas.

We also had bought
Bolillos
or tortas, the small French type loaves, and had Spanish Cream, shredded lettuce, and diced tomatoes for Turkey sandwiches.
The reception/birthday party went very well. We did not have but maybe 50 people at it; however, it was a nice evening of good food, friends, and family.

I was so exhausted I thought I was going to collapse. My feet and back hurt. One by one, I asked different children to come in and wash something, put something away, sweep, etc.

Sunday, after church, I made the pot of beans into
re-fried beans
, made scrambled eggs, heated up large flour tortillas, took out the lettuce and tomatoes and made burritos. Yummy and simple.
Afterwards, I took a nap in the recliner which was incredible. I had started a fire because it was COLD outside. I slept so deeply which was just what I needed.

My aunt and uncle from Texas called while I was in the recliner and were in town and wanted to come and visit. I then went and called the children and they cleaned up the kitchen while I hurried down to my mom's room, got her into the bathtub, and then cleaned her room.

By the time they came, everything was clean, and mom was in her Sunday best. We had a nice visit while all the older people went shooting at a friend's house.

Monday, I put the children to do schoolwork, went to work, came back, took Tony's friend and the little ones to the OKC Cowboy and Western Museum and then home.

The traffic was horrible coming home and we just came home in time for Fito to take her to the airport and for me to leave to go to my evening class that I teach. I had not even eaten breakfast and ended up just stopping at McDonald's for a quick meal.

By the time class was over, my feet were swollen and I was ready for bed. Though, when I came home, Elizabeth, Rebeca, and Austin (a cousin…David went to Dallas and Austin stayed with us) were playing a game. They wanted to play the game twister and wanted me to spin the board. They had a great deal of fun. They kept getting twisted up together and falling down. It didn't help that Elizabeth was always putting an arm or leg under or over one of them.

And today I am here in the hospital.

I keep wondering when life will slow down, when will I have time to sleep.

Actually, I have been waiting and wondering that for 29 years now…hummm I guess I will catch up in the resurrection.

Nevertheless, I would not give up my children, my husband, my busy life, my home for all the sleep and extra time that someone else might have.
These blessing require time and effort, but bring great joy and happiness.
May each of you be blessed with the righteous desires of your hearts.
(Will add update on Maria as things progress…)
Fito and I are in Branson, Missouri right now. This was a free trip from when I had my Lasik surgery done. The company put us up at a time-share and we are taking a tour tomorrow for $75 in cash and two 3-day/2-night vacations.
Before we went in to check-in, I warned Fito that they would try to get us to take a tour. We had decided that there was no way we wanted to take a tour (we have done this many times before…and no, we do not own a timeshare, but do belong to a travel club). But for spending money…well…we can lose an hour.
We had been given tickets to Silver Dollar City, which is an amusement type attraction, and has shows, arts and craftsmen, rides, etc. We like the shows and watching the craftsmen. They have glass blowers, painters, weavers, blacksmiths, and so on. However, when we arrived, we were informed they were not opened. Oh my, did the travel agency mess up.
Neither one of us felt like shopping. I suggested a movie, but the theaters did not have anything we wanted to see, thus we ended up going back to our room and watching a couple of DVD's. Super lazy, but I guess what we really needed.
As we left Missouri, we stopped at the Pro bass Store in Springfield. It is an incredible store and worth stopping to see. It has more attractions than their other stores. There are even museums within the store. We went through the Archery Hall of Fame. Some extraordinary bows on display.
On our way down to Branson, we had also stopped in Springfield at the Springfield Leather Company. It is one of the best stores in the country to purchase leather (and beads). Fito hand makes satchels out of leather which he sells. All together, we spent more time in Springfield than in Branson on our trip.
This week is spring break and since we both work for schools, we have the week off. When we get back home, the week will be filled with doctor appointments and cooking.
Maria and Travis are being sealed this weekend, on the 23rd. In our church, this is when they are married for time and all eternity, and their son, Alexander, will be sealed to them so they will be a forever family.This is done in the temple which is different than a church.
Almost all of the family will be coming and I am cooking for all of our family and friends at an informal reception in our home Saturday evening.
Saturday was a "Sprinkle" Baby shower for Maria. I made
refried black beans
,
taco meat
, and had
salsa
, shredded cheddar cheese, and chips. Her friend had brought an ice cream cake, punch, and fruit. We played games, visited, and had a nice time.
Friday, we worked outside all day long. It was 80 degrees with a breeze. Perfect for gardening. (and now it is back to 40 degrees...ugh...Oklahoma weather)
We had started taking out a garden last year, and worked on finishing that. There was a stack of rocks that had to becarted to the back. Plants had to be dug up. Other plants that had been dug upneeded planting. Weeding and cleaning. Moving dirt to another garden. Lots of bending over.
The next day I was so stiff, especially in my upper thighs and lower back. My muscles were screaming, "You are out of shape!"
After we worked all day at our house, we went and worked on Maria's and Travis's lawn for a couple of hours. I dug up a cactus plant they did not want, dug up a big bush that was by her front door and dropped leaves in front of her door. She didn't want it anymore, so I dug it up and took it home. It is now in my front garden against a white wall. It makes a blue flower which will be a really pretty contrast.
We cleaned up trash, David mowed, and Maria and I weeded,planted, and trimmed stuff. Travis weed-eated and Fito did miscellaneous tasks.
Thursday, I was in charge of a church women's meeting. I made
Spanish turkey
with new red potatoes, and carrots. (The leftovers of this are what I used for the turkey noodle soup. I added water, Knorr chicken bouillon with tomatoes, and two packages of angel hair curled noodles).
The meeting went really well. I sang a song with another woman, but we really hadn't practiced enough. (We had decided Wednesday night,while we were setting up for our meeting, to do the song). It is a beautiful song, but I wish I had done better….I know, I am too much of a perfectionist…at least, in some things.
Most of my week, up to that point, was preparing for our women's meeting. Sunday evening, I made bookmarks, and other little poems, etc.for the ladies to take home. I printed ideas from our theme and then put them on scrapbook paper to make them artsy. Prepared the program.
We also made table flower arrangements, decorated the tables, and room, had special music, etc. It ended up being a really nice program.
Fito took my Wednesday class, so I could go to the church to prepare things.
On Tuesday night, my Spanish class had their last class. We went to eat out at a Mexican restaurant so they could practice their Spanish. It was a good class. One lady really wants to learn Spanish and is really progressing rapidly. Hopefully, she will enroll in my next class.
The week was busy and the rest of my month will be the same…soooo, these two days in Branson are my chance to relax, forget aboutwork, homeschooling, taking care of my mom and children, not worry about cooking, cleaning, paying bills…hummm….do I have to go home?
Of course, I am kidding. I love my home with the blooming daffodils, the wonderful children, the loving moments, the board games played, the laughter, the birthdays, weddings, grandchildren, parents, and life. A home breaming with the ups and downs, the laughter and tears of life.  I love my life. My wonderful life. May each one of you find joy in your own slice of life here on the earth is my prayer for you.
/