Shopping Cart
Your Cart is Empty
There was an error with PayPal
Click here to try again
Thank you for your business!
You should be receiving an order confirmation from Paypal shortly.
Exit Shopping Cart
ORGANIZATION AT WORK OR HOME
Here are some pictures of my finished kitchen counters. We used a marble called Amazon Rain Forest Gold. We also used stacked rock on the posts and used a combination of glass, travertine, and marble on the edges. We also bought a large farm sink of travertine.
Everything is done, except around the front of the sink. There is still a big gap from the cabinet we had to remove. I bought some tile with a pinwheel design to go directly under the sink and some wood trim to go on the sides.
The big huge sink is perfect for us. With all the cooking and canning I do, all the large pans I use, it is really amazing that I have room and the pans actually fit into the sink. When I walk by the counters, I can't help it, but I keep rubbing my hand on the counters. I still can't believe I have real counters that just have to be wiped and they clean so easily. After all those months of plywood counters…marble is amazing!
For Labor Day weekend, we drove to Houston late Thursday night. We didn't get there until about 2:30 in the morning. Then we got up and made it to the beach around 8 am. Since it was Friday, and a school day, no one was at the beach. It was in the mid 80's and there was a soft breeze, partly cloudy. 
You could not have asked for a better day at the beach. We set up the chairs, the beach umbrellas and we had the perfect day. Maria was there with Xander and Greyson. Douglas was there with Celeste and Isabella. So all my grandbabies were on the beach with grandma. Heaven. Their spouses had to work, so we missed them, as well as other missing siblings.
Only Rebeca and Elizabeth came to Houston with us. Felipe drove for Maria, but then she dropped him off near Dallas so he could spend the weekend with friends. Davis had volunteered to stay at home to take care of my mom.
We made sandcastles, dug in the sand, played in the waves, just sat in the waves, fed the sea gulls, and Papa Fito and Douglas pulled Celeste on a wave board. She would fall, but then would immediately get back on and want more…and faster!
(The above pic was drawn by Celeste before we came down to Houston...it is titled: Grandma Tammy on the Beach) It's perfect! I am going to have it framed!
Maria and Greyson.
This was such a funny moment. Xander and Isabella both wanted to hold Douglas's hand, but had gotten twisted up and were facing the wrong direction. He finally got them all straightened out.
Daddy working hard to please his daughters.
There is just something about the beach, the waves, and the ocean. Putting your toes in the squiggly sand that has the pulse of the ocean vibrating through your soul. You feel as though Mother Earth is communicating peace, tranquility, and joy to you.
I grew up in Colorado with the mountains believing that they were how to really commune with God. A mountain meadow filled with the first flowers of spring, throwing snowballs in August on the side of a glacier, catching the perfect Rainbow Trout and then cooking it over an evening campfire, sleeping in a tent, listening to the gurgling of a mountain stream, while inhaling the clean pine scent of the mountains. Heaven.
Although, after being introduced to the ocean, I am not sure which is more heavenly? I do not believe you can choose. There are pieces of heaven all over the earth. In many forms, in many places.
The open wide skies of the west where a rolling thunderstorm becomes the canvas, or a sunrise, or the celestial starry night far away from city lights. The amazing rock formations of the southwest, the tall forests in California, the old misty woods in the Appalachia. The Finger Lakes of upper state New York. The swaying Palms and white beaches of Florida and Mexico.
I shouldn't even start listing places because it would take pages and pages to mention all the beautiful places I've been and I have only been in 32 states and Canada and Mexico. But each place had its own beauty. Its own piece of heaven.
A dream of mine is to someday visit all the states, then many places around the world. There are so many countries I want to visit, so many cultures and people I want to experience. This world is so beautiful. We forget sometimes when we are caught up in the business and worries of our lives.
Take a few minutes today and see the beauty. A bird chirping in a tree, a flower blooming through the crack of a sidewalk, a puffy cloud that says hi, a rain storm that cleans the earth. Enjoy it. Thank God for it, and may each one of you be blessed with more beauty in your daily lives is my prayer.
At the mall in Houston with our grandbabies. Fun!
So much has happened lately. School started last week and we sent Rebeca and Elizabeth back to school. Therefore, there were all the activities to do, such as: buying school supplies, clothes, shoes, enrollment, open house, preparing for lunches, and so forth. A constant set of things to do and get done.
David is going to Mid-America Technical School. He is enrolled in two different programs. One is Entrepreneurship and the other is Graphic Artist. Each program lasts two years; one, he does in the morning, one in the afternoon.  He will receive college credit for each program as well, so when he finishes when he is 18, he will have around 40 credits of college and have two certifications.
As we were doing all the errands, I was remembering the days when I had nine children in school, not just three, and all that we had to do to prepare. One year, a kind lady from our church bought all the school supplies for my children. What a Godsend.
Many times, I just bought what was absolutely necessary and then sent more stuff later as we had funds to purchase it.
Come to think of it, Douglas, Benjamin, and Matthew are in college, so I actually still have six children in school…but I definitely do not help the college students the way we should…
I recently was speaking with a friend from church and mentioned that I had started refinishing a hutch of my mother's. When it was in storage, a battery had leaked on it and ruined the finish. I told her it was too much work and I thought I would just look for one on Craigslist.
She said she had had one on Craigslist for over a year and it had not sold. Well, I ended up buying hers and when we took it home, I decided to leave it in the dining room and move the bookshelf that had been there upstairs to make an art room for Rebeca.
I started putting my canning jars in it and ended up putting my whole collection in there. I can a lot and have always collected old canning jars.
To me, they symbolize the self-reliance and ingenuity of the women of the past. How hard they worked to feed their families, and yet at the same time created a thing of beauty. A jar full of peaches, applesauce, green beans, salsa, whatever….they are so pretty lined up on shelves. And give one such a feeling of accomplishment and self-satisfaction.
You can see that the jars are filled with my husband's marble collection, old buttons, and other misc. stuff we like. I am so happy with this. I have not had my jars all together for years...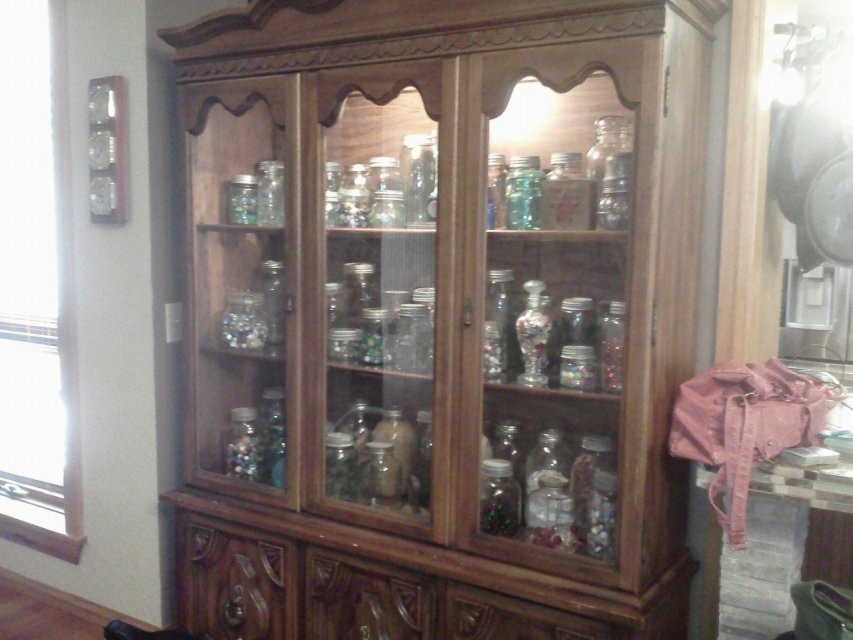 Isn't it pretty...and it has a light, too, and I paid $100 and it is wood.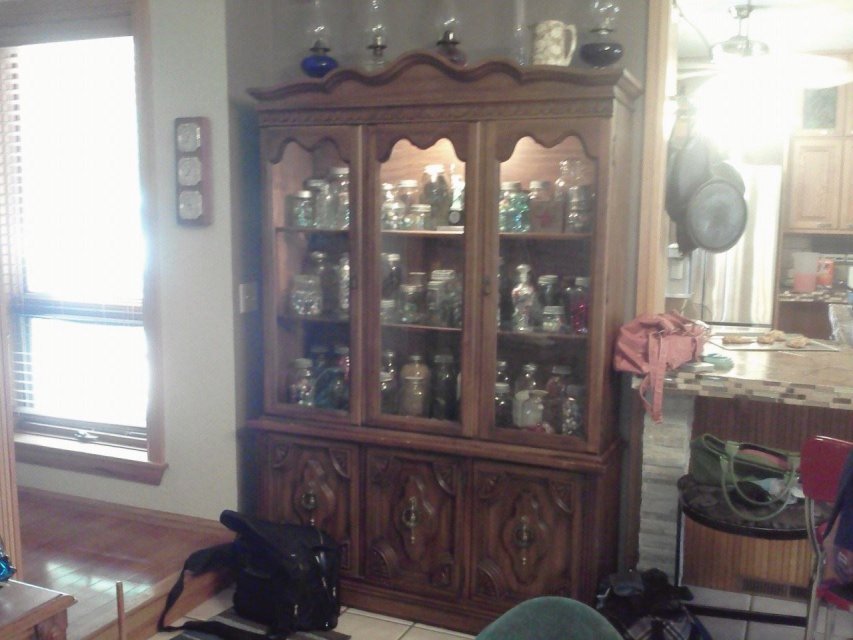 The past few weeks have been busy but amazing. I did not have to work and so I have been doing all the things that I did not have time to do while working.
I have been cleaning and organizing in my office, although, I am not completely done in there. I finished and stained a piece of furniture. It just needs new handles and it is done (the handles I bought were too long) and I haven't made it back to that store to exchange them.
We had an electrician come out and he spent three days and now my mom's room is completely done.
You need to understand that our first electrician never finished the add-on and we have had to use extension cords for several years. Every time I had some one new come out, they were only able to figure out one thing or would not want to take the job.
This friend of Fito came out and fixed everything, even the bathroom upstairs. He cut holes in the sheet rock, kept climbing up in the attics, and so on until he followed each wire, figured out where it belonged and got the fixture or plug working.
He found covered up plugs and lights and has everything up and running. My mom's room now has smoke detectors, lights and fans, and working outlets in every room.
The sheet rock is all repaired…I just have to paint it. We still owe him money…but he said we could just finish paying him monthly. He also has some land he wants cleared. We have talked about going there in the fall and helping him to clear it for payment. Who knows how it will all come together, but it always works out.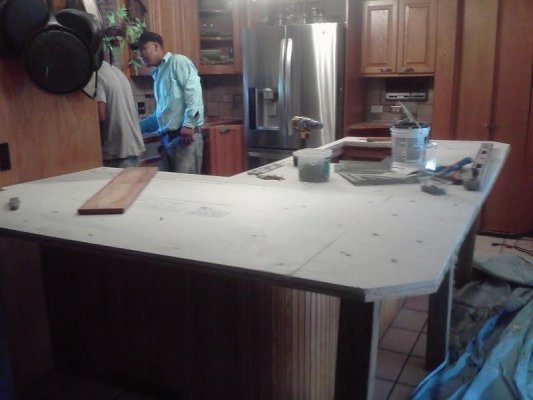 Today, I have other workers here and they are finishing my kitchen. In December, the counter cracked and broke off and we have had a plywood counter since.
While Fito was in Canada for the week,(at his mother's 80 birthday celebration) I went and purchased marble tile, a travertine farm sink, edges, grout, etc. to redo my kitchen.
(Can you imagine your wife doing all this while you were gone...?)
Hummmm….are you adding two and two together? Yes, that is why I did not have enough to pay off the electrician…Well, there is more to the story.
Originally, I had decided to do the kitchen first as cleaning plywood is the pits! However, the electrician friend called and said he had no work and could he come and just get started….that we could always figure out the money later.
I clearly told him what I could give him now and he came out. But once here, he kept on working as he had no other work and so he finished. I also had to spend money on wiring, switches, lights, and smoke detectors which I hadn't budgeted in the original cost.
Hey, it is done. I am happy. My mom is happy. The electrician got enough money to pay the bills he needed to pay and is happy.
Also, we do not have to pay for the labor on the kitchen. We had an enclosed trailer that we decided to sell during the winter months. One of our GED students found out about the trailer and wanted it as he does construction. He took it months ago and has been using it. Our agreement was that he would do our kitchen for the trailer.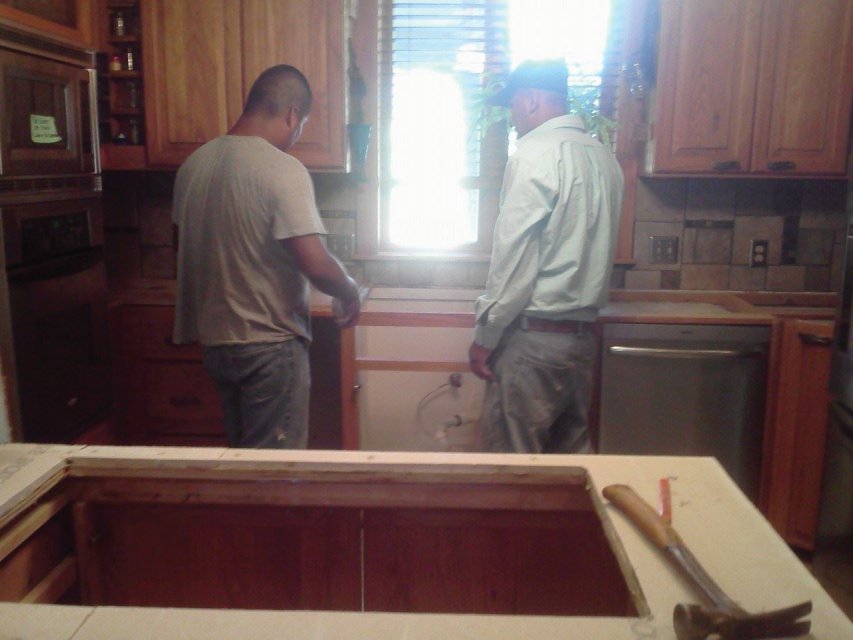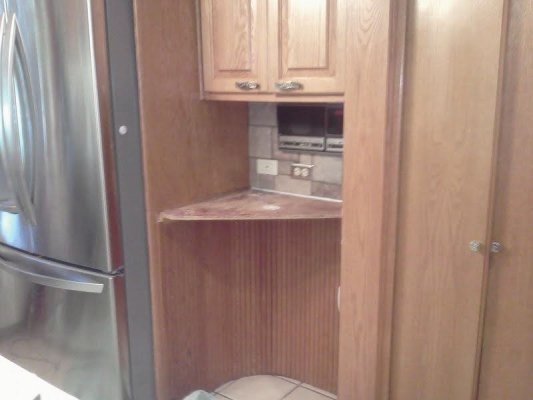 Rain, rain, and more rain. last year, we were in the middle of a severe drought and our lake almost dried up.
Look at it this morning, after hours of rain...in July! When we normally do not get any rain and it is super hot.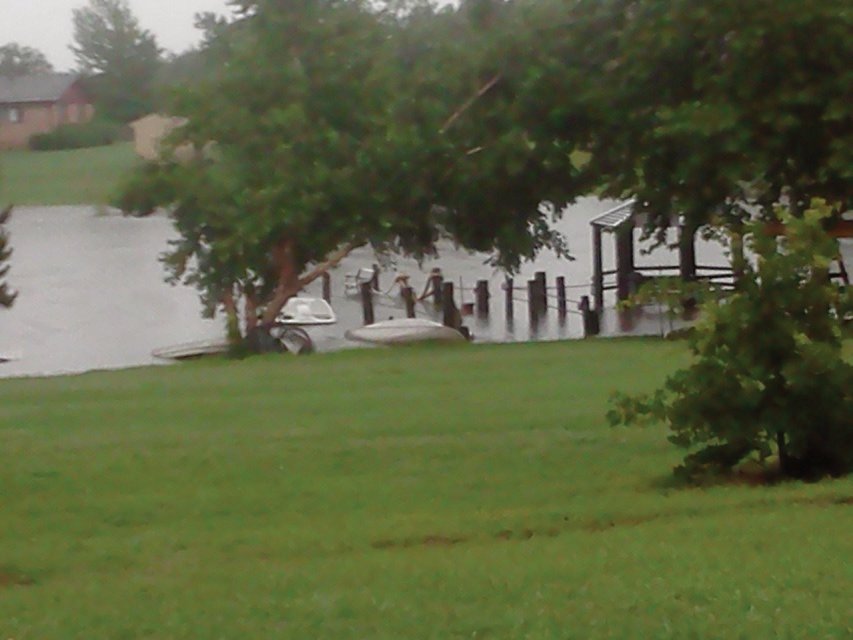 As you can see, the dock and gazebo are under water. This has never happened before.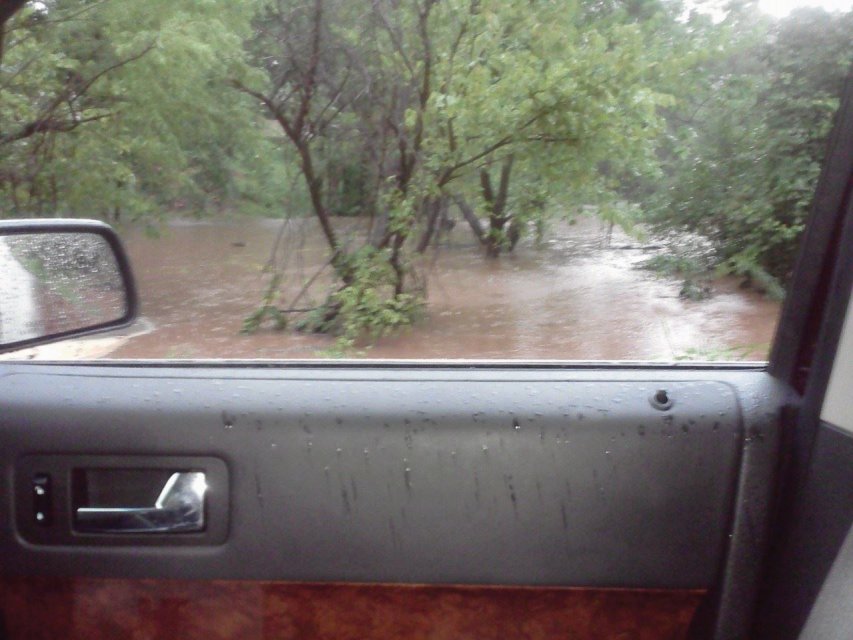 This is on the way to work. The water was coming over the road in several spots. I have never seen this either. I though OKC would be worse as there is usually flooding there, but apparenetly, we received more rain than they did. It wasn't as bad in the city.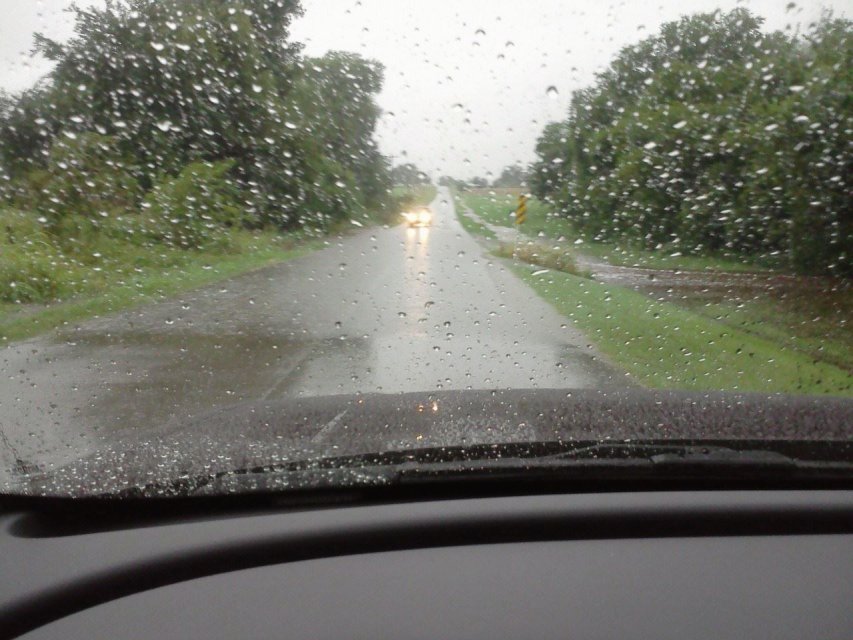 This eliminates heating up your kitchen in the middle of the summer and it also divides up the work so you are not doing an immense amount of work all at once.
However, I had cooked a couple of turkeys, had about 15 jars of plum juice that I had extracted from two boxes of plums I was given, and did not want all that to sit in the freezer for months.
I had the turkeys because for the summer kid classes at the college, I taught a nutrition class, and I take a turkey one day to let the children see and touch the liver, kidneys, heart, ribs, backbone, skin, fat, neck, bone, cartilage, etc.
We were even lucky enough one time in that a piece of the trachea was left on the neck...what a find!
Children love guts and learn a lot from this class.
I took it all out the night before then canned it the next day. Now if I want to make jelly or syrup, I just need to open a couple of jars and make it and not wait for it to thaw out.
The jars in the back are turkey broth. The jars to the left are beans. The middle jars are from a left over soup, and the jars on the right are butter.
As you can see, my counter is a piece of plywood. It broke off in January and we still haven't replaced it. that is one of my goals this summer: to put in a new counter. However, between work, other obligations (and a lack of money). It still hasn't happened. Perhaps, in the next few weeks...
Here is Matthew in his new suit...good looking guy, right?
Here they are with their cousins, and nephew, Alexander.
This was taken a Maria's house earlier in the summer. her pump went out and now the pool is unusable. Perhaps, about the time I get a new counter is when she will get a new pump...
At least, we have had lots of rain this year and they can swim in the lake. Summer fun can be found in many ways.
Okay parents. I have been teaching your children (or somebody's children) for the past 2 months. I have had first grade up to 8th grade students.
I have taught
Character
Counts, which is on developing good character traits. How is it that your 8th grader doesn't know what the word
obedience
means? How can it be that your 1st grader doesn't know what
honesty
is?
I know you have spent countless hours taking your child to soccer, piano, gymnastics, or something similar. But have you ever taught him or her to sit still? Yes! It can be done.
Set a timer: have them sit on a chair, hands held together, feet still, no fidgeting, no moving the head to one side…
Try for one minute, then two, then 5, 10, 15, plus.
Just like riding a bike or learning to throw a football; practice and repetition, and more practice, and more repetition.
Learning to sit still is a SKILL that can be LEARNED. But it must be taught, expected, and practiced.
See how long they can be quiet on a long car ride, at the table, in church, at home. Practice, practice, and practice, and give rewards each time they go longer.
When they learn to keep their body still, the mind then has an easier time to focus and they will do better in school, in business, and in life.
Hyperactive children CAN be taught to sit still. Just find the right motivator (such as for every 30 min on a game…you have to sit still for 10 minutes first). Can't sit still? No gaming.
Guess what…they will sit still, because hyper boys love video games.
Also, please teach your children they are not to touch my purse, my shoes, my hair, my jewelry, my classroom supplies. To rub the leaves on a plant, stick their lips on a door, pick their nose in public, put their hand inside their pants, or eat with their mouth open.
They are not to write on the board, touch things in the room, get too close to me or others, rub our arms, take hats off of others, open someone else's backpack, etc.
Practice this one rule when they are young: DO NOT touch things that belong to other people.
What bothers me the most is not that occasionally, a good child messes up and forgets a rule…it is that more and more, the children are telling me that they were never taught these rules.
Feed your children breakfast; and Oreos and a coke do not count. If you have money for candy and pop, you have money for oatmeal or healthy cereal.
Why is it that a child that has designer shoes, nice clothes, expensive jewelry or phone, coming to me in America and telling me they are hungry? Fat and sugar will not keep them full, give their brain what it needs, and sustain them all day.
You have time to buy them I-tunes, watch a dirty video with them, but not make sure they eat properly?
And why is it that 1st and 2nd graders have seen videos that I, myself, would not dare watch? How is it that when I ask them what videos they want to watch on You Tube for fun, they know about videos that are sexual, suggestive, inappropriate, dirty, and just downright nasty.
I found that when I showed them the "old" cartoons from the 40s and 50s that the whole class would sit still. They might complain in the beginning, however, they ended up liking them more and wanting them in the future.
Another fact, is when they watch a good show, they behave better. Whereas, when I let them watch a music video that is questionable or a little crazy, that they go crazy and we have more discipline problems.
Also, parents, in case you did not know, in America, where most people have running water and electricity, it is considered proper and good to bathe every day. To have your hair combed and to have brushed, clean teeth.
You buy them an I-pad, but cannot take them to the dentist?
Now, to all you good wonderful parents who are teaching these things and doing the best you can to discipline your children, teaching them to be clean and orderly…THANK YOU!
In each class, while I have some children who make messes, and do not even know that they are responsible to put their own trash in a trash can... (do you follow them around the house and pick up after them?...if so…shame on you!
Teach them to NOT make a mess in the first place and to always leave an area cleaner than they found it)
There are always, thank goodness, two or three "
helpers
", who clean up, help other children clean up, pick up trash, wipe down tables, and so on.
I know who the helpers are; I try to reward them with extra goodies, extra praise, a smile, a nod of the head, and more.
Help your children to become "helpers"
not "hindrances".
You will bless their lives and the lives of others by doing so.
Weeks go by, months go by, my summer is going by, and I still haven't even finished what I wanted to accomplish during the spring. Oh well, I think we are all in the same spot; too little time and too many obligations.
I was in charge of a Preparedness Seminar for our church. Of course, I cannot do anything so-so. I have to do the best I can…almost to the point of being a perfectionist, but I definitely am not as bad as I used to be.
I like efficiency as much as perfection; therefore, I am willing to let some details go in order to get something done quicker.
We had about 20 different experts come; speaking on everything from disaster preparedness,
canning
, survival living, sour dough bread,
72-hour kits
, herbs, gardening,
food storage
, cooking with wheat, and more.
My poor husband, Fito, took the day off work and took down our tipi, loaded it on the trailer, drove to the church, and set it up again for the seminar. When the seminar was over, he took it down again, loaded it up, took it home and had to unload it and put it away before a storm that had blown-in, rained.
It was over 100 degrees that day and humid. I will not ask him to do that ever again. (I had cooked for over 60 people for him several weeks ago…but the tipi was more work).
The seminar was incredible. The ladies who did the wheat and sour dough brought samples of bread, cinnamon rolls, donuts, sprouts, salsa, and more. The man who did the Dutch oven cooking had stew, cobbler, and more.
All the demonstrators had displays, information to handout, and were excellent.
The disappointing thing for me was that we only had, perhaps 80 people attend.
It had been advertised on the radio, online, in several newspapers. I had been interviewed by one radio station and they did public service announcements about the seminar.
I decided that it must have been because it was the hottest day so far this year (over 100) and a storm blew in…in the evening that kept people away.
I took a couple of hours yesterday and sent all the demonstrators thank you notes as they really went out of their way to help.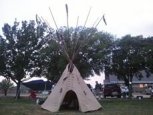 Tipi and Dutch Oven cooking at Preparedness Seminar.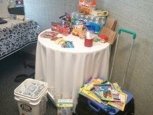 Preparedness Display.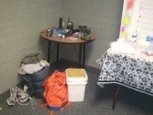 72-hour kits.
My husband's position at school was also eliminated, so I have spent countless hours playing secretary and sending his records and resume to schools.
Fito has continued working on the tree house. We bought windows and a door for the house he is building on the high platform.
This is going to be an amazing tree house!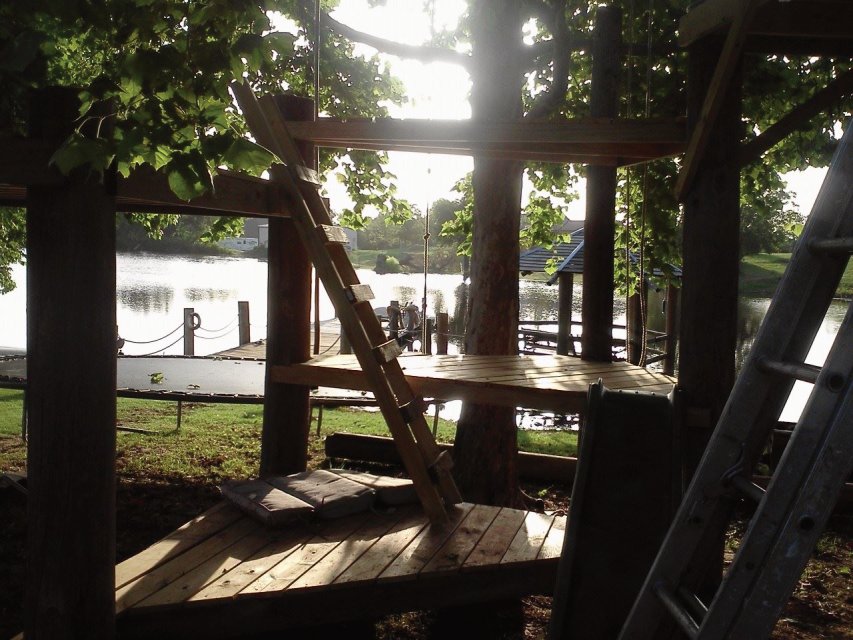 There are different levels.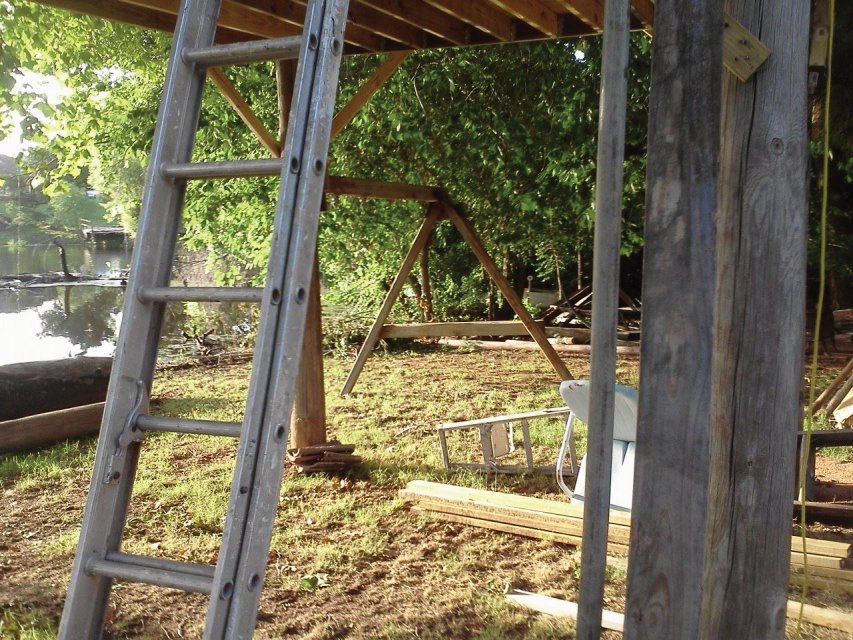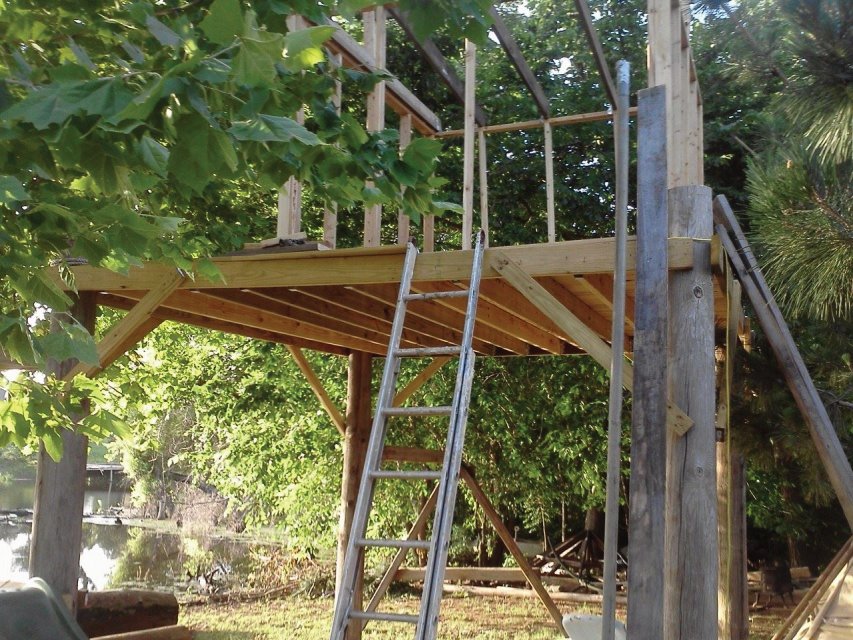 You can see he is adding a house on top of this platform.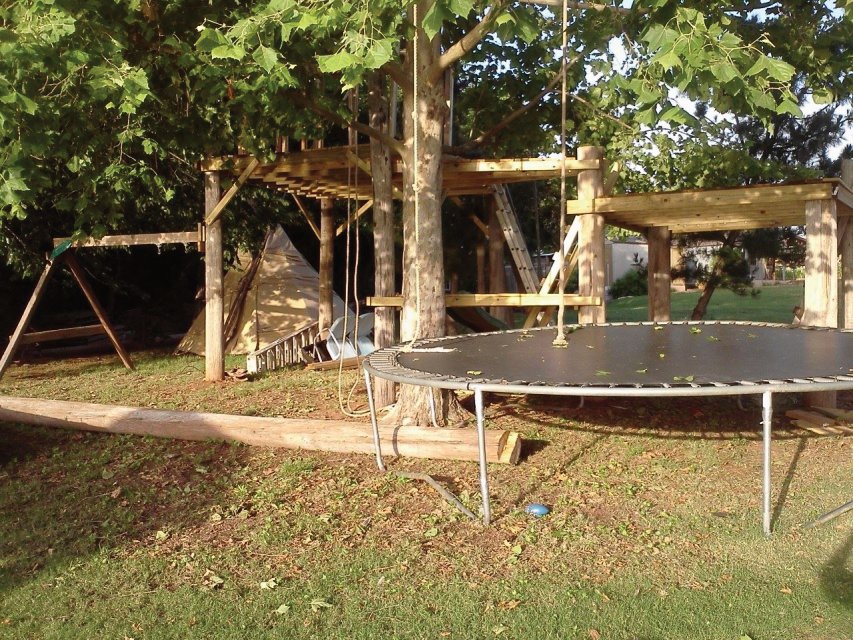 He will add swings, monkey bars, etc. They swing on the ropes and land on the trampoline.
Let's see- I also bought a new pressure canner. It holds 14 quarts (yes, it is huge) and the lid has screws that tighten to hold it down eliminating the need for a rubber gasket (seal).
I have used it twice and really like it, although, when it is full, it is super heavy.
I had a free day during July 4 week and spent it cleaning my pantry. What a wonderful feeling. I absolutely love cleaning. There are few chores that bring such a wonderful feeling.
The more orderly and clean your house, the better you feel.
I have spent several evenings working on organizing my home office, but it is far from finished. I bought a new router, but it still doesn't bring the Internet to the far side of the house. I was with a techie for almost 3 hours last night just trying to get the router to connect…
(and last night it stopped working...so this weekend I have to figure out what is wrong...long sigh)
And earlier in the week, a virus attacked my computer and about drove me crazy until I finally found a spyware that eliminated it. I had to try several software before I even found one that even recognized or released what was in my system it was so stealth.
That was an extremely frustrating day. I got mad at Fito and had to apologize. Why is it that when we are mad at a complete stranger/ a computer virus / a problem or dilemma…we take out our frustration on those we are closest to; those whom we love?
What a horrible human trait.
I pray that we may be more loving to all with whom welcome in contact, but especially to our loved ones that should have our greatest honor and respect.
I have been working full-time, plus one of the teachers severely broke one leg and the foot on the other leg...so...I took her evening class. Which meant 13 hour work days, two times a week. Needless to say, I am tired.
However, at the same time, the weather has been incredible and we have had some really lovely fun days and evenings.
Two years ago, while Fito and I were out-of-town, Matthew invited friends over and they had a "Ride the bike down the hill, up a ramp, into the pond" party.
We didn't even know about it until I saw the videos on Matthew's Face book page.
Well, a couple of weeks ago, we had another such party. Oh my goodness, did we have fun. Fito actually built a ramp for the jumps. Matthew had about 20 friends here, and Fito and I had some as well.
We played volleyball, people swam, rode the bike down the hill amid all the shouts and cheers, sat on the dock and gazebo, played on the tree house, and enjoyed the day.
The evening was perfect and the fun continued.
Here is a video my daughter Maria made of some of the more perfect jumps and the fun:
Fito did the jump twice and even Maria, who had a baby just 3 months ago did it. I was not going to even attempt it. Not at 52 years of age...breaks take longer to heal the older we are.
Well...on July the 4th, for Independence Day, we had friends over again, and Fito did the jump to show them. I had been swimming in the lake and all-of-a-sudden, had a moment of daring.
I took the bike up the hill, got on it and started riding hard down the hill. I was petrified and realized I did NOT want to attempt such a foolish feat.
I hit the brakes, but they did not respond (no one had informed me that the brakes did not work on said bike).
Now in the far recesses of my mind I had to make a split-second decision: do I just ride the bike into the mud and lake and simply flop into the mud (with a greater chance of hitting the bike and being injured) or do I take the ramp and go into the deeper water.
I chose the ramp. However, I was so scared (or out of shape) that my body would not do what my mind was telling it to-- to let go of the bike and sail through the air.
I simply went right into the lake. (Fito said all of the girls did the same...)
Well, I lived...no stitches, no broken bones, not even a bruise. I did hit my head on the muddy bottom, but did not hit the bike and showed my children that mom still has some spunk left in her.
Here is my graceful jump:
Hope you had a great laugh...you can hear my son Tony laughing as he filmed this. He of course, is in perfect shape, being in the army...
Fito, too, just laughs and laughs when he watches it...it IS funny and you will not hurt my feelings at all...hope this makes your day a little better and may you be blessed with some wonderful summer days of fun.
/