Shopping Cart
Your Cart is Empty
There was an error with PayPal
Click here to try again
Thank you for your business!
You should be receiving an order confirmation from Paypal shortly.
Exit Shopping Cart
ORGANIZATION AT WORK OR HOME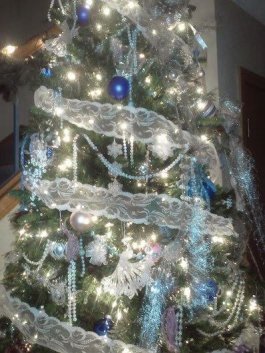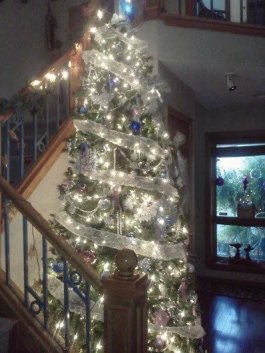 Six years ago when we moved to Newcastle, we lost the top of our Christmas tree. I kept thinking…it will show up, but it never did. I ended up cutting off two of the lowest branches, tying them together with wire, and then stringing new lights on them.
Then last year, the middle section of lights would not work. I tried new fuses, light bulbs, etc., however, nothing worked. I finally gave up and just strung some new lights in that section.
After Christmas, I looked and looked for a new tree. I checked online, at after Christmas sales, and so on, but I couldn't find the type of tree I wanted for a price I could afford.
Then, this year, we were at Hobby Lobby looking for wedding stuff and wonderfully, they had their Christmas items on sale…not just on sale, but 50 percent off. I ended up buying a 9 foot tall, 4 foot wide tree for $249. The tree has pine cones, and three different types of branches, plus 900 lights. The branches are connected to the tree and it is really easy to put up. It is a beautiful tree and the lowest price I could find for the same tree last year was over $500 so I was really pleased.
I wanted the tall thinner tree so I could put the tree by the stairway and not have to put it in the living room and have to rearrange the furniture. It looks really well there and I wrapped the stairway with star lights and greenery. I also used some lace ribbon that I have saved for years.
It is really funny how you can want something for so long and when you finally get it, how much pleasure it brings you. I had plywood counters for more than six months and to this day when I run my fingers across our marble counters, I realize how blessed we are.
I love the glowing lights and sparkling of Christmas as it reminds us of the Light of the World. May each of you be blessed with finding the righteous desires of your hearts in this Christmas season.
I wanted to share some ideas of how I cook for a lot of people, but do it in a quick, easy, and inexpensive way.
First of all, I buy bigger items which tend to be cheaper. For example, I buy a whole frozen turkey which is usually the cheapest way to buy poultry. I also have two upright freezers that I can fill, so I will buy many turkeys when they go on sale, which typically happens around holidays.
I keep the roaster pan on high until the meat is falling off the bones (even at the breast bone as well). Then I know it is truly done the way I like it. Tender, soft meat that is juicy and has the flavor of the juice cooked into the meat.
After the meal, and when the turkey has cooled down, I de-bone the turkey. I take a couple of paper plates and begin to grab the bones, veins, fat, pieces of skin, etc. put them on the plates then throw them away. This does not go to the chickens or in the compost.
Turkey is 10 times easier to de-bone than a chicken as the bones are larger and it goes very quickly. Likewise, as I cooked it until the meat separated from the bones makes de-boning it much easier.
I put the pieces of meat in a large metal bowl, add some of the broth so that the meat stays extra moist and then put the rest of the broth into quart jars, wipe off the rims with a Clorox wipe, put a lid and rim on it, and either can it that night or stick the jars in the fridge to can another day.
This way, one large turkey that costs around $20+ will provide 3-5 meals for 7 people or so. Not only is this a cheap way to feed your family, it is less work to de-bone a large turkey one time than to have to prepare the meat for every meal.
I also buy large hams (with the bone) when I can find them on sale. I bake them in the oven in a large baking dish. I put an inch of water in the bottom of the pan and add some brown sugar and pineapple to it for flavor. I then completely cover it with heavy duty foil so no air can escape, thereby, keeping in the moisture and ensuring a very moist and tasty ham.
(or chasing chickens)
They jump off this level and land on the trampoline or they grab the rope, swing out and around, hit the tree with their feet and swing back. Sometimes, they grab the other rope, then swing out.
These 2 ropes together are really one rope in a pulley with a seat and they can
pull themselves up.
The trampoline somehow got out of whack when the big boys were last here....hummmm...who know what they were doing? Guess will have to invest in new one pretty soon.
We had this blue high pressure water pipe in Houston. Fito put it down here by the tree house and the toddlers just love it. They crawl through it and think they are in a jungle or spies...or who knows what.
He added the hammock and we brought a bench down and people love this area. the lake is still full, which is incredible as usually it has dried up part way. The weather has been just absolutely perfect all summer. I think God knew Oklahoma needed a break after the horrible tornados in May and has kept the weather good as people rebuild.
Fito has been putting cedar siding on the "house" part and putting insulation on the inside. If we had money to buy more wood, he would have finished by now. he has been doing other project and we even are getting tomatoes, peppers, and watermelon from the garden.
We just finished weeding all the gardens this morning. I think it is the second time this summer that there wasn't a garden that needed weeding. What a great feeling!
This summer has been the best, weather- wise, since we moved to Oklahoma, seven years ago. Our lake is still full, the grass is green, and there is a breeze in the air. It gets into the 90's, but I think we have had only one day over 100 degrees. Last year, we had 30 consecutive days over 30degrees, were in a drought, and everything was brown.
My husband, Fito, is unemployed which is bad money wise, but has been good for the fact that he has been able to do so many things in the house. He keeps working on the tree house. He cleans the gardens and spray, mows, and prunes.
I have come home several times to find him dusting, moping floor, cleaning a room, or washing clothes. In fact, I have been applying at jobs in hopes that at least one of us finds full-time work in order that we may have insurance for the children.
We both have several part-time jobs, but nothing full-time.
Last week, I spent several days cleaning, moving furniture, and painting walls upstairs. Felipe moved out. He moved in with Matthew in Edmond and found a job up there. He is very happy to be on his own.
Rebeca and I painted 4 walls in the big bedroom upstairs and turned it into a bedroom for her as well as an art studio. She really worked hard that Saturday. On two of the walls, she did most of the rolling of the paint, while I did the brush work. She was a real worker. Later, she told me how tired her arm and shoulder was.
The beige wall are the ones we painted. Also, she was wanting something hung over her when, when a friend gave us a sack of old clothes. in the sack was a green sheer...just the color she wanted! Miracles never cease.
We hung pictures, cleaned everything, and moved all her things from Elizabeth's bedroom. Then I helped Elizabeth and David clean and organize their rooms. Every drawer, nook, shelf, and corner is clean…wow…I do not think that has been done in years.
Being a teacher is a hard job and it is harder every year. I do want to thank all the wonderful teachers out there; the ones who are dedicated to really helping their students learn and become better people. May you be blessed for your service, and thank you to all those who support the teachers and for raising children who value education. May you be blessed as well.
/