Shopping Cart
Your Cart is Empty
There was an error with PayPal
Click here to try again
Thank you for your business!
You should be receiving an order confirmation from Paypal shortly.
Exit Shopping Cart
ORGANIZATION AT WORK OR HOME
Christmas has past and it was a very nice one for our family. I think I surprised Rebeca the most. She likes all kinds of animals, but likes Zebras a lot. I bought her a Zebra bank, a Zebra pillow pet, a Zebra stuffed animal, two zebra figurines, and a Zebra night lite that shines stars on the ceiling. She was so happy with her "Zebra" Christmas.
The other children seemed pleased, too, but the older they are, it seems to be harder and harder to buy things for them. I just mainly do gift cards and let them go get their own gifts.
The weekend before Christmas was our Christmas Concert. We had been practicing since September and little by little everything started to come together: one, to get me excited about the concert, and two, to actually make a great concert.
I wasn't that excited about singing this year until we had a practice with the OKC Choral Bell Choir. They did two pieces for the concert and also accompanied the choir on three pieces. It was incredible to have them participate. They made the music ring (pardon the pun), but it is true, that they made a huge difference in how the songs came together and the sound.
We also had an incredible guest conductor, a guest pianist, organ player, soloist, rhythm section, flute player, and cellist.
Together, each person's expertise added another dimension to the overall sound and quality of the concert. It ended up being a truly lovely concert. The only thing is a major ice storm hit OKC about an hour before the first concert. Attendance was dismal, to say the least. And that was really sad because it was a Christmas concert to bring the spirit of Christmas and bring peace to the soul.
I made several new friends through the course of the practices. One in particular, became a really good friend. One afternoon during a break, she found out that I spoke Spanish, and told me that she had a friend that lived in Honduras. She explained that this was a childhood friend and that she was from a wealthy family and had a resort in Honduras. She said her friend had always wanted her to go down there and visit, but she had never wanted to go alone.
I told her my husband and I would love to go with her to visit her friend. We even got online to look at the resort, to check out things, and make plans. Then two days later, she calls me frantically and wants me to go online and translate some Spanish news articles. Apparently, the same friend that we had been talking about was murdered…and she was worth around $800 million.
A very strange déjà vu type occurrence as we had just been talking about her and my new friend had been ready to contact her.
The week before the concert had been crazy for me. I was so busy, and with extra errands and responsibilities that weren't planned that I was feeling really frustrated. I took one day to drive to Manhattan, Kansas to take a car to Benjamin. His car's engine had died completely. He wired us some money and Fito bought him a car. He found him a 2004 Dodge Stratus with only 140,000 miles.
Fito and David loaded it on our 16 foot trailer, tied it down, and I drove it to Manhattan using our 2009 Ford Flex. We were afraid, but it did a really good job towing. When I got to Manhattan, Ben had to find a ride to meet me. Then the mechanic where his broken down car was kept informed me that they were all out to lunch, but in an hour and a half, he could help push the car into the trailer with his truck.
I really didn't have an hour and half as I had to get back to go to choir practice. I was also worried that in pushing the car with a truck that it could be damaged.
I called a couple of tow companies, but they couldn't help. I then started to take the ties off by myself. Two men saw me and offered to help. They were done working for the day. They wouldn't take any money and just stayed the whole time and helped up unload the Status and load up the Pontiac.
The men and Benjamin pushed the Pontiac up on the trailer after only two tries. They stayed and helped us to tie it down properly. I told them they were my Christmas angels. The only payment they would take was some homemade cookies I had brought for Ben (but really, he shouldn't eat as he is diabetic).
I arrived to choir practice late with the car and trailer still hooked up. Manhattan is just at 300 miles. It had been a long day and an even longer week. As I was entering, a friend came up to me worried about a text she had just received from her son. He was suicidal (as he has been in the past) and she did not know where he was or how to find him.
We did the only thing we could; we gathered in a circle and prayed for him. I offered the prayer and at one point felt a complete calm, peace, and assurance that he would be okay. I told his mom that after the prayer. (And he ended up okay).
But how that one text changed my whole perspective of the week and my life; all the busyness and stress I had felt simply vanished. My children were all okay. Christmas was coming. We were singing beautiful songs, and for one moment in time complete peace. May each of you too, feel peace and count your blessings. May each of you be so blessed.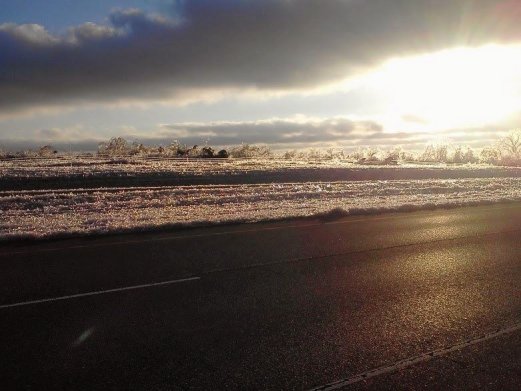 Coming home on Sunday, the sun came out and turned the ice into a crystal winter wonderland.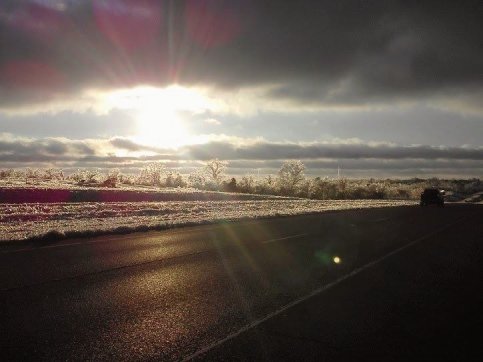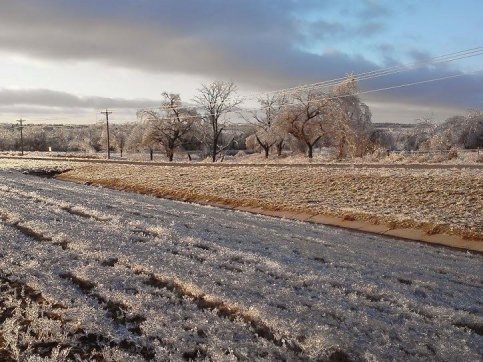 It was so beautiful and yet the highways were really never that bad and we did not lose electricity...a true Christmas miracle. However, many trees and bushes were damaged.
Our home with the evening sun. This is ice, not snow.

This is our back yard. See the River Birch down by the lake that is completely bent over? It was damaged by the tornado and now this...poor tree.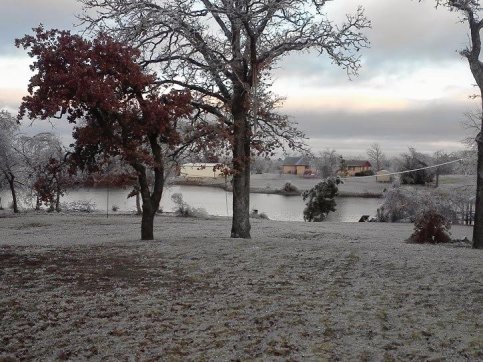 Our back porch.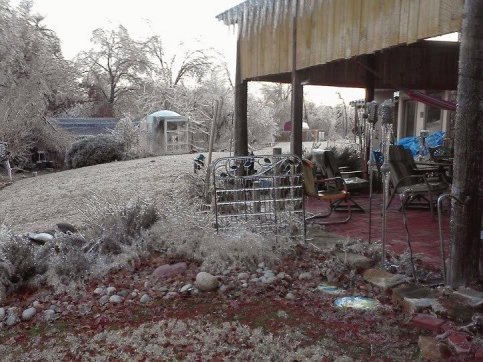 Our vegetable garden.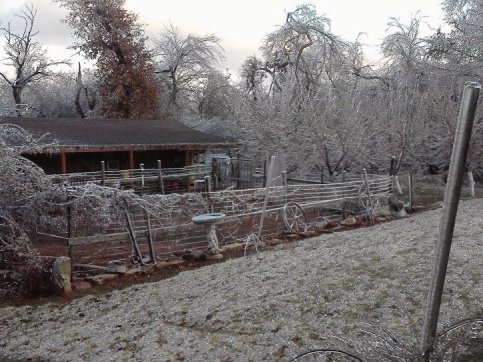 Friday was my birthday. It had stormed and school was cancelled so everyone was at home. I woke up about 8:30 (which is sleeping in around here) and could not go back to sleep.
I went to the kitchen and made crepes. They came out perfectly. They were thin and cooked to a perfect brown. I put butter on mine, then sprinkled powdered sugar on it, then dribbled frozen strawberry jam on it, then rolled it up and ate it. Super yum.
Crepes are basically a pancake recipe; however, they are very thin and delicate and can be filled with just about anything.
Tammy's Crepes
INGREDIENTS AND DIRECTIONS:
1 cup of flour
1 teaspoon of sugar
Just a sprinkle of salt
In one bowl or a large glass measuring cup, mix these three ingredients together.
3 eggs
2 cups of milk
2 tablespoons of melted butter
Then in another bowl, beat these three ingredients together. You want it smooth and frothy.
Now pour the dry ingredients into the wet ones. Beat or whisk the mixture until it is smooth.
I use an electric griddle and I set it to the highest temperature: 400 degrees.
I pour a small amount of oil on the griddle, then use a paper towel to spread it evenly around.
I also pour all the batter into a large 4 cup glass measuring cup with a lip. The lip allows you to pour the batter on the griddle and not make a mess.
Brown the crepe on both sides. I flip it when it starts to bubble on the first side, then I lift it a little to see if it is brown. When it is, I flip it.
After I made the crepes, I pulled all the leftovers from Thanksgiving and started canning them. I canned 4 quarts of beans, 4 quarts of turkey broth, 3 pints of pumpkin, and 2 pints of stew.
While I was canning the food and washing the dishes, I made
Snicker Doodles
. I also made some
Cake Mix Cookies
. Elizabeth had been asking for them for some time, so I decided to surprise her.
We did some cleaning and made supper. Then I took the rest of the day off and watched TV and worked on a project. It was a really nice day. It is always a good day when one accomplishes a lot.
May each of you enjoy such days.
I did a meal for 140 missionaries about two weeks ago. The first thing I did was about a week before the meal, I bought two turkeys, each around 25 pounds, and I cooked them in roasters pans using my
Spanish Turkey
recipe.  We had turkey for dinner that night, along with mashed potatoes, corn and peas, and rolls.
Later in the evening, when they had cooled down, I de-boned them, putting all the meat into one of the roaster pans, putting it into the freezer, and freezing the broth from the other turkey.
Then three days before the meal, I went to Sam's Club and bought everything else that was needed. I bought around 50 pounds of hamburger and several #5 cans of pinto beans, crushed tomatoes, tomato sauce, and corn. The next day, I pulled out my other three roaster pans and my large canning pot and I cooked all the hamburger. I then added all the ingredients to make
Tammy's Taco Pile-Ons.
The Taco Pile-On recipe is a real easy and inexpensive meal to make that I use when I have to feed a large group. We had a version of it in our buffet at the restaurant that we owned; only we had small cubed potatoes mixed in with it. Actually, you can make any variety that you like, but canned beans are the easiest and cheapest to add.
All of these pans went into the fridges. Then I mixed together two large mixing bowls of bread. One bowl was for
Poppy Seed bread.
The other bowl was for
Apple Coconut Bread
. Measuring is the most difficult part of baking for me, so if I am making a large batch, I just pull out my two large metal bowls and measure flour into one, and then measure flour into the second. Then do the same with the sugar, eggs, etc.
It is less work than making one batch and then turning around and making a second batch. That way, I only have the flour, etc. out only once, and use only the measuring cups one time. It goes faster and is easier. I also doubled my recipes and then doubled them again. So one batch of bread uses 12 cups of flour and 10 cups of sugar. I bought the large glass measuring cup that measures 4 cups at a time. That way if I need 12 cups, I only fill my cup 3 times (as 3 x 4 = 12). See how this is easier and faster? I can make 21 small loaves in almost the same amount of time someone can make 4 loaves…so why not make more and give bread away?
I also use baking spray, (which is different than cooking spray…it has flour mixed in with it) to spray the pans as this makes the whole process go faster, and makes sure the bread does not stick. After the bread is done. I leave it in the pans to cool down. In fact, I leave it in the pans until I am ready to cut and serve it. I do not put the bread in plastic or other containers. (If you think of a bakery…their products are not covered or in a container).
Sweet breads do best not covered, especially, my recipes as the top is crunchy. However, I do not want the bottom to dry out, which is the reason I leave it in the pans. I put all the pans of bread to the church in boxes (leaving the bread in the pans) and only took the bread out of the pans when I was ready to serve it.
Another thing I did, was to gather up all my utensils, knives, soap, sponges, etc. and put it in the car the night before. You never know when you go to a different kitchen if they will have exactly what you need…I just plan accordingly and take everything I think I will need.
I made a list of every dish I was serving then gathered and put into the car everything item I thought I would need. That way, the morning of the event, the only thing I had to put in the car were the food items from the fridges.
As you can see, I broke the work up over several days, and did things step by step. This is the way to do any large task.
The morning of the meal, four other individuals came to help me. I had asked 4 people who were real easy going, but good cooks and hard workers. We chopped up the lettuce and tomatoes. We put the shredded cheese and sour cream in containers with serving spoons. We opened the many packages of chips I bought and filled baskets and set them out on the tables.
I also brought 8 quarts of my
home made salsa
and we put it into small bowls with serving spoons and put it out on all the tables.
We put all the other food on 3 long tables where serving lines could go down both sides of the tables. We had the plates, bowls, etc. first, and then the bread cut up in trays, then the turkey and hamburger, then the cheese, lettuce, tomato, salsa, and chips.
Two other tables against the wall had small plates with strawberry shortcake on it.
I do not believe in serving people at events such as this. When you put the same amount of food on each plate and serve it to people, I can guarantee that you will throw away a vast amount of food afterwards.
People are not cattle. They do not all eat the same amount of food. Some will eat more, some will eat less. Some are vegetarians and will not eat the meat. With our meal, they could easily make a salad and eat salsa with chips. Those who are glutton-free could actually eat everything except the desserts.
I had three types of meat combinations. Individuals could choose what they prefer and only take food that they like, thereby eliminating waste. It also goes faster to let them go through the lines and the food stays hotter in the big roaster pans. I have been to many events where I was served cold food…not ever a good thing.
Yes, I do have to admit that being served is always nice and does make you feel important…but as the host or person in charge of the meal…I have to ask myself this question, "What is more important? To make them feel good that I served them? Or to allow them their choice to choose how much food and what items they want and that the food is hot."
I go with the latter and it has served me well through the years. People always leave full, happy, and say they felt welcome and comfortable. AND, I did not kill myself serving them and therefore do not mind entertaining because I haven't made it such a chore. (A secret to life and entertaining that took me years to learn, but sure has made my life easier…relax, chill out, and enjoy your friends…)
Seek to Bless; Not Impress
/