Shopping Cart
Your Cart is Empty
There was an error with PayPal
Click here to try again
Thank you for your business!
You should be receiving an order confirmation from Paypal shortly.
Exit Shopping Cart
ORGANIZATION AT WORK OR HOME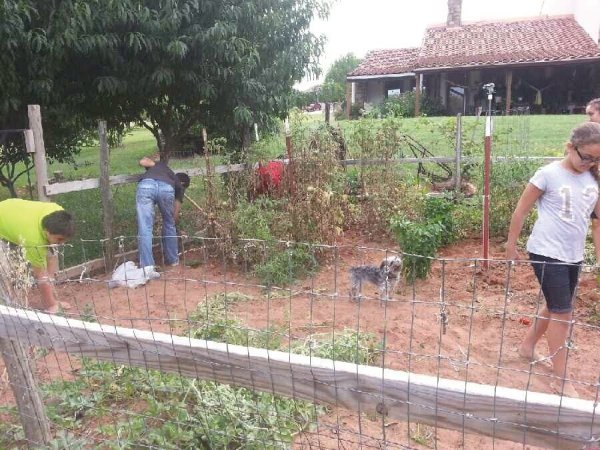 Papi made us all go down to the garden one evening this past week. We all complained and didn't want to go, but then when we got there and started pulling weeds something happened.
First of all, there is such a sense of satisfaction when you start to see the ground (not weeds) and start to see an area clean.
Second, it soothes the soul to put your hands and feet into the dirt.
Third, it was like a treasure hunt because we began to find onions and potatoes we had missed from the previous harvest. Then we noticed there were jalapeños, bell peppers, and tomatoes ready to be picked. Then we saw that many of the apples were ready!
How fun to eat food that you grew! (Of course, with God's help).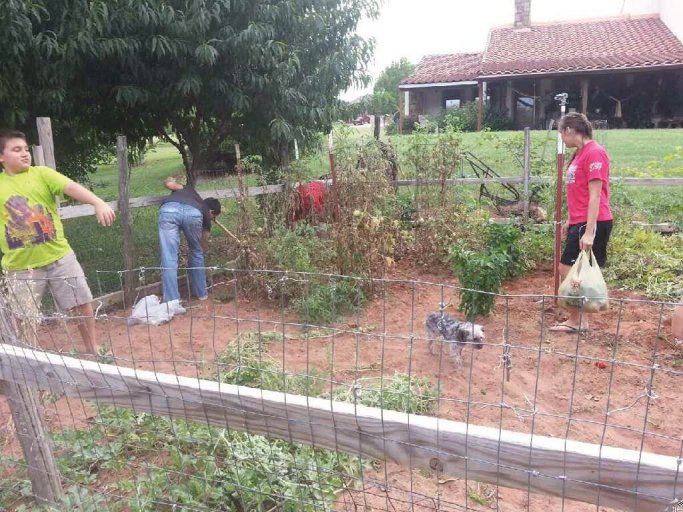 Even two of Elizabeth's friends helped us. (One of the dangers of visiting us...we think everyone is family...so everyone gets put to work).
However, "Many hands makes light work". How true. Between me, 3 children, 4 nieces and nephews, and 2 friends, we were done in about 40 minutes. Time to play.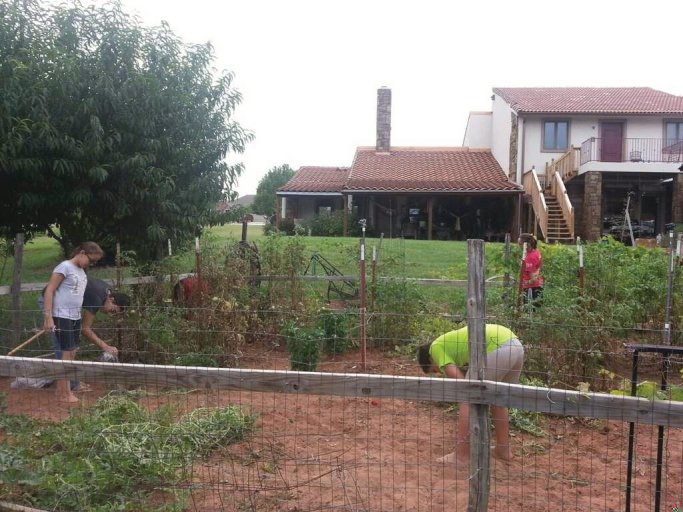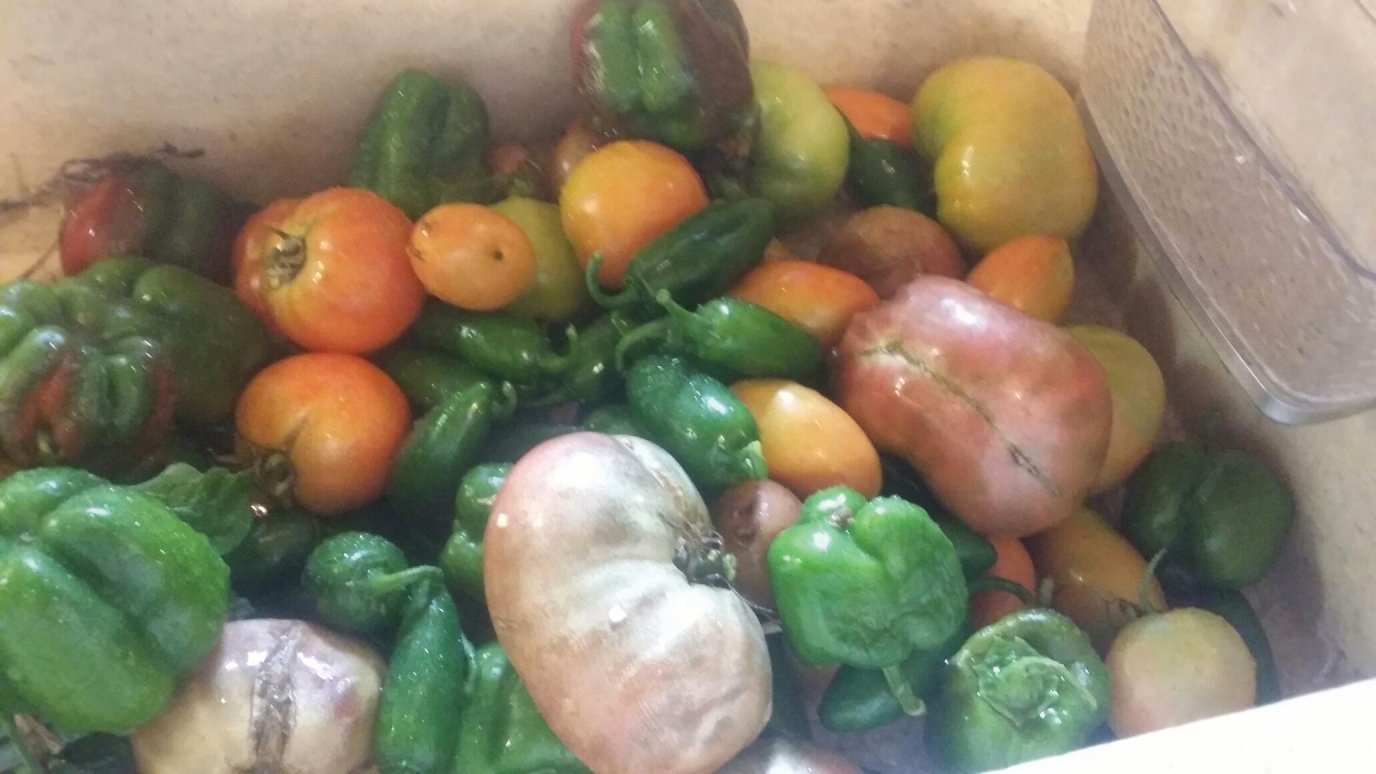 Look at all the yummy stuff. Fito grew these purplish tomatoes this year. They are really ugly, but boy, do they taste good.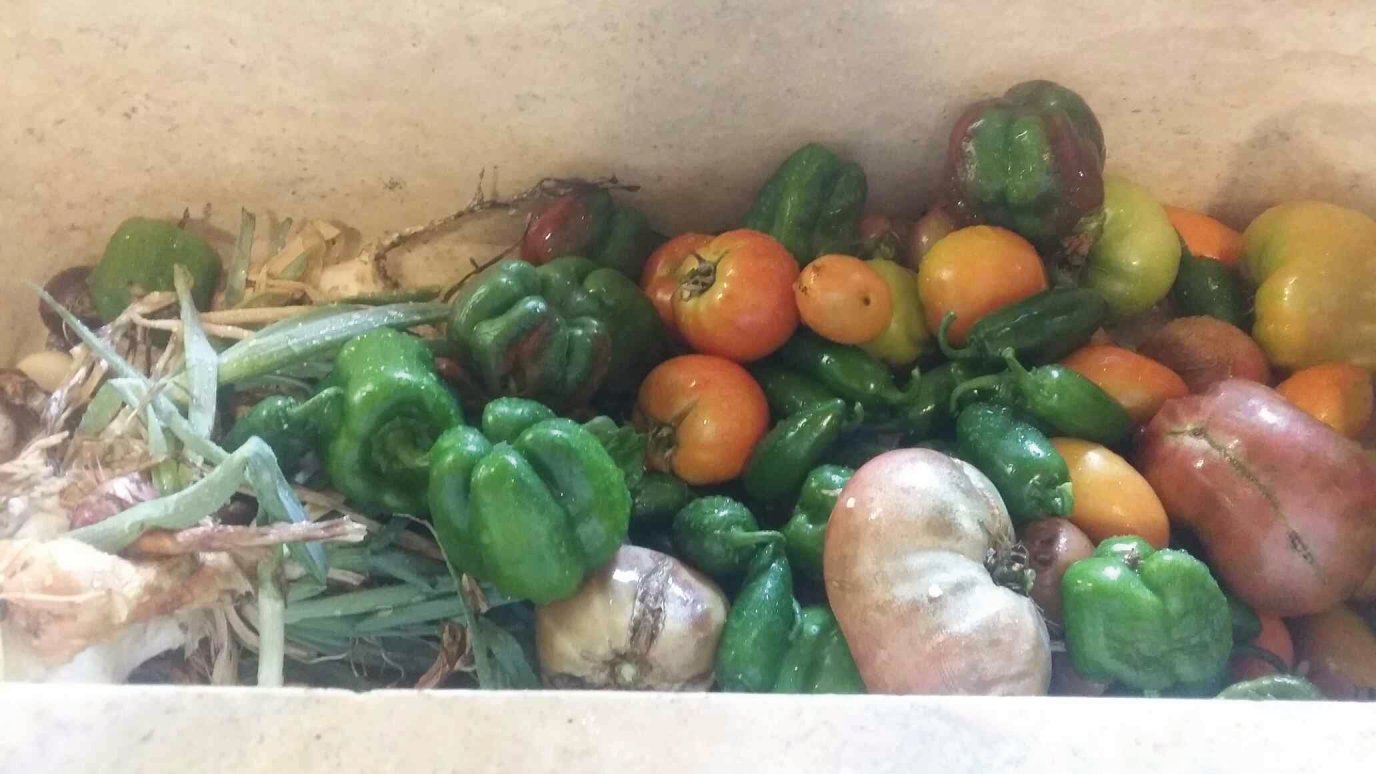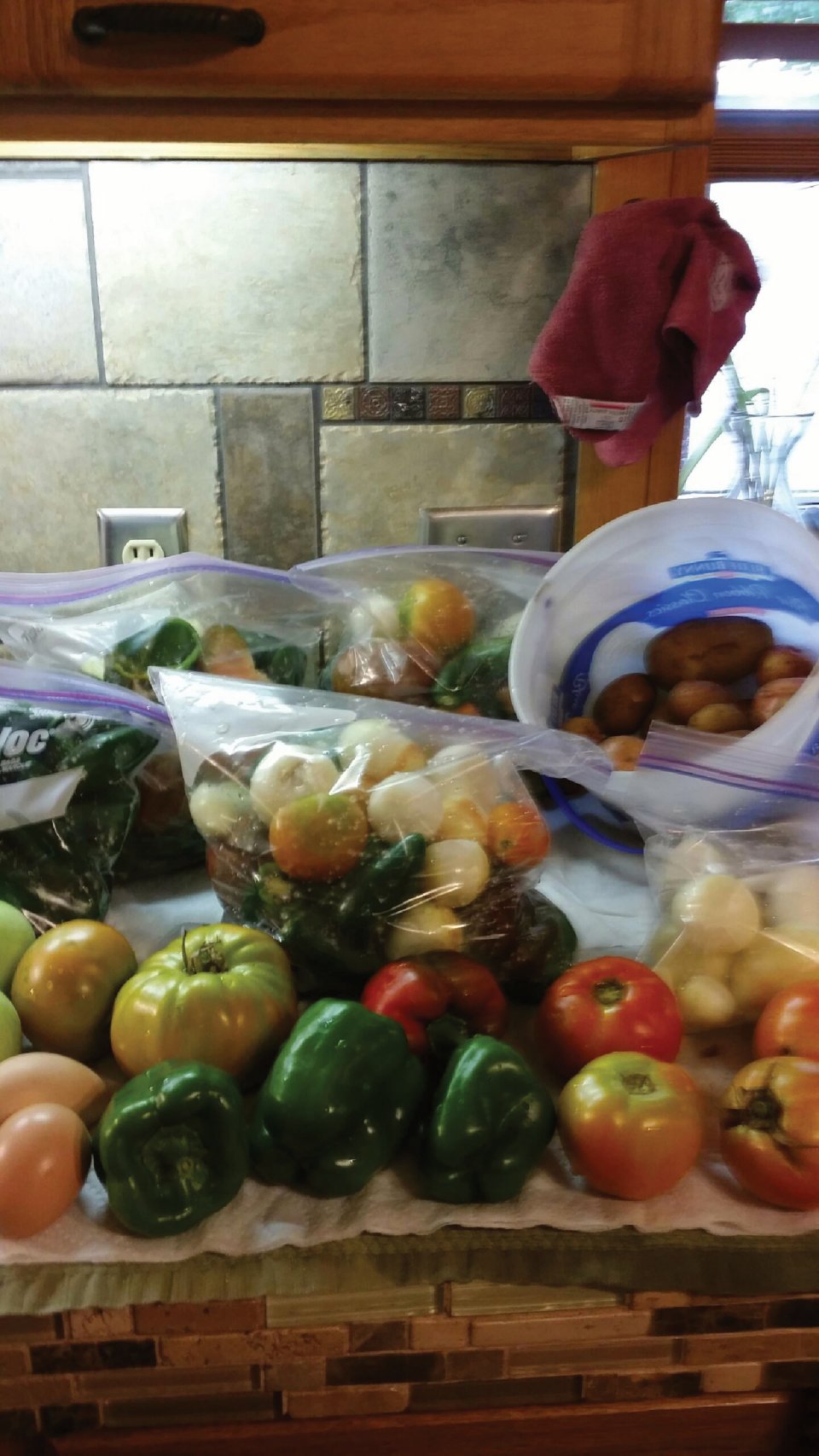 All washed. The potatoes in a bucket to use for later. Some tomatoes and peppers left for later. Bags of onion, tomato, and peepers ready for the freezer. 
Then on a cold winter day, I pull the bags from the freezer and turn them into
salsa
. 
I had to add eggs from our chickens. What a great feeling producing your own food. If Fito grows it...I will put it up.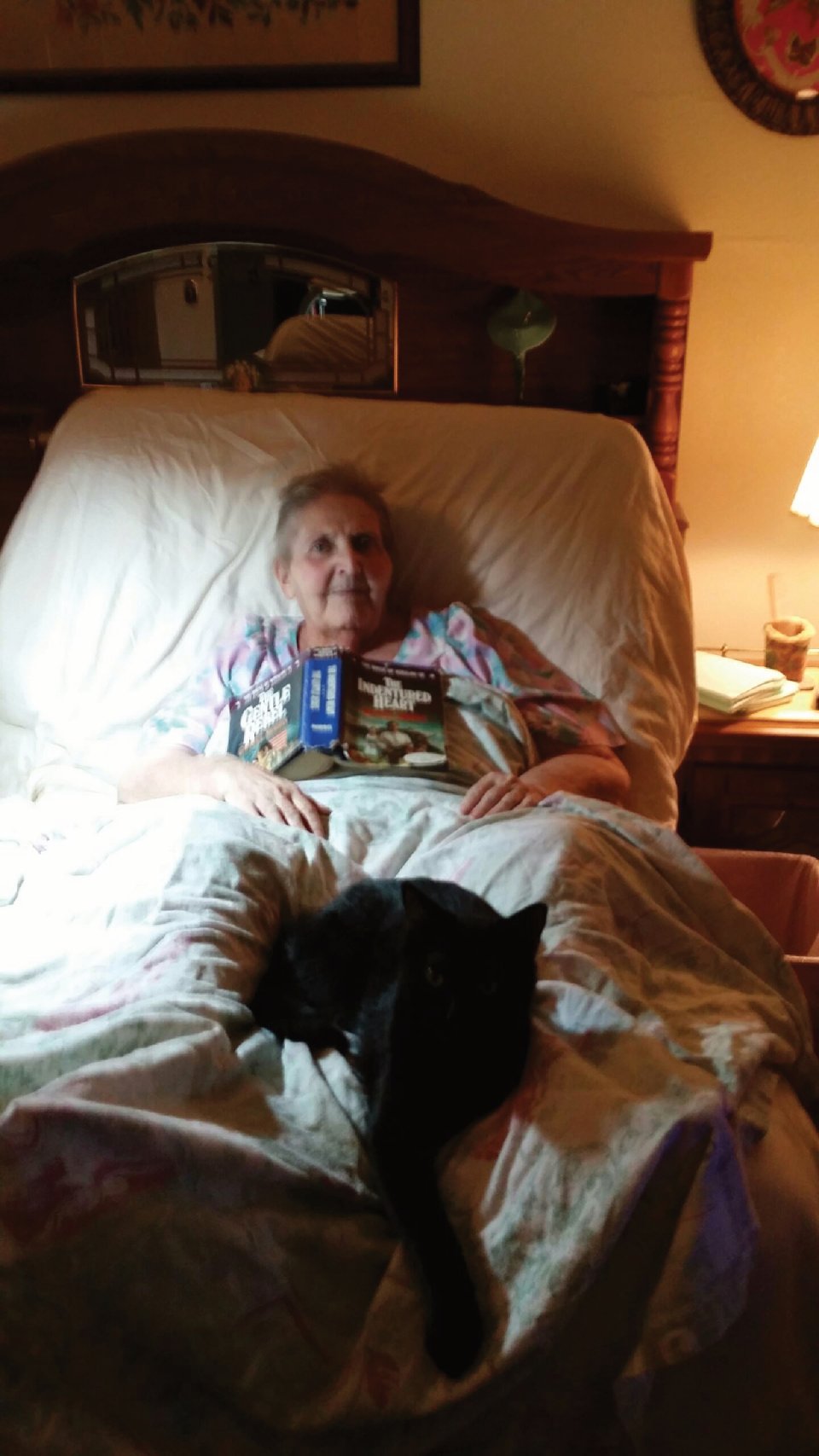 Here is my Mom with Gandalf. Gandalf is Matthew and Ashley's cat and is very playful and loving. As Ashley is expecting right now, Felipe was fostering Gandalf for them.
He then switched apartments and could not have him anymore. Maria then had Gandalf and boy, did he love running after Alexander and Greyson. But Maria and Travis invited another couple to live with them for a time. The other lady is expecting as well, so Gandalf came to us.
Then my niece, Abby came to visit and she is allergic to cats. We therefore, put Gandalf in Mom's section and kept the door closed.
Mom and Gandalf have become fast friends. He follows her everywhere: to her bath, when she walks, on her bed, on her chair. She has a new friend and is happy. She has always loved cats so this is a very happy ending!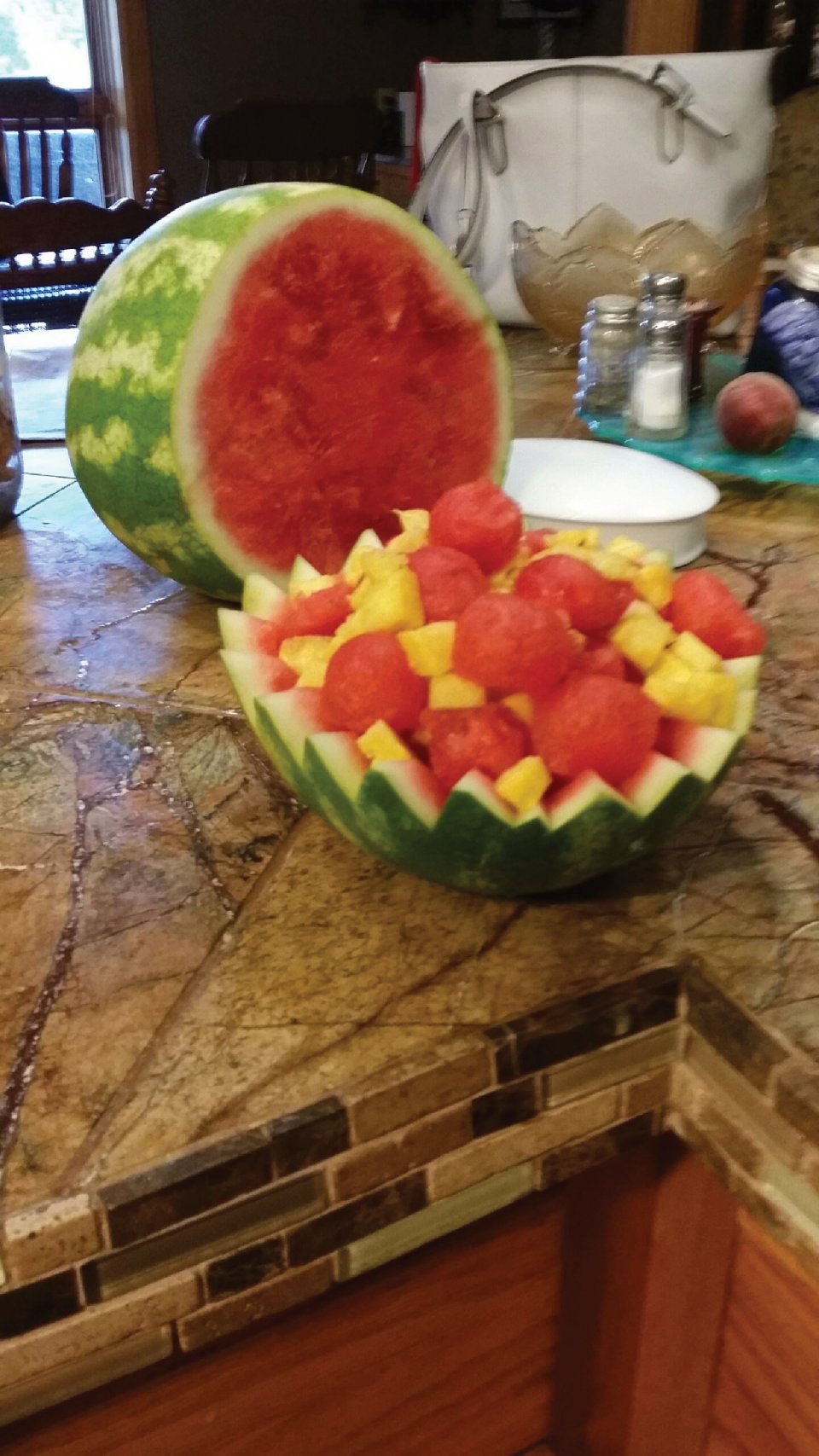 Watermelon and pineapple fruit basket that Rebeca made.
This summer, we have had watermelon, corn, tomatoes, new potatoes, and onions from our garden. We had several bushels of potatoes and have been eating really yummy foods. I have made
Guatemalan New Potatoes
several times...Sunday, I made them with Cheddar Cheese soup in a roaster pan.
We have made them with other vegetables, with meat, with eggs...whatever.
We also had a family that gave us a couple of bushels of peaches. I stayed up till 1:00am and canned them (well...I got them all into the jars and then processed them the next day).
About 10 quarts and 13-14 pints. You just put the peaches in boiling water (see where I have a strainer inside the bigger pot). let them boil till skin cracks. Put them in another pan. let them cool enough to peel skin. Pit them and slice them and put them in the jars. Add sugar water to the jars and then seal the jars and process. See my
canning page
for more info. Once canned, they last about 7 years. Very convenient.
There is nothing quite like growing food and then eating it. It gives you such a sense of satisfaction. And it is yummy!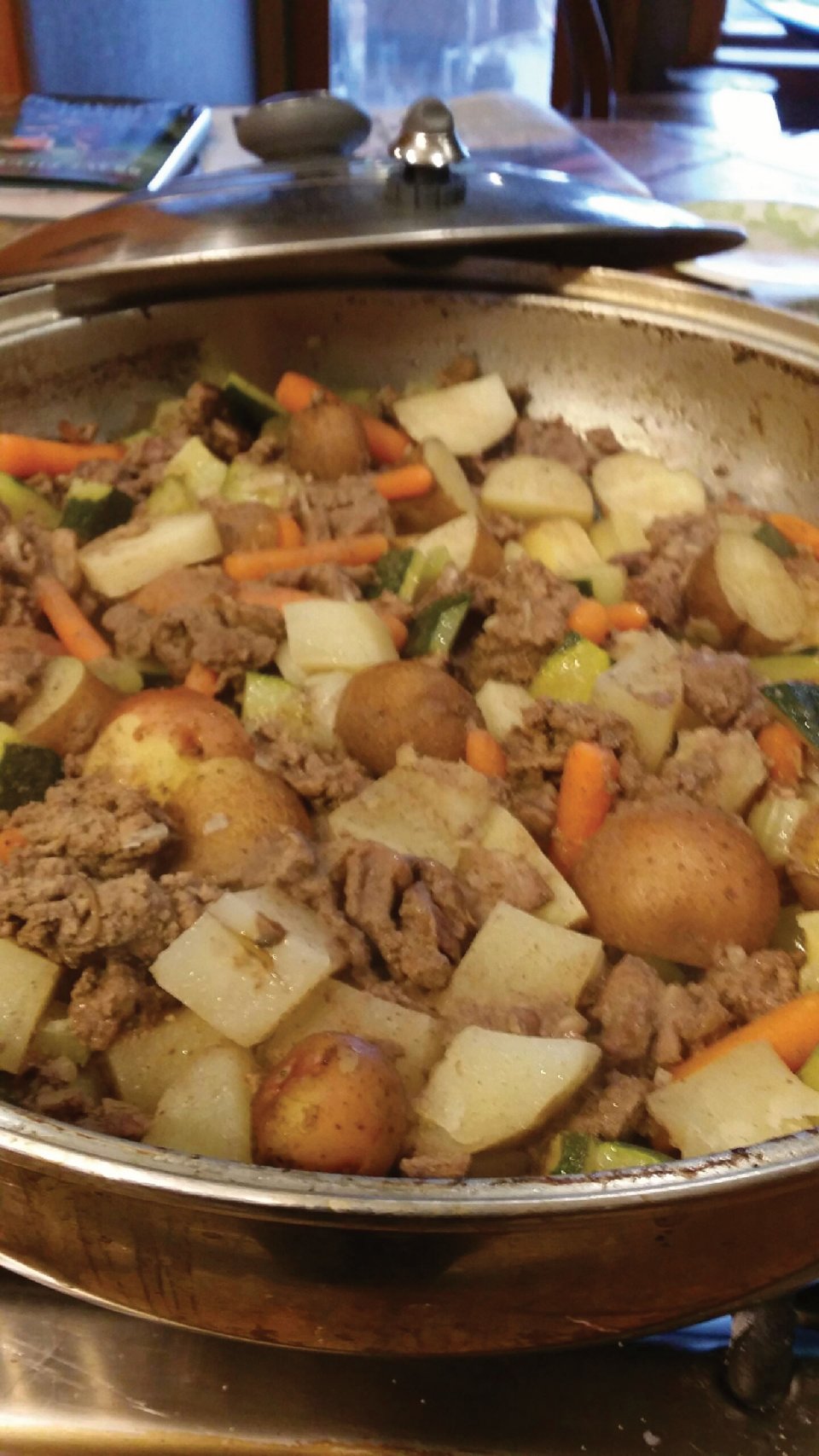 New potatoes from the garden.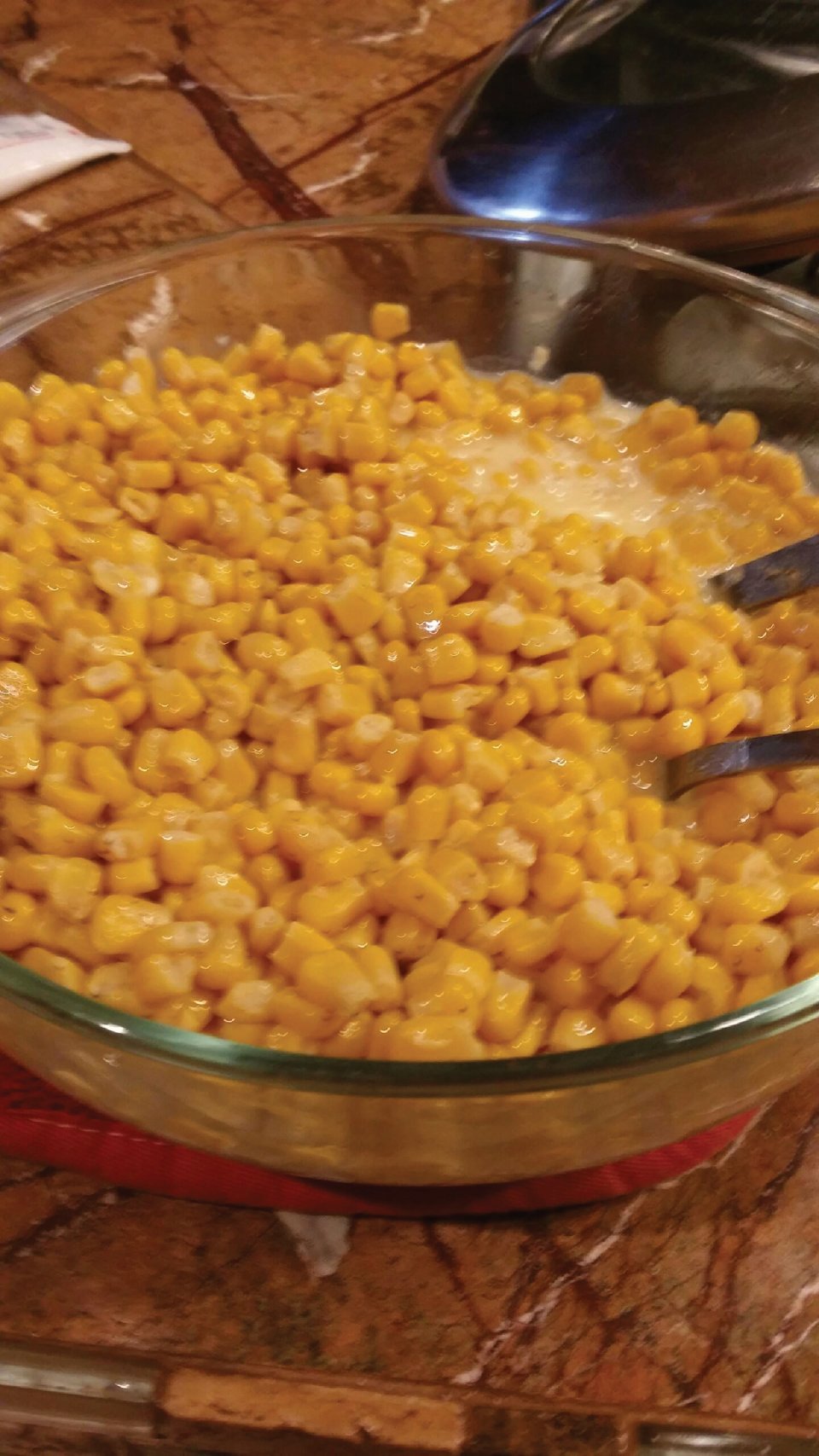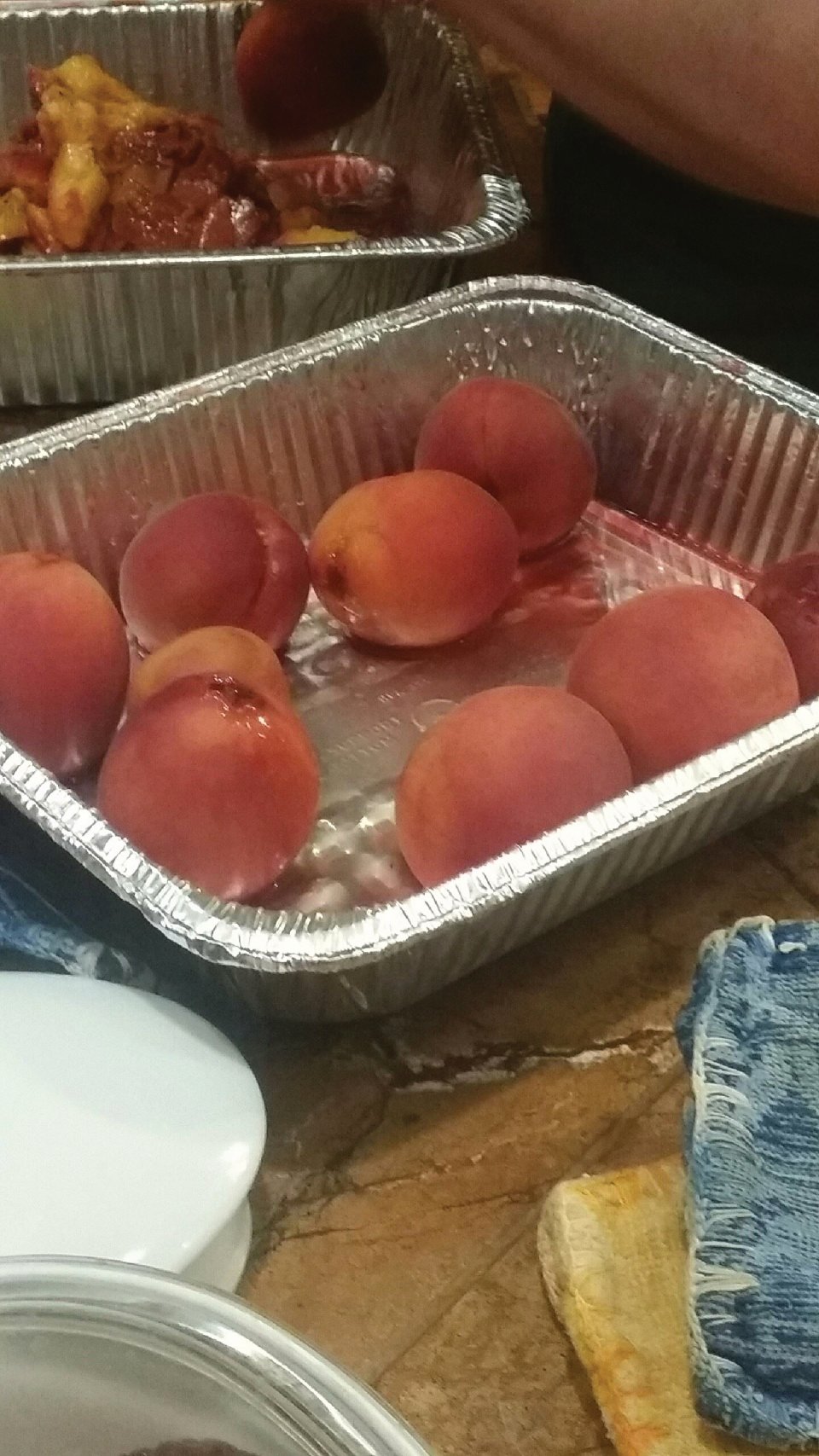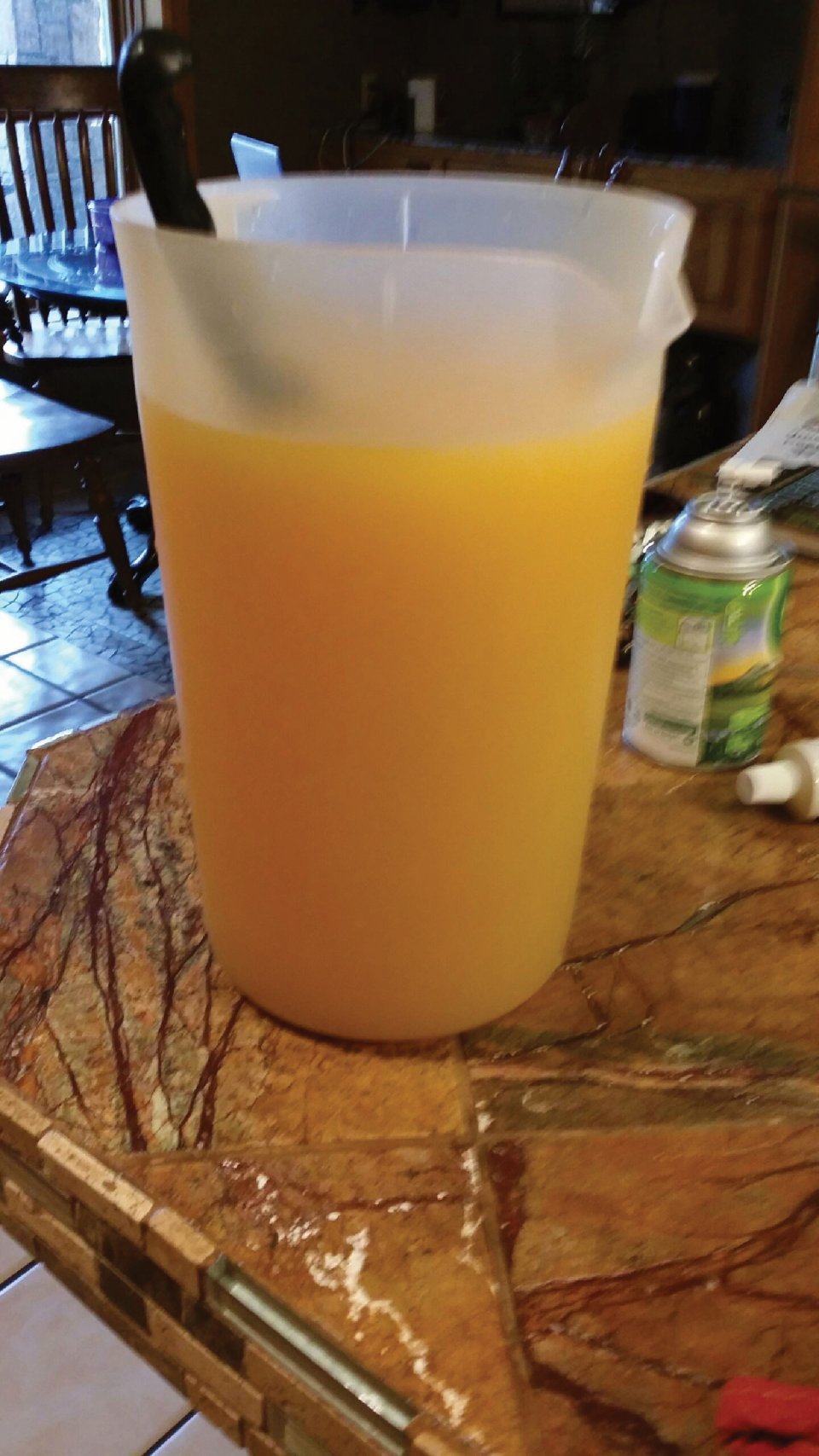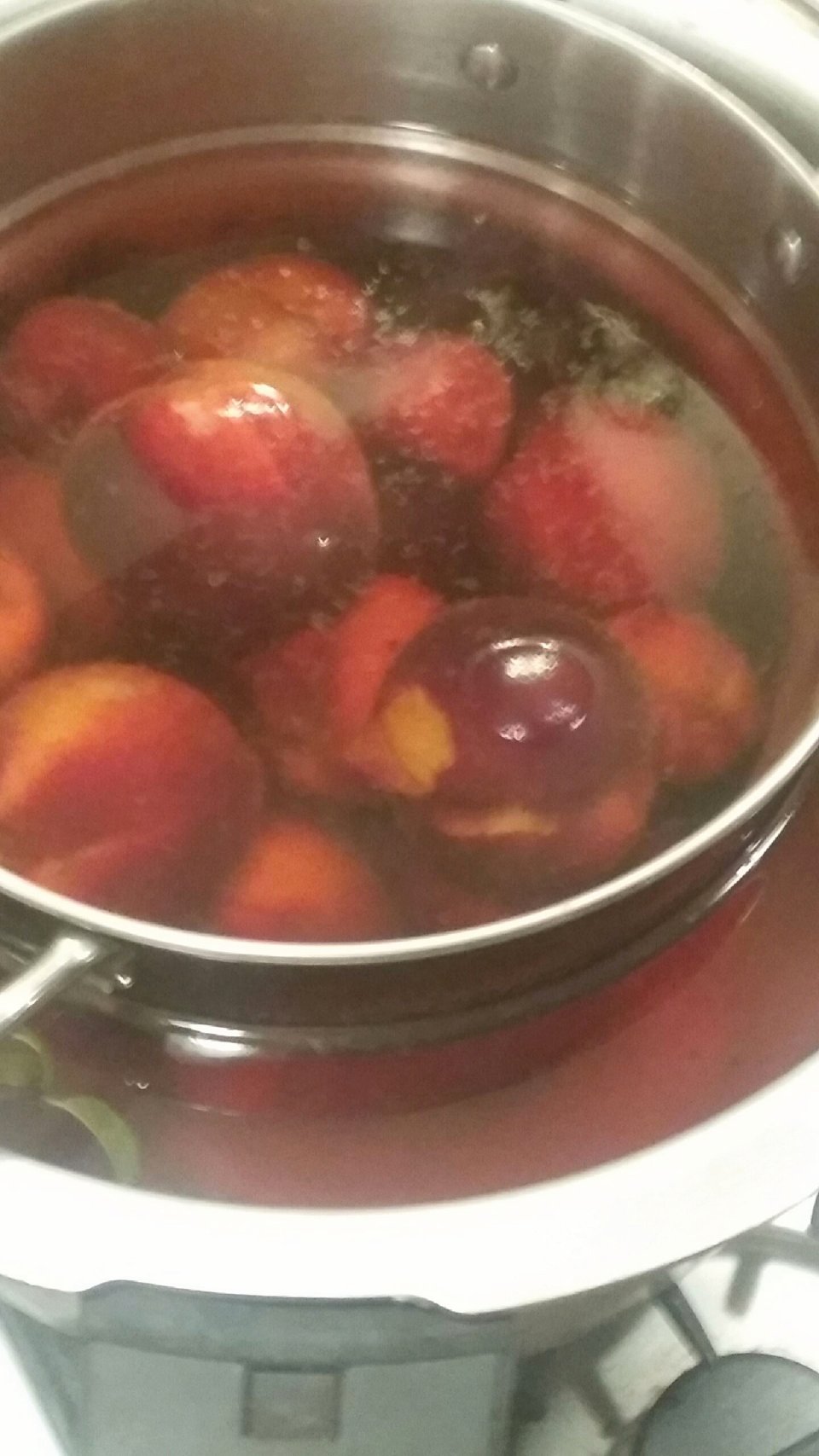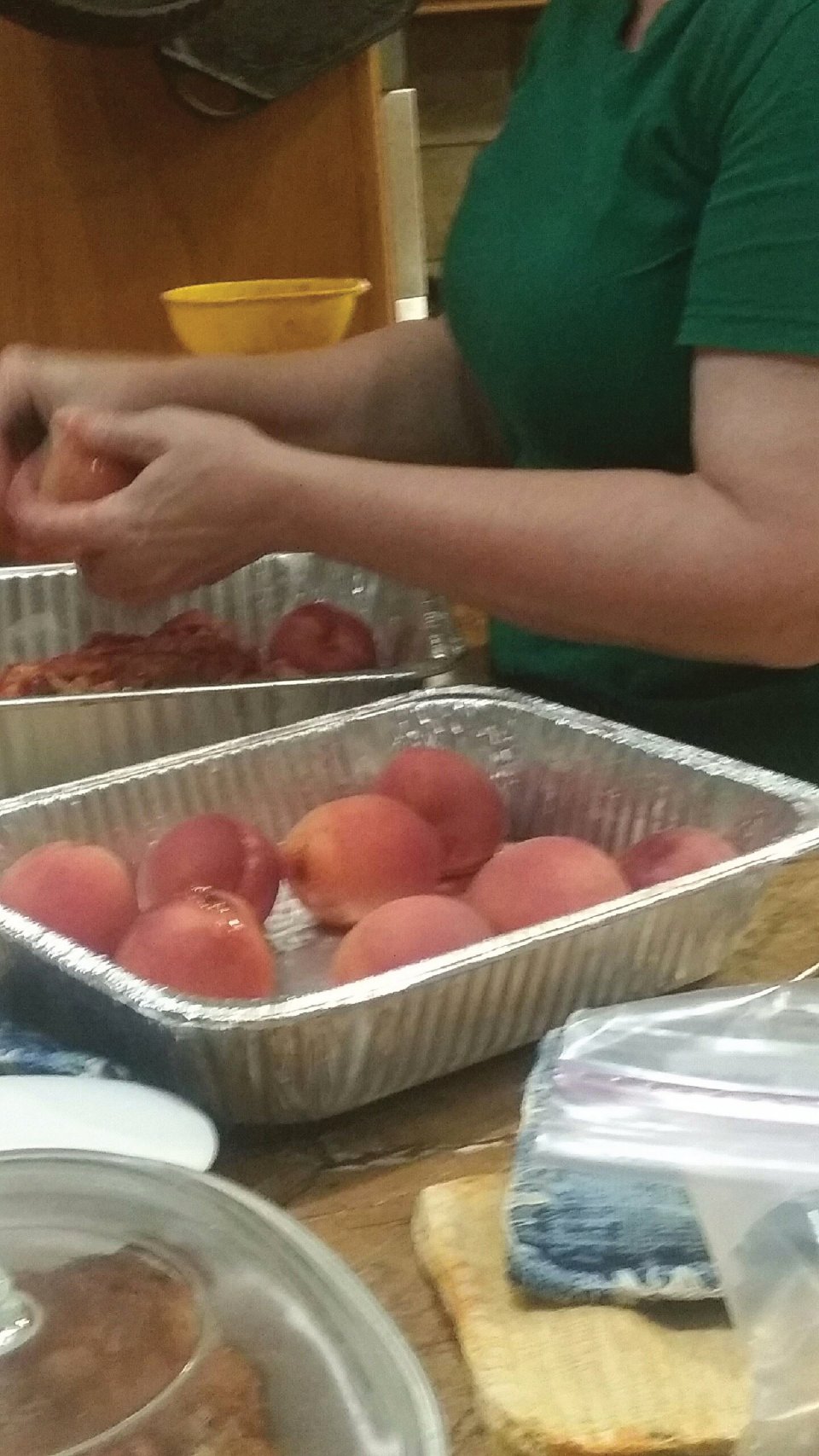 Peaches cooling.
We added watermelon and pineapple juice to this orange juice...great stuff.
Peaches boiling. Inside strainer which I set inside larger pan of boiling water.
Peeling, pitting, and slicing peaches.
Leftovers go to chickens.
See the jars of peaches...how pretty.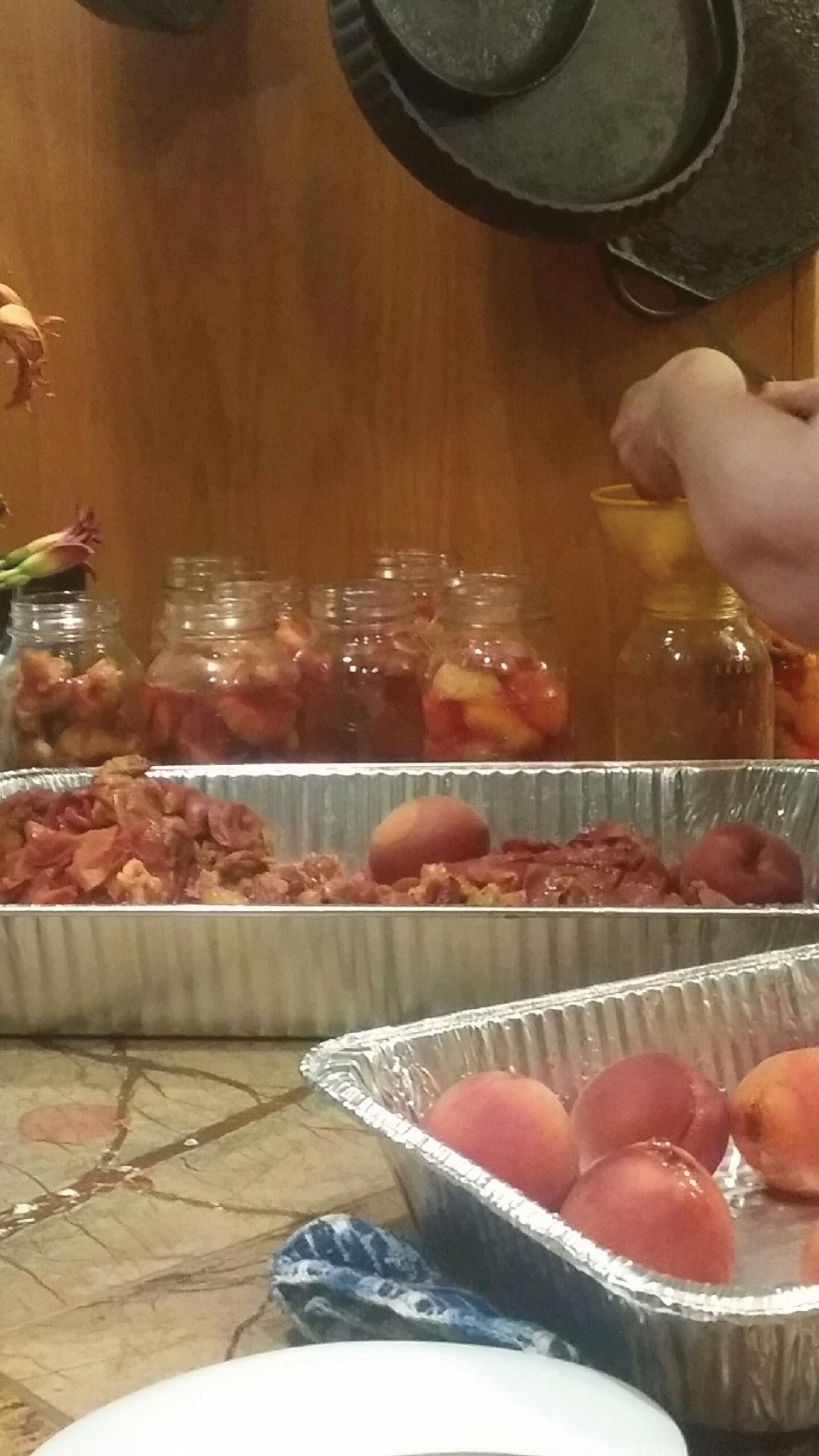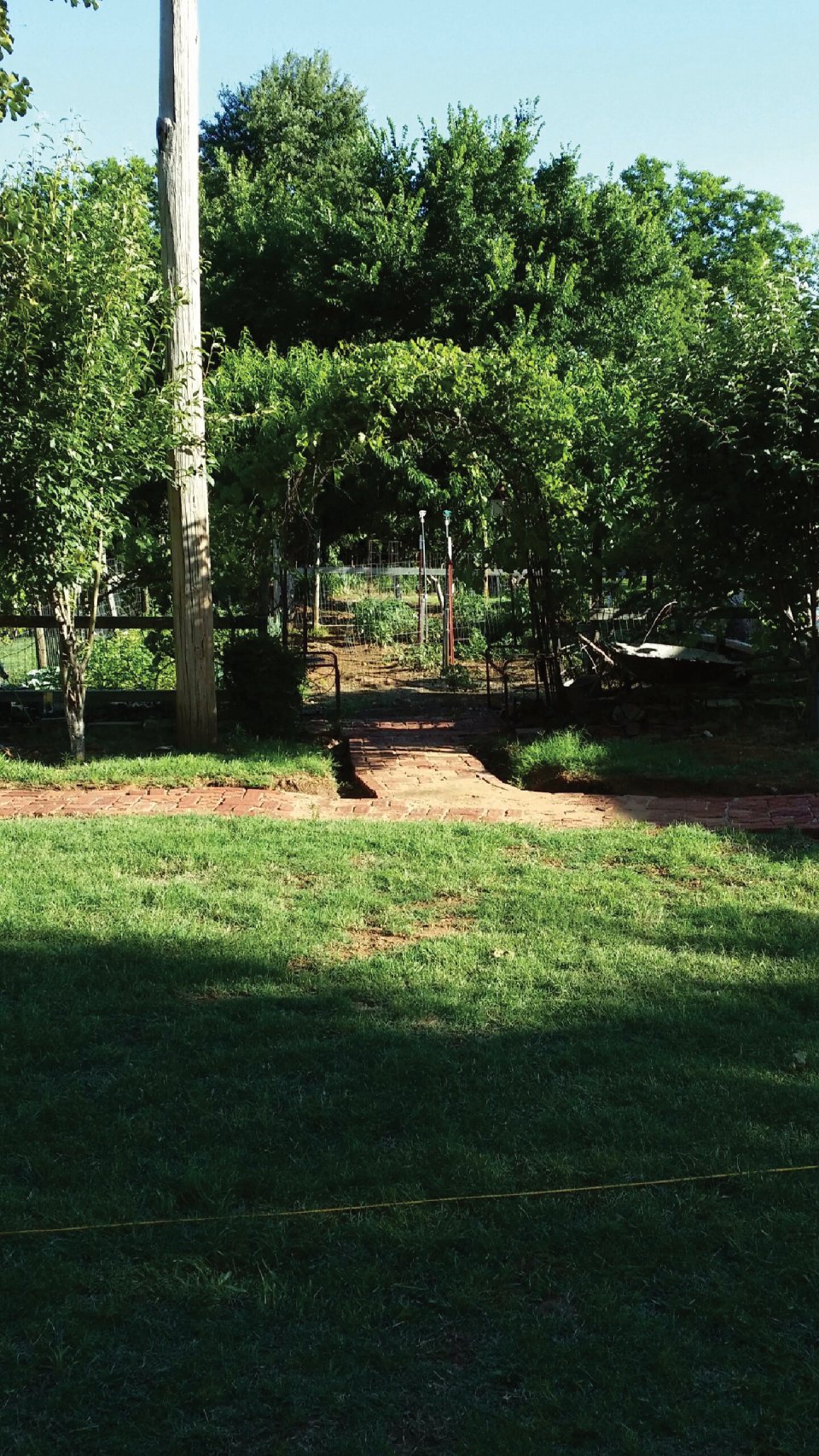 This is the entrance to the vegetable garden. The vines are grapes. The trees are pear, plum, nectarine, peach, and apple.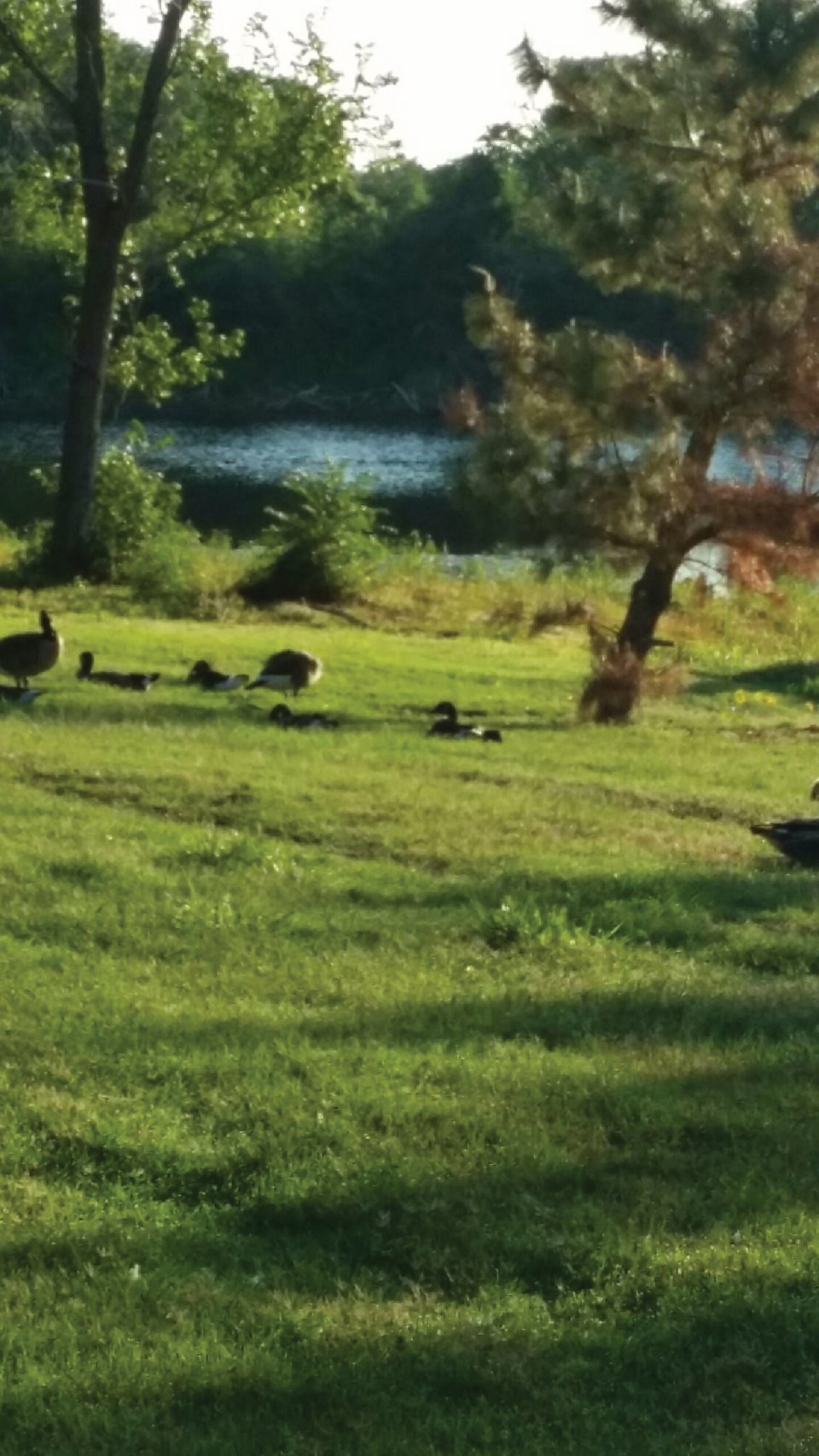 We have two families of geese this year on the lake.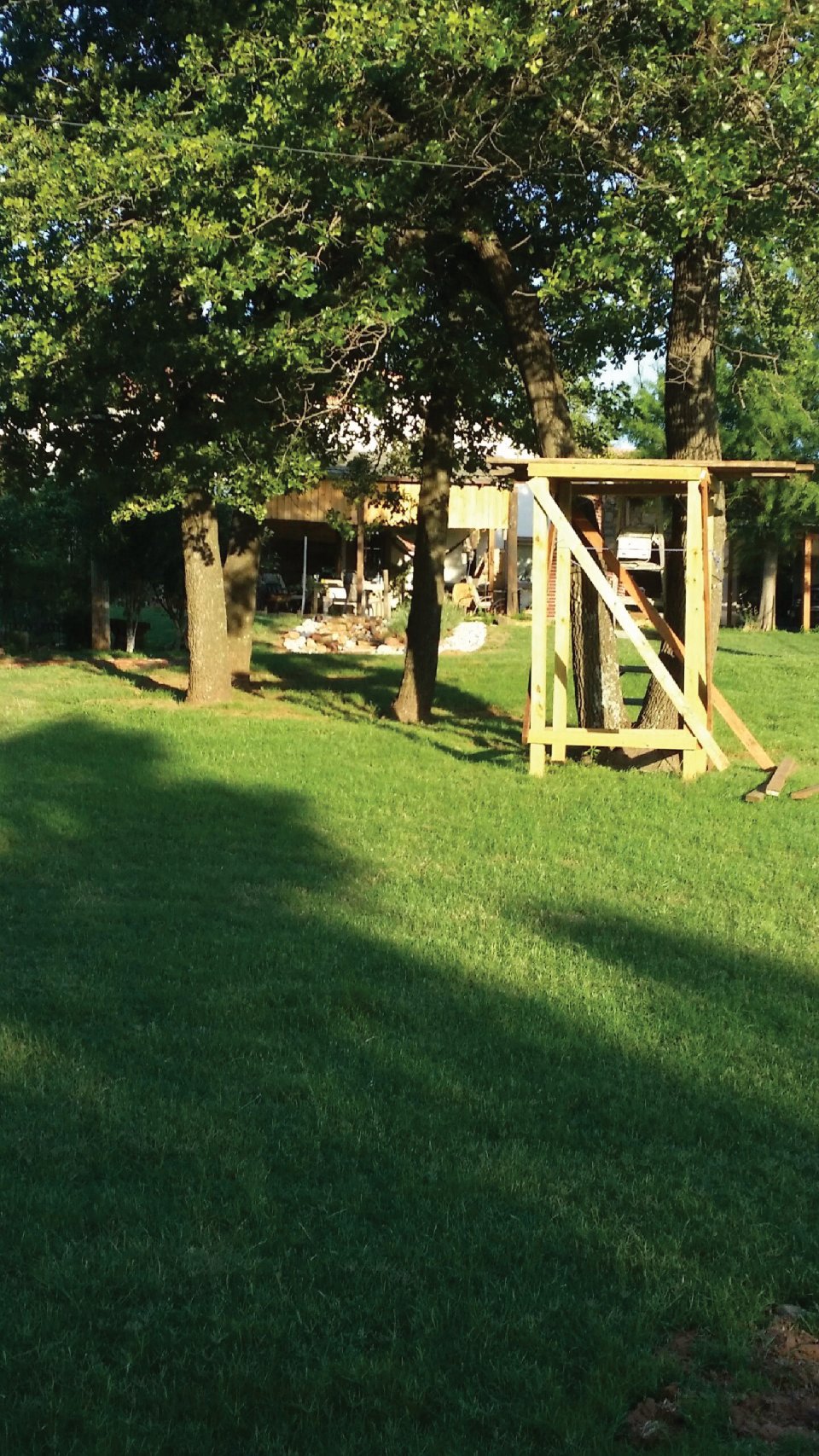 Fito is in the process of building a zip-line. He had it working but it broke...he will have to re-do it and make it stronger.
Below is my front flower garden.
Some yummy stuff from our garden.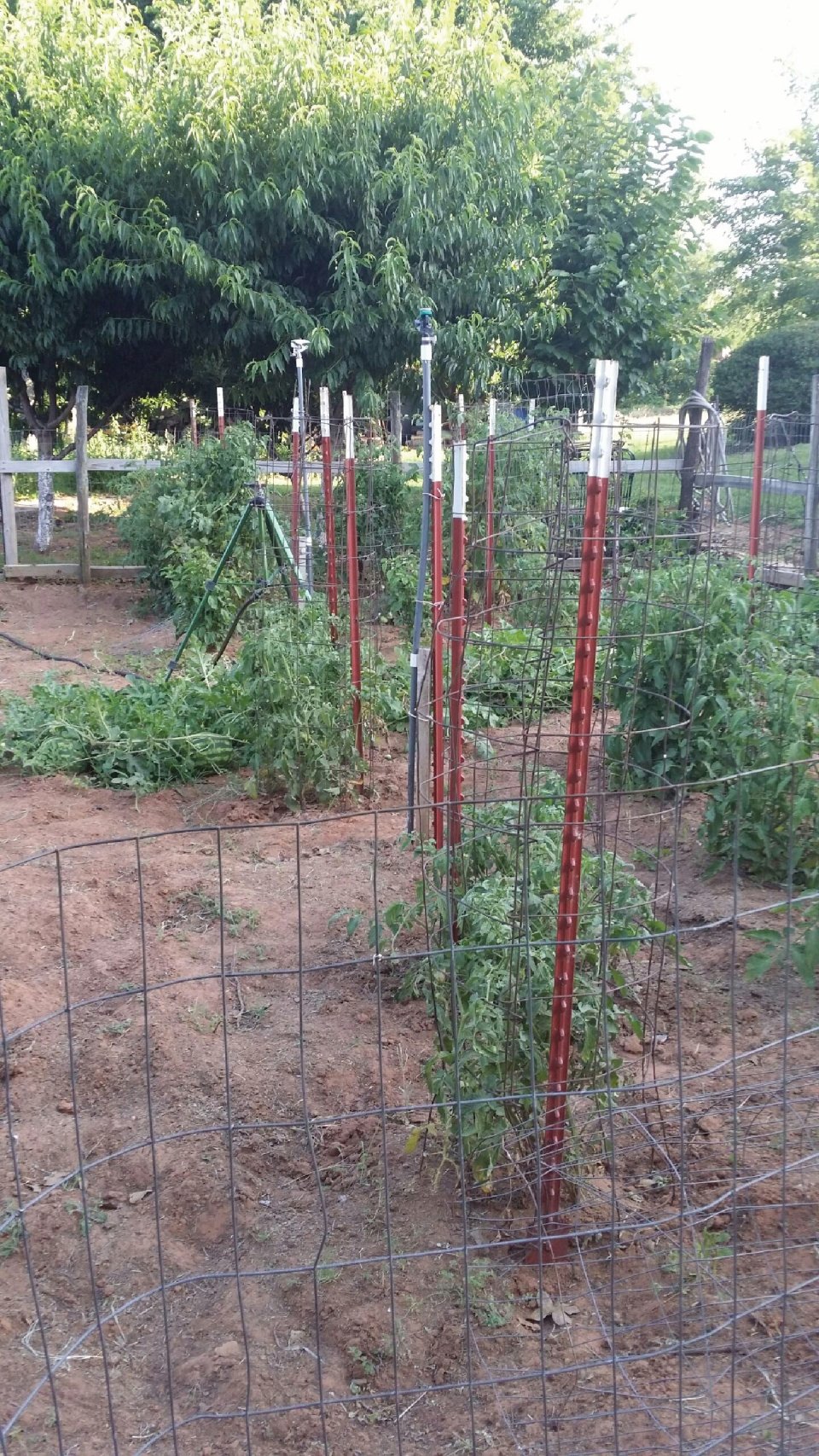 The tomato and pepper plants. Hopefully, we will have a great year so I can make lots of
salsa.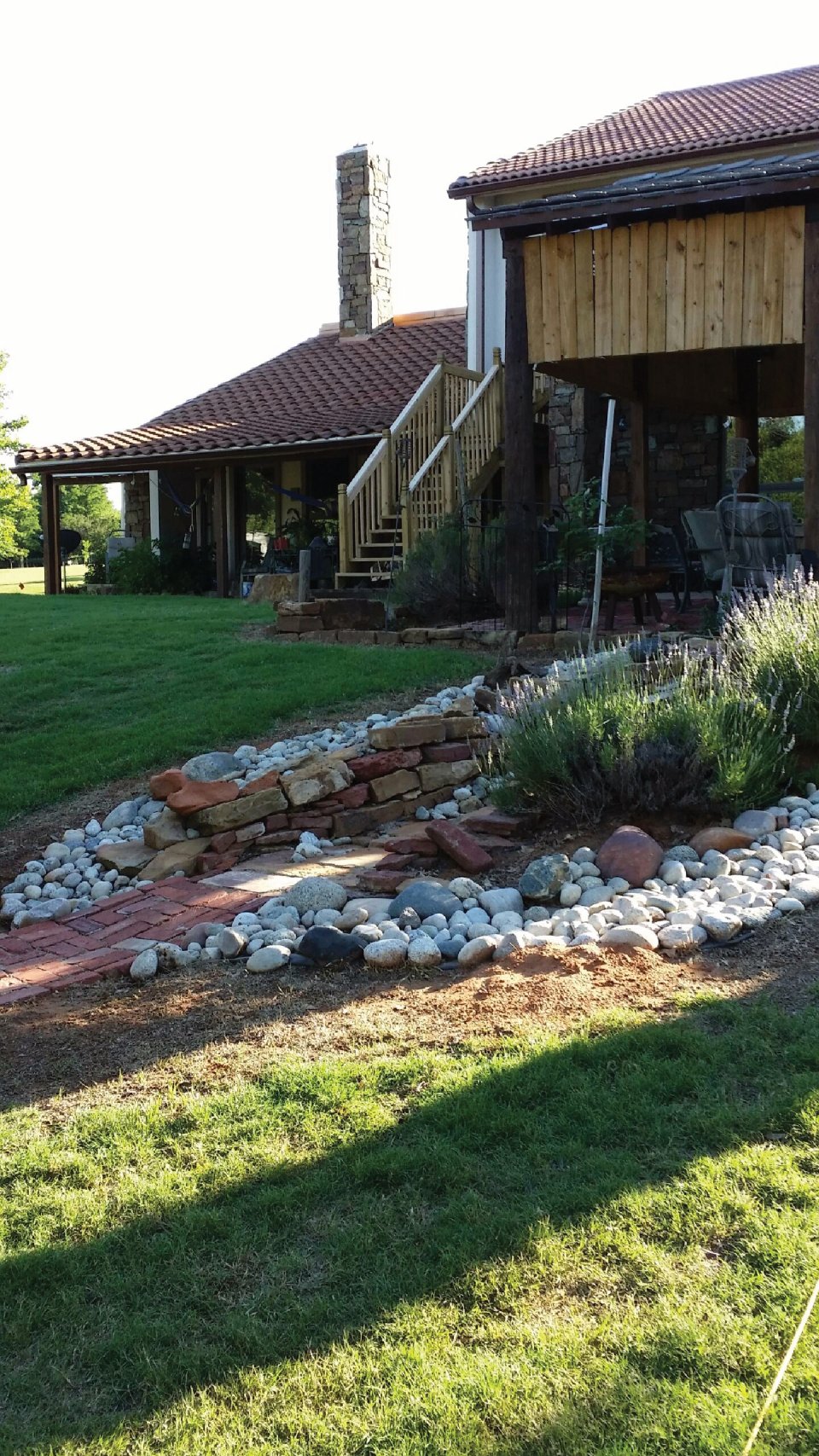 This garden and steps were a horrible mess. We redid them and they came out much better. I also made the herb gardens around the patio larger to accommodate more plants.
May was super hot. Most days in the 90s and some reaching 100 degrees. now July has been in the 80s. We even have had a few nights going down to 64. Incredible weather.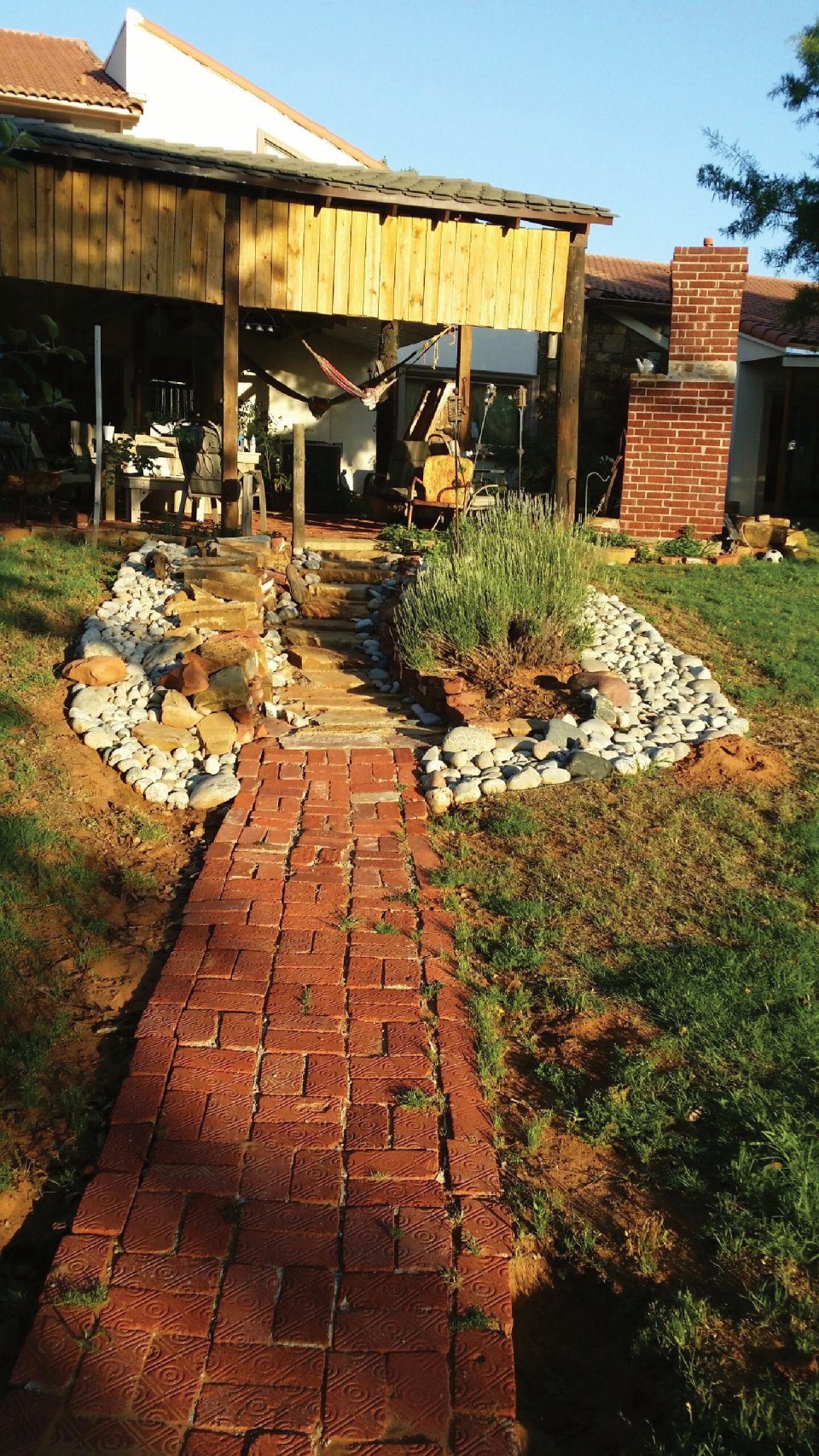 I relaid some of the brick and Fito dug a small ditch on each side to carry away the water when it rains. So far, the ditch has worked really well.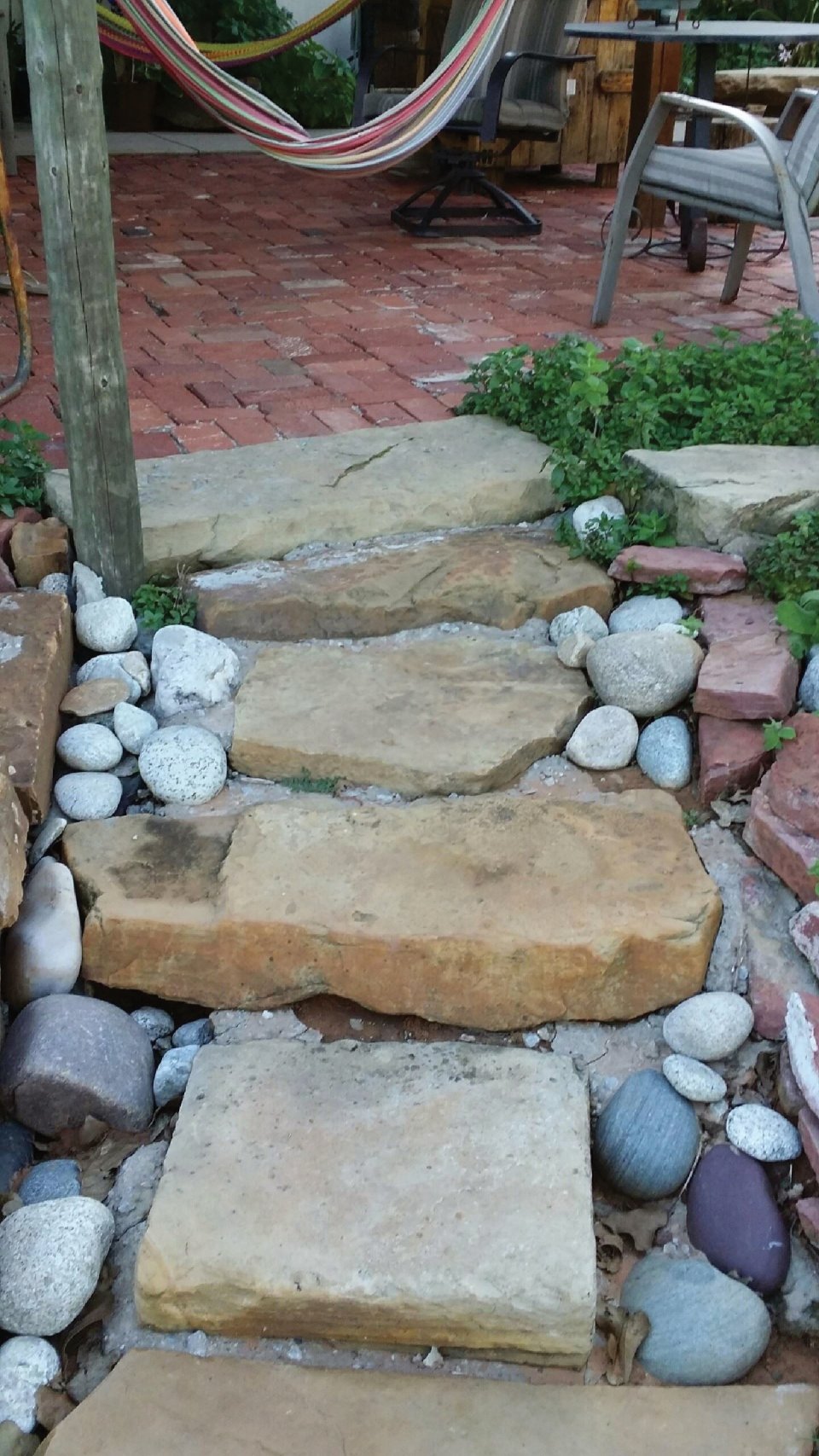 Rebeca helped me most of the day. She arranged most of the river rock.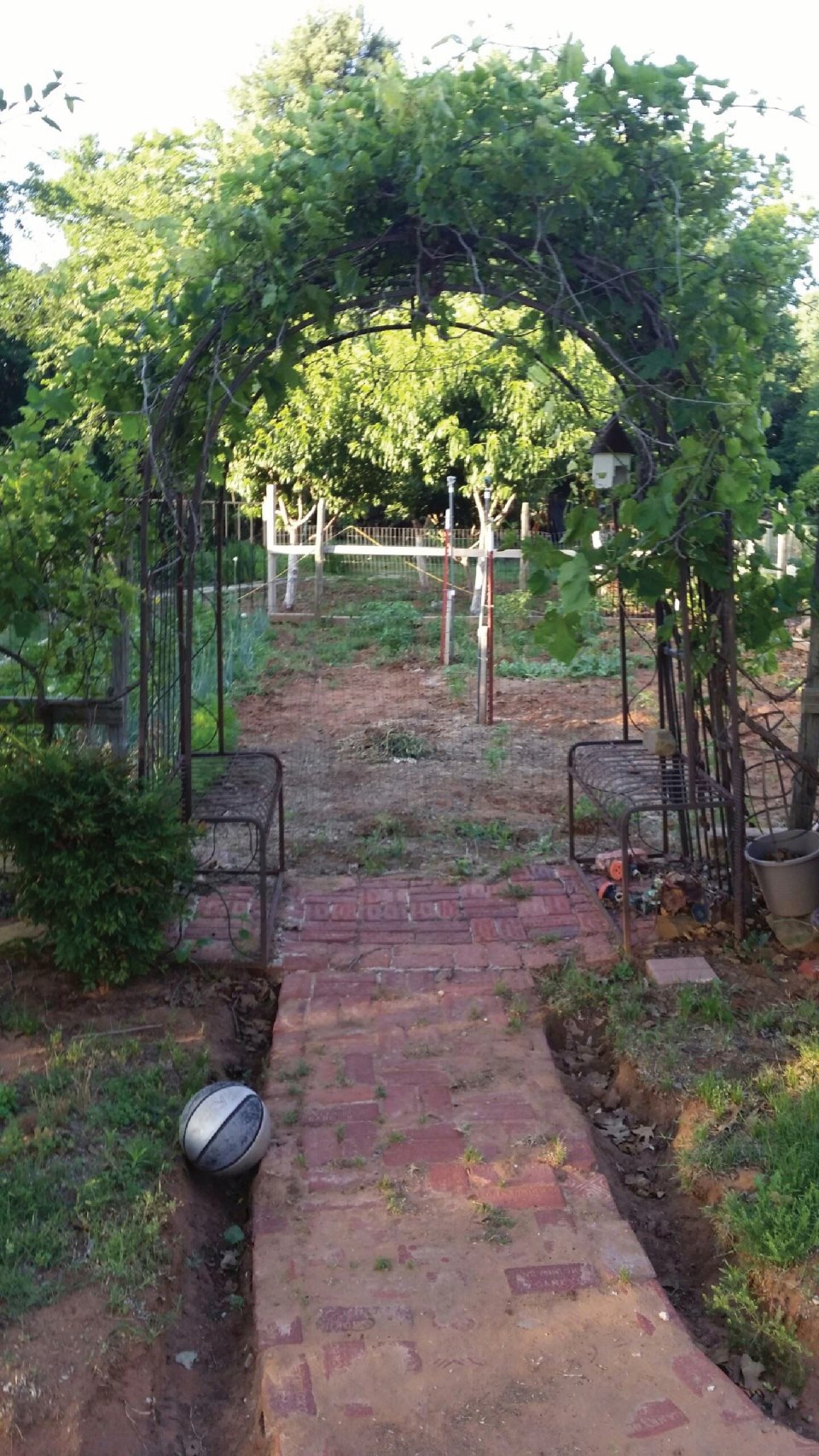 As you can see, sand would come down the hill when it rained and cover the sidewalk. With the ditch, it now keeps the sidewalk clear. We brought these bricks with us when we moved from Kansas. We gathered these bricks throughout the years when we lived in Kansas. Some came from dumps, some from sidewalks people were taking out. Most are over 100 years old.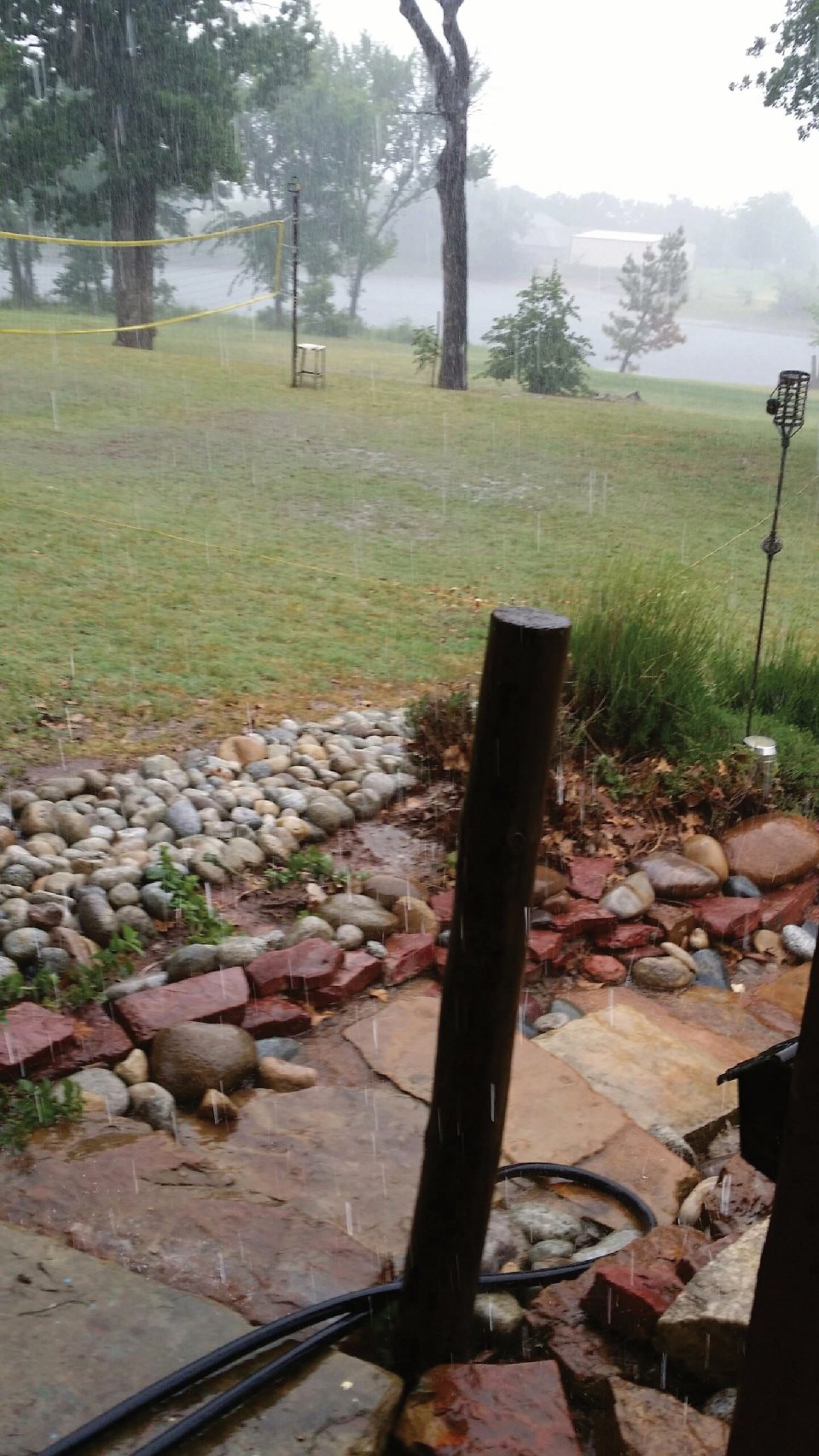 The day we redid these gardens, we had two warm rain showers which we desperately needed. What a blessing! See the permanent volleyball poles Fito put in? We play a lot of volleyball and have fun.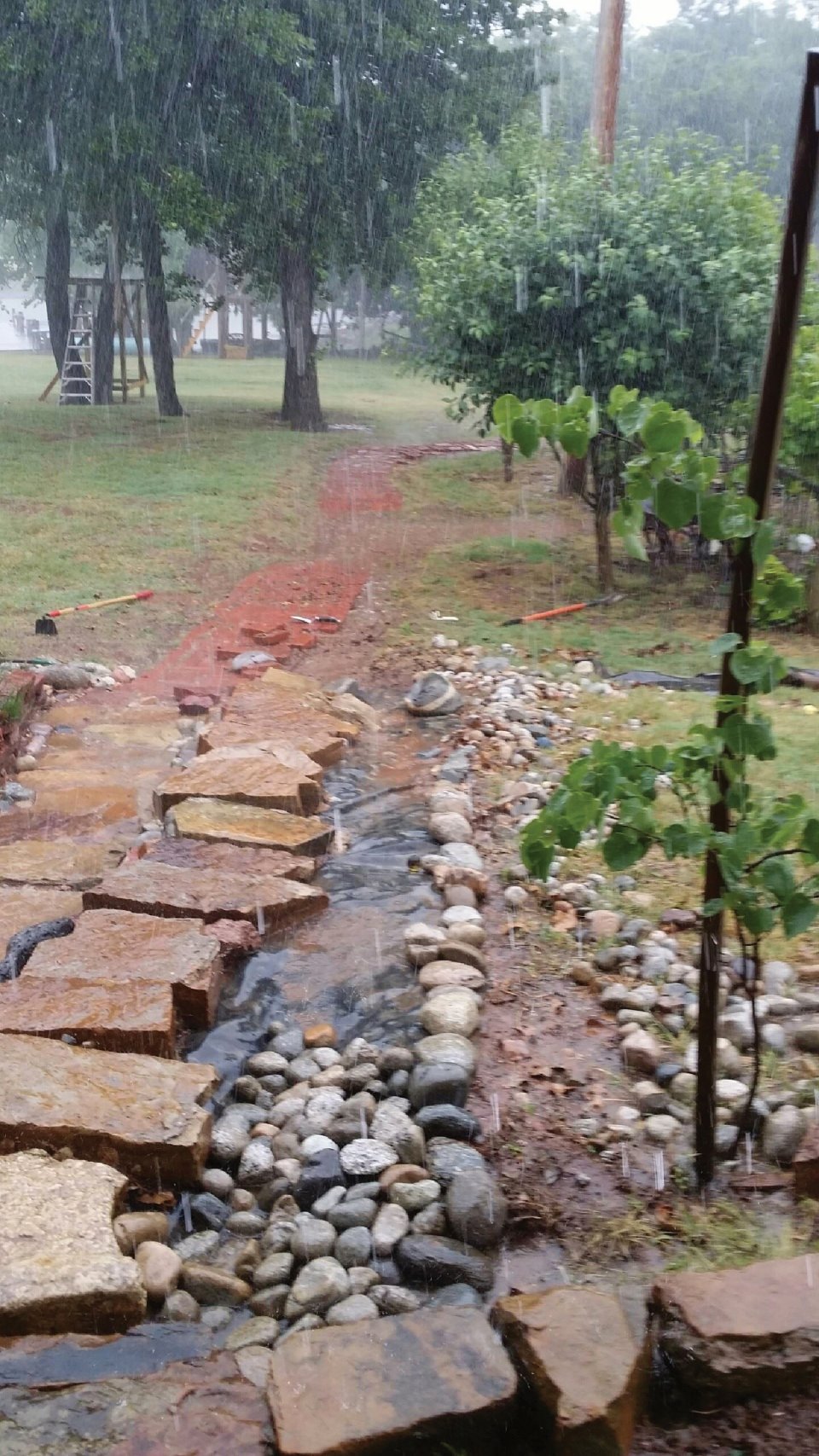 Right in the middle of work...and it rains. But the sun popped out again very quickly.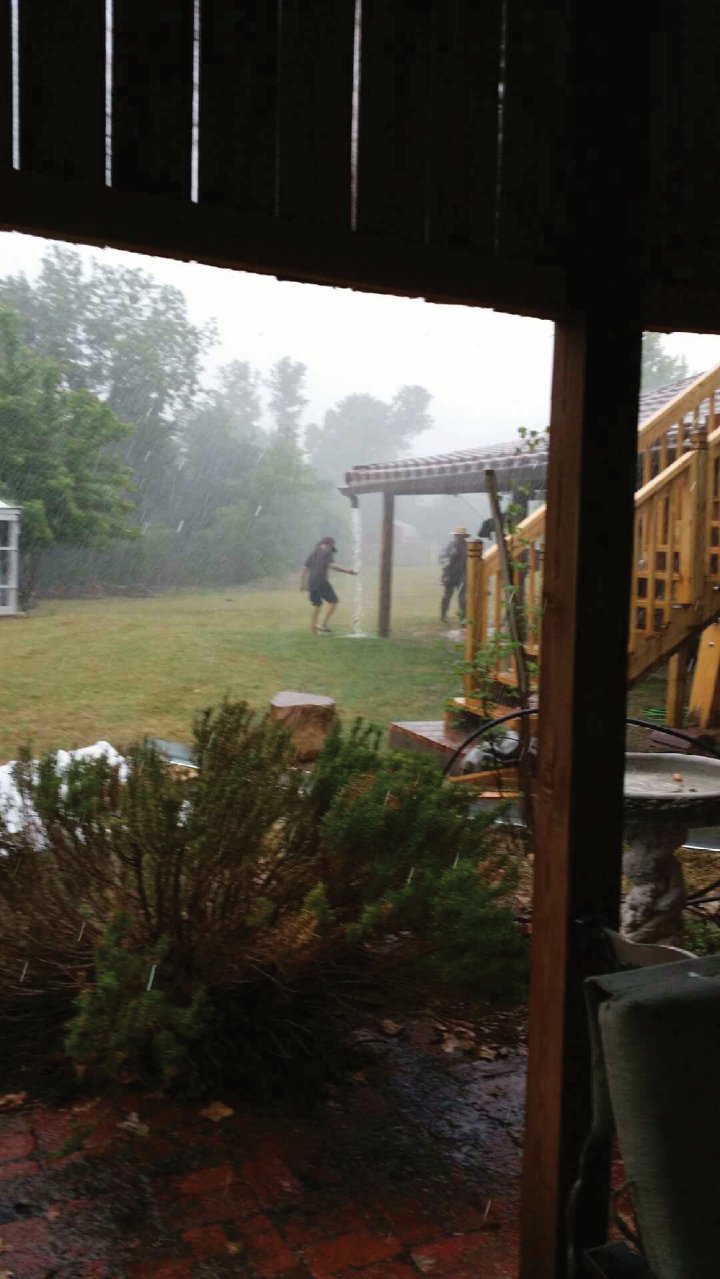 In the background, you can see Rebeca playing in the rain. In the foreground, you can see how much damage was done to our Rosemary plant. We had a late hard freeze that damaged a lot of the spring plants.
Oh my goodness. It has been months since I have written anything at all. How is it that someone can be that busy.
I still am doing all the things I usually do; working a couple of days a week, taking care of my mom, cooking, cleaning, making bread each week.
In late winter, I had stopped making bread, as my mom had burned her feet and I was spending so much time with her. But I have found that when I don't have
sweet bread
, I tend to buy more sweets then gain weight. Baking my own bread is healthier and keeps my sweet tooth at bay.
It also allows me to say thank you each week to certain individuals as I always make a large batch from 18-22 small loaves.
We also have had a continual flow of projects going on for several months now. I think more than anything else these projects have stolen all my time. For example, we decided to build stairs outside to our balcony and then found out that the door, the floor, the baseboard, etc. all had dry rot. We ended up taking out the trim, tile, and so on so we could replace all the rotten stuff.
This is the way of most projects. You are only going to replace one thing, or add something....and then you end up doing much more (and spending more).
I started this blog almost 6 hours ago. I was just sitting in the living room in my pajamas and Jorge (a friend that lives with us right now) informed me that we needed caulking.
We are replacing a door in the dining room. After we realized that the upstairs door was bad, we checked all the other doors and are now re-framing several of them. This house was built in 1987 and these are the original doors. The two doors by the kitchen were okay, but needed to be re-framed.
I had spent one whole day this past week getting the door re-framed and purchasing foam, shims, and so on...but forgot the caulking.
I headed off to the store and bought the caulking. I also looked at some grills and found one I liked. I then went to a second store to pick up some avocados and found the same grill, but much much cheaper.
I had David bring the pick-up to bring the grill and propane tank home. We have a grill, but it is at Maria and Travis' a lot. This was an excellent price and this type of grill keeps the grease from catching on fire.
Well...we just had cheeseburgers, grilled chicken, and grilled corn-on-the-cob. Yum! I also made
Guatemalan guacamole
. I added some Cayenne pepper and wow it was much better.
I also made some Spanish Potato Salad. I boiled two large baking potatoes until soft.
I peeled off the skin then cut the potatoes up into bite-sized pieces.
I then hard-boiled some eggs, took off the shell, cut them up and added 6 of them to the potatoes. I did 6 more and just had them for people to eat.
I then added 2 large scoops of real mayonnaise, (until it is creamy) salt and pepper to taste, and 2 pinches of Cayenne pepper and a pinch of onion salt.
The Spanish vary this in many ways. I have had it with cooked carrots, cooked cabbage, fresh shredded cabbage, mixed veggies, fresh onion, frozen peas, and so on.
Very yummy.
Now I am back on the couch trying to finish the blog.
We went to see the movie "America" yesterday. I made all the children go since it is for the 4th of July. I highly recommend it. It was a great movie and Americans need to understand that there is a reason that millions of people try each year to come here. It is because this land allows people to still dream and pursue their dreams. We have freedom here that few others enjoy.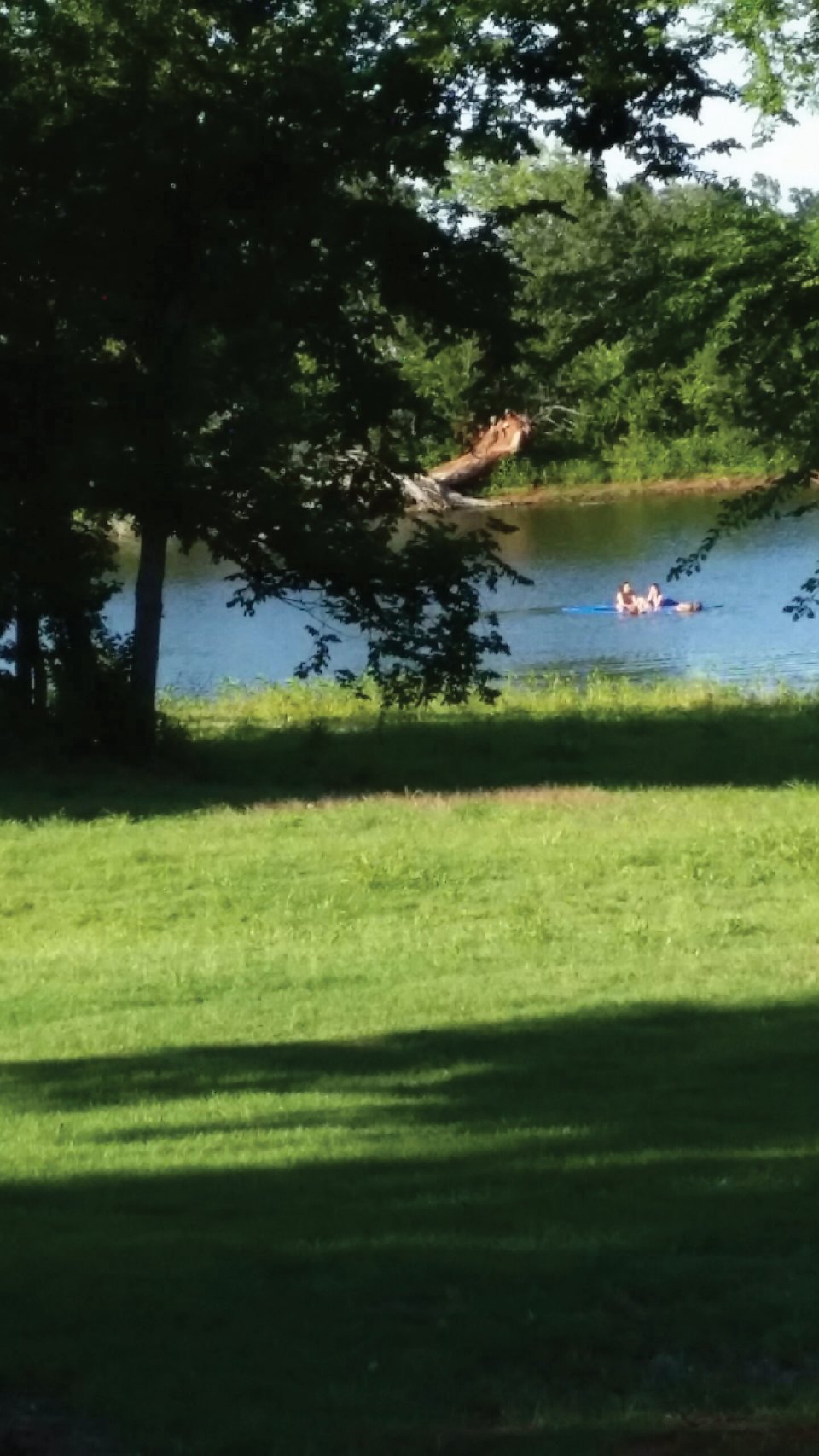 And one of our God given rights is the pursuit of happiness. We sure have found that in our small piece of heaven here on earth. I never imagined that I would ever have such a beautiful home or property on earth.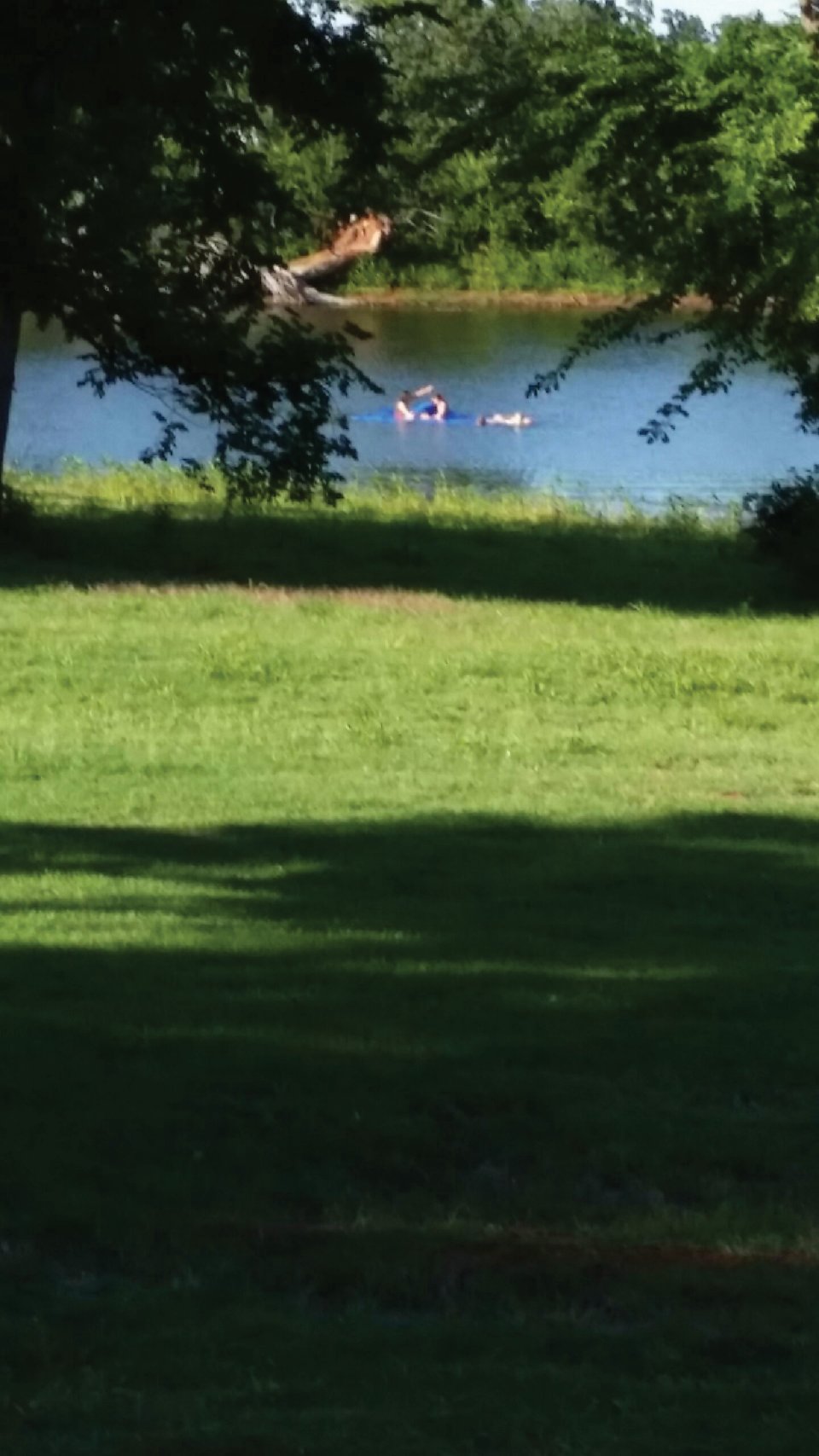 This is in the lake behind our property and the children are on a floating mat, playing with their cousins...is this not pure happiness?
/